Essay
Mom Talk: An Amputee Mother Of 4 Shares Her Story
Written by Beatriz Carrero
Photography by Photos courtesy of Beatriz Carrero
Sep 7, 2018
Today's Mom Talk essay comes to us all the way from a mamá of four dwelling in Zaragoza, Spain. We're so grateful to Beatriz Carrero, an English teacher who is sharing her story of overcoming her fears of being an amputee mother and also sharing resources for other amputee women, parents of amputee children, and all parents looking to talk to their kids about embracing all people, especially those who look or act differently than themselves. Read her touching story right here.
When I was 16 I was hanging out with my pals near the railway rails. The train was getting near us quite fast and it was a windy day, and the combination of speed and wind originated a "whirlwind," which trapped me and launched me towards the train. I was hit by it and lost my right arm under my elbow.
I was devastated when I was told about what had happened to me by my parents and sisters. Any age is horrible for such a traumatic experience, but teen years must be the worst by far. One day I was traumatized by a blackhead on my nose, and the next day I was told I had just three limbs.
Endless fears came to my mind: Not being able to stand in front of a mirror (several months passed before I was able to), not being able to be independent anymore, not being loved by anyone, not being able to find a job or to practice sports, not having kids, to remain alone for the rest of my life, to lose the people I loved…
When they put the prosthetic hand on my arm, I wanted to die. Fortunately, I have a very knit-close family (my parents and my three sisters), which created a kind of cocoon around me during the first months, yet promoted my independence and my ability to be self-reliant in order to be—to some extent—the same girl I was before the accident. I was also lucky because my friends and schoolmates turned out to be really mature and trustworthy. They never left me behind.
A few months after my accident I joined my city's disabled swimming team. I was a very good swimmer before the tragedy and I learned that my body was still great. I started feeling harmony inside me again. That said, it was a really tough process of self acceptance. There were many obstacles and sometimes I felt really angry, asking why it had happened to me.
When I started university at 18, I had to meet new people and I was really scared to leave my comfort zone, but it proved to be really positive. When the first semester finished, I spent two months abroad with two new friends, and it was a great experience. The last fear was of course about love. I had new friends, I partied, I travelled, but I was convinced that nobody would love me. When a boy made a pass at me, I used to flee home to eat ice cream and watch Pretty Woman. But at 19 years old I met Jose, my fiancé (we're not married yet), and it was love at first sight. At the beginning, I tried to remain just friends, because I didn't want to end up heartbroken, but he overcame all the barriers I had built.
Little by little, life started to feel "normal". Something that helped me a lot is that I always have had a somewhat dark and strong sense of humor. When you are able to make fun of your situation (and really, you can) nothing seems so horrible anymore.
My eldest sister had a baby when I was nineteen and she always encouraged me to hold him in my arms, bathe him, and babysit him. At the beginning, I was horrified but I realized that it was really easy and the surge of love for my nephew was unstoppable. The next year my second sister had a baby girl and the same story repeated itself. I spent long summers, winter evenings, and nights with my sisters' children (there are now 5 girls and 1 boy) and I had the opportunity to test my capabilities to look after them in spite of my disability.
Obviously, when Jose and I started talking about kids of our own, fears came and I was terrified of not being able to cope during my first pregnancy, when I was 29. But those fears were not much more than those of other pregnant women around me.
My first childbirth was a nightmare, and I felt really weak for a few days. So, when Jose had to return to work, I was really scared of being alone with Javier. Those first days we never left the house, we were together in bed all day. It was great to establish a mother-baby bond, but I am a really active, outgoing person and I was on the verge of going crazy. My parents and Jose's family helped us a lot, but I needed to get out, so I left my fears behind and started to have a real life with my baby. I got an Ergo carrier and learned to put my baby inside with one hand. I started breastfeeding outdoors without feeling ashamed. And I started to ask for help from strangers, something I had never done in thirteen years. When you are a mother you just don't give a shit about being able to do everything anymore, you just care about your baby's wellbeing.
I joined a group of mothers in my neighborhood and we built a very strong net to support each other. Breastfeeding, baby carriers, and co-sleeping are also great tools when you are disabled. In my opinion, the more natural nurturing is, the easier.
I now have four children—Javier, 7, Sergio, 5, Vera, 3, and Raúl, 1. I have breastfed all of my older kids until 4-years-old, and I currently tandem nurse my youngest two—Vera and Raul—and have a variety of baby carriers. Sleeping with them has made everything more simple, too. With Sergio I had a home childbirth and it was incredible.
I would tell other amputee parents that you are not going to have many more problems than other parents. Parenting is an obstacle course for everybody, and you are going to be the best parent for your kids.
As for the parents of amputee children… My parents never cried in front of me, but I could hear them and see their red eyes. They were devastated and very scared. But after the initial weeks, my disability stopped being what they saw when they looked at me. Now, they are always boasting about me—they can even be very annoying sometimes!—and they hardly remember I have a disability. The most important thing is to have a support group, if its members are in a similar situation or not is up to you to decide. Help and information are a must for parents in these situations. My parents joined an organization which helped parents of disabled kids and it changed everything for the better.
One of the things that scared me the most at the beginning of motherhood was having my kids feel ashamed of me. Now I'm more relaxed because I know it is going to happen no matter what I do about it. I have explained to them and their friends about what happened to me. My children never ask questions because for them it is just the way I've been from the beginning. When I go with them to the playground some children ask me questions and their parents shush them and apologize, but I wish everybody would be as open-minded as children are. It's something we should learn from them.
We're All Wonders by R.J. Palacio is a great book and movie that deals with this topic. Apart from this, I would recommend any children's book that deals with differences. We have plenty of them at home—from Elmer to The Colors of Us, Giraffes Can't Dance, or Frederick. We love all of them.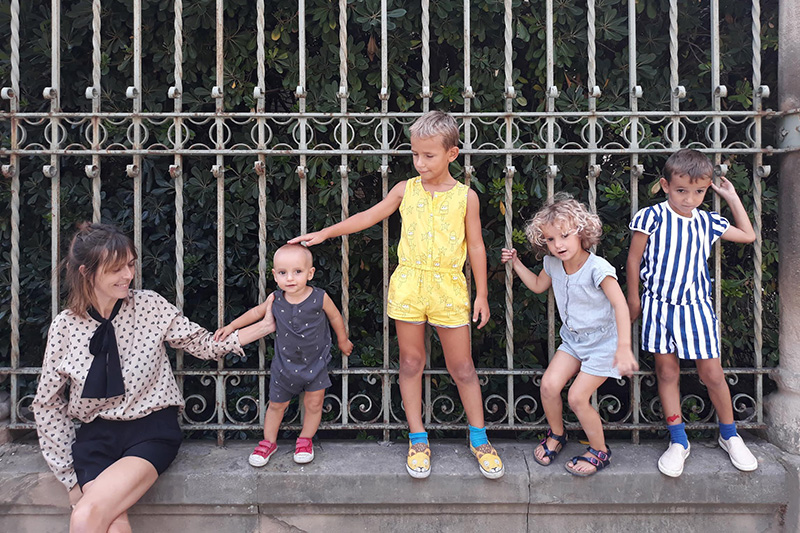 For more on Beatriz and her family, check out her Instagram feed. And for the kids' books about embracing differences she mentioned, see below, as well as Mother's roundups on childrens books about empathy and kids books about gender.
Are you a mother with something to say? Send us an email to be considered for our "Mom Talk" column.
Share this story