As lovely as the holidays can be, they can also be a little divisive, especially in families with mixed spiritual and cultural beliefs. That's why we love the idea of celebrating the solstice. It's literally a celebration of the imminent return of sun, which we can all agree is pretty great. And the best part? No shopping required. Wondering what exactly the solstice is? Happening twice a year, it marks the exact moment that one of Earth's poles is at its maximum tilt. So, on the day of the winter solstice, the sun travels its shortest path through the sky. And this year, on Tuesday, December 21, at 2:02 a.m. PST and 5:02 a.m. EST, that's what will happen for us Northern Hemisphere folks. Conversely, the Southern Hemisphere will be enjoying summer solstice at the exact same moment, as their half of the globe is tilted towards the sun. Astronomically, the winter solstice marks the end of fall and beginning of winter, and solstice traditions were created to celebrate the "birth of the sun." The occasion is marked with sweet traditions—from brewing up mulled cider to lighting lanterns to setting intentions for the season ahead—and we have rounded up some of our favorites so you can make this year's shortest day a memorable one.
Decorate an Outdoor Edible Tree for the Animals
As an alternative (or in addition to) a traditional indoor holiday tree, decorating a live outdoor tree with biodegradable, edible ornaments for local birds and other creatures makes for a fun project with kids. We love all these edible ornament ideas from around the web, such as citrus bird feeders, peanut butter pinecones, seed ornaments, and classic popcorn and cranberry garlands. Trim the tree and watch the critters come by and enjoy their treats!
Make Winter Solstice Lanterns
There are dozens of DIY-lantern projects out there, and it's really about finding one that works with what you already have at home. We tend to have an abundance of glass Mason jars, so we use colored tissue paper, cut-out sun, moon, and star shapes, and foraged leaves, and adhere them to the outside of a jar using modpodge or white school glue and paint brushes. Once the final decorations are in place, apply one last thin coat of glue on the outside of the lantern, and let it dry for about an hour. Remember to only decorate the outside of the jar, as once it's all dry you drop a tea light into it and enjoy the warm glow!
Read Winter Solstice Books
What better time to snuggle up under a blanket and read through a stack of wintery-themed books than the shortest (and likely one of the chilliest) days of the year? The picture book The Shortest Day, written by Newbury Medal–winner Susan Cooper and illustrated by one of our favorite mamas, Carson Ellis, is at the top of our family reading list these days. It moves through times to show how the traditions and celebrations surrounding the Winter solstice have carried on and evolved over centuries.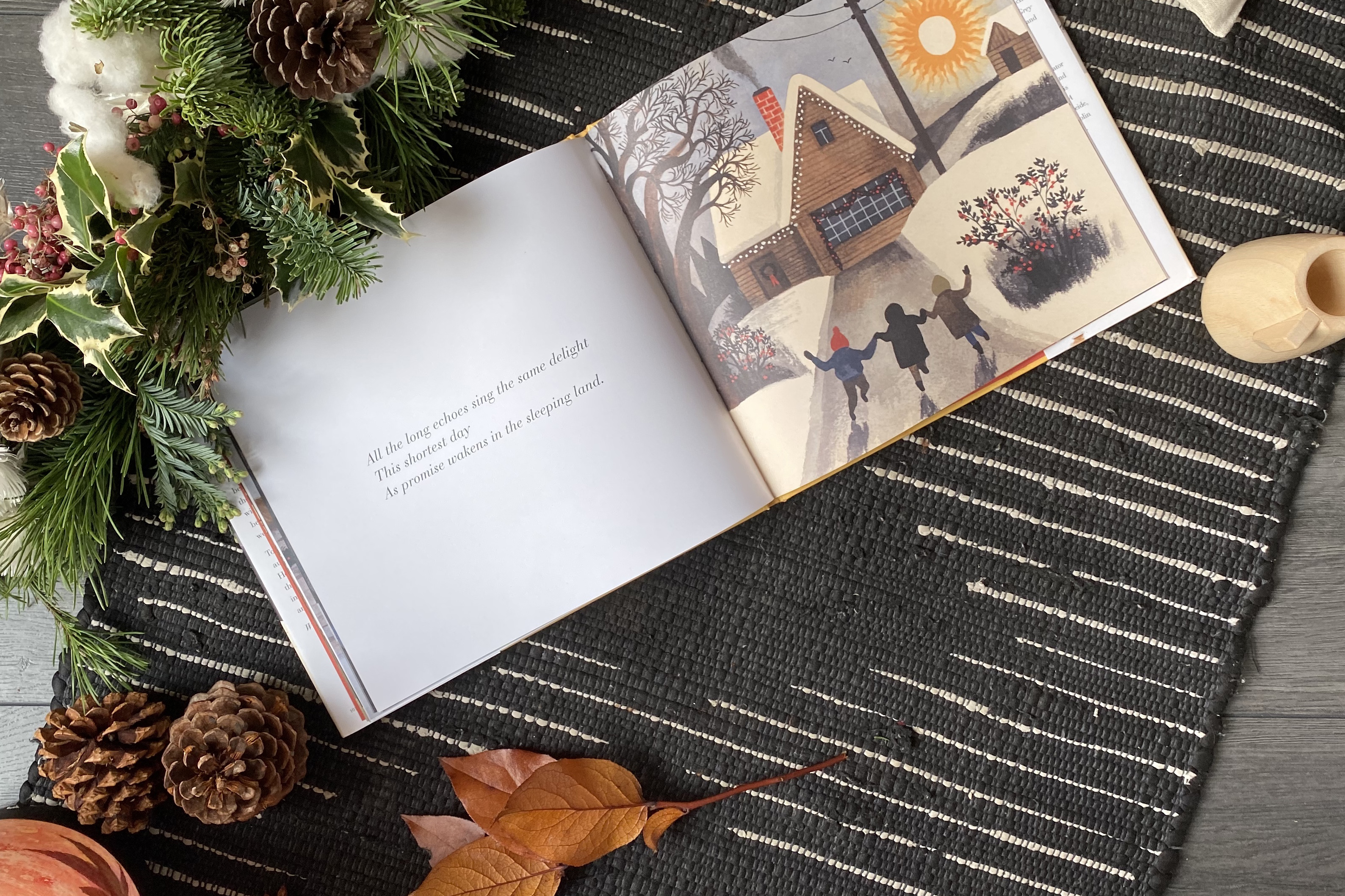 Make Orange Pomanders
This is a simple craft that's easy to do with kids and one that you will actually want to keep around the house afterwards. Start with firm oranges and a jar of whole cloves. Use a citrus zester to create patterns in the fruit peel and a small toothpick or skinny nail to make holes where you want the cloves to go (the pre-poked holes make it easier for kids to stick in the cloves). Stick the cloves in the fruit and you're all set. Place a few in a bowl as a fragrant centerpiece, or hang smaller fruit as ornaments on the tree. They also make sweet gifts!
Spend The Night By Candlelight
Switching off all the electric lights and doing dinner, homework, bath, story time, and more by the light of flickering candles and warm lantern light makes even mundane activities extra special, and also makes the long, dark night more real. It also helps everyone appreciate the modern conveniences we take for granted!
Make Some Wassail
This traditional warming drink is perfect for sipping during a solstice celebration (and it makes the house smell incredible). Simply combine 2 quarts apple cider, 1 1/2 cups orange juice, 3/4 cup pineapple juice, 1 tablespoon brown sugar, 1/2 teaspoon lemon juice, 2 cinnamon sticks, a dash of ground cinnamon, and a dash of ground cloves in a saucepan and bring to a boil. Lower the heat and simmer for 20-30 minutes. Discard the cinnamon sticks, pour into mugs, and serve. And for the grown-ups, a splash of rum or cinnamon whisky doesn't hurt.
Reflect, Release, Let Go, and Set Intentions For The New Season
The winter solstice is considered the seasonal dark night of the soul. Spiritually, it's a time to honor both the light and the darkness that resides within each of us. Take small scraps of paper and write down the things that you would like to let go of. When everyone has finished, throw them in the yule log fire, transforming darkness into light. After "letting go," set intentions for the new season ahead—speak aloud a thing, idea, habit, or practice that you would like to bring into your life.
Happy Solstice!