Kid Style
How To Mend Your Clothes At Home
Written by Chantal Lamers
Photography by Photos by Karen Pearson for the book, Mending Matters, by Katrina Rodabaugh
Apr 21, 2020
Countless daily rituals have been put on pause due to COVID-19, including efforts to reduce waste. Reusable coffee mugs and grocery bags have been banned for the time being, along with bulk food bin use in many states. And while zero waste seems like it's falling by the wayside, there are plenty of other ways to keep a light footprint, like taking up mending, for example. 
That's because by repairing something, you're breathing new life into a garment or textile, extending its life and increasing the likelihood that at some point it can be passed on. The alternative is often our country's landfills, which according to the U.S. Environmental Protection Agency received 11.2 million tons of waste textiles in 2017 alone. So, think beyond simply saving the likes of dresses and denim, and consider repairing a variety of textiles from pillowcases to blankets, tablecloths, cloth napkins and more. 
Nina Montenegro, who recently co-authored the book Mending Life: A Handbook for Repairing Clothes and Mending Hearts with her sister Sonya Montenegro, says mending—especially now—can also provide a calming distraction. "Mending is a meditative practice, a literal and figurative act of healing," says Nina. "When our hands are busy our anxious minds begin to unfurl and relax. The antsy reflex to check the news is soothed."
Your first mend may be messy, but don't get discouraged," says Nina. "With practice, scissors will cut straighter and stitches will become smaller and tidier. Practice, practice, practice. Luckily, there's always plenty to practice on. Once you start mending, you may find yourself looking at all sorts of broken things in a different way and asking, 'Can I repair this too?'" 
Katrina Rodabaugh, author of Mending Matters: Stitch, Patch and Repair Your Favorite Denim and More, says the basic tools for a mending kit are simple: Needle, thread, scissors, and fabric for patches. "Ideally, the garment you're mending would match the patch and thread in fiber content and weight. Some other great tools: Thimble, needle-nose pliers, straight pins, safety pins, fabric pencil, ruler, beeswax, and a notebook for measurements, sketches, etc."
To get started, Rodabaugh suggests learning just three basic stitches: a straight stitch, a running stitch, and a whipstitch. Then, add a handful of basic mending variations to your repertoire, choosing from exterior patches, interior patches, Sashiko stitches, darning stitches, and more. All combined, she says, the techniques can result in "infinite repairs."
"When mending children's clothing—or hard-wearing areas on adult clothing—I try to prioritize the utility of the repair over the decorative stitches," says Rodabaugh." So, kids' clothes, work pants, and any high-friction areas typically get strong patches and simple stitching. I save my more decorative stitches for areas that receive less wear or garments that aren't worn as heavily. That way all the extra handwork can stay intact for much longer before being replaced again. Mending is a practice—it's an ongoing act of tending."
Finally, grab an empty basket and, along with your stitch kit, begin adding items that need mending. Then steal some moments to attend to textiles. "We like to sneak mending into our day, taking literally 10 minutes here and there, in any free moment," says Nina. "To wind down before bed (instead of scrolling), waiting for water to boil and eggs to fry, watching over the kids play, while listening to a podcast or the chatter of birds."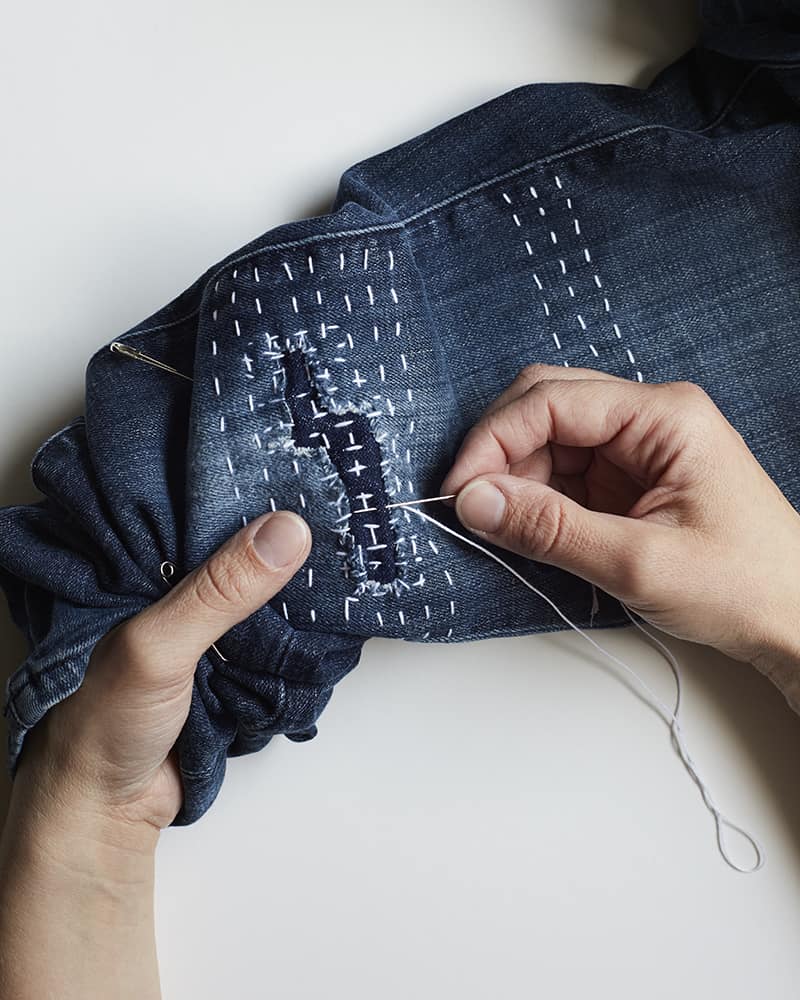 Want more stitching inspo? On Earth Day (Wednesday, April 22), Honestly WTF and Freda Salvador are hosting a free webinar on learning how to mend (using Ace & Jig scraps!). You can register here.
For more earth-friendly tips, check out these 30 Ways You Can Decrease Your Carbon Footprint As A Family.
Share this story