Authors & Illustrators
John's Turn, A New Book By Mac Barnett On Braving The Stage
Written by Katie Hintz-Zambrano
Photography by Kara Brodgesell
Mar 17, 2022
The new kids' book John's Turn is another lesson not to judge a book by its cover and put aside assumptions about what lays inside. In this case, the beautiful pastel illustration shows a young boy in black tights and ballet shoes, his arms encircled around his head and toes pointed, performing on a stage in front of a young crowd.
One might assume that this book is about John, the main character, being a standout as a boy in ballet—a field in which approximately 90% of participants are usually female. But, in a refreshing twist, John's Turn doesn't focus on the dancer's sex at all—at least not directly.
Instead, the simple book—written by beloved, best-selling author Mac Barnett—starts out in an elementary school cafeteria, where students are gathered for Assembly.
On Fridays there's Assembly.
It's in the morning before class.
We sit in the cafeteria, so it still smells like breakfast.
Mr. Ross does announcements. 
Sometimes there's a guest.
And then, if we're good, at the end, 
one of us gets to do something for the whole school.
A performance.
It's called "Sharing Gifts."
A lot of us think that's a kind of dumb name,
but we also think Sharing Gifts is the best.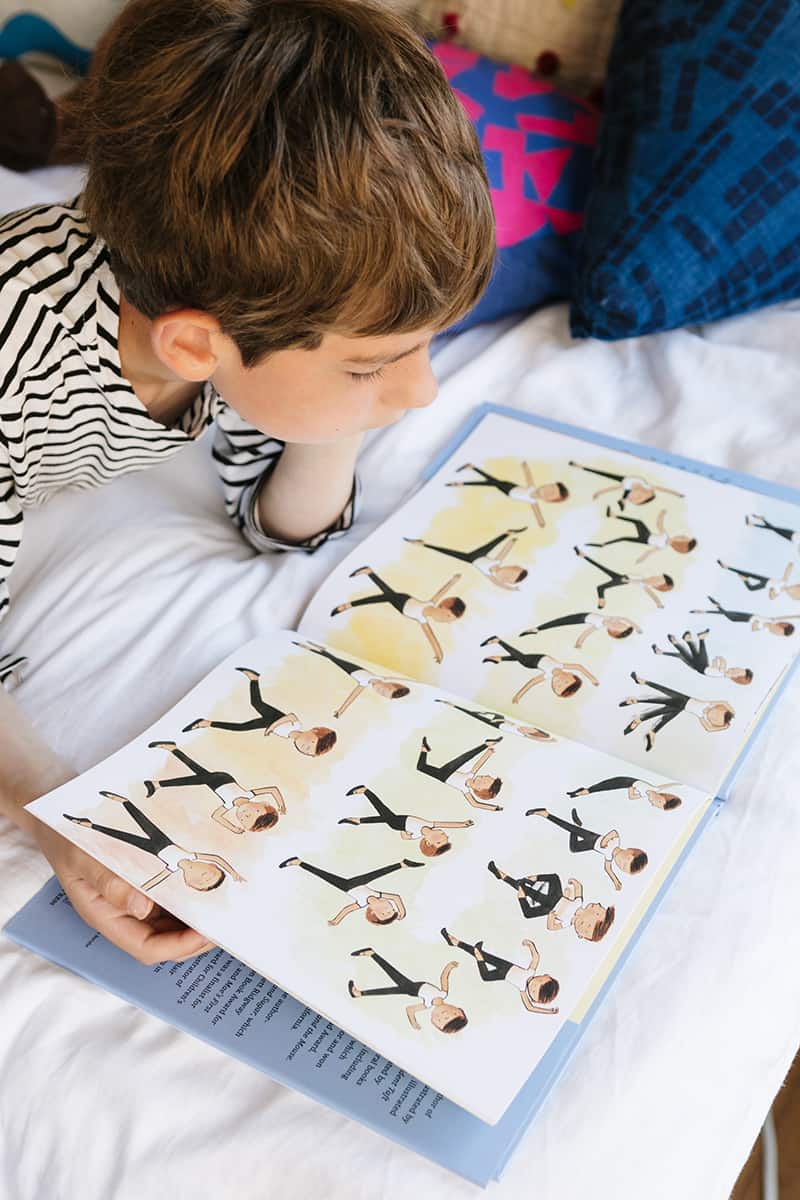 It turns out, today is John's turn to share his gift, which just so happens to be dancing. We watch as he nervously sits through breakfast, hardly touching his food. We watch as he gets dressed into his dance clothes behind the stage. And then as he stands on stage with his heart beating fast before the music comes on and he shows his surprised classmates his impressive moves.
Not once does the book talk about the fact that John is a boy, both because it doesn't need to and because the message is more universal than that.
"This is a book about performance—about the vulnerability that comes with sharing your talents with an audience, but also the validation and connection artists achieve through their art," Barnett tells us about the book's inspiration. "John dances a ballet routine at an assembly in an elementary school auditorium, or technically a 'cafetorium'—a cafeteria with a stage in it, that always smells like whatever was just cooked. I've spent a lot of time in elementary schools. They're special places where beautiful moments happen every day, places where real art is made and shared."
No matter if your child is a dancer or not, we can almost guarnatee they will relate to this beautiful and touching book, filled with Barnett's straight-forward text complemented by vibrant watercolor illustrations by Kate Berube. Together, they create a simple and enduring story about a common elementary school experience that'll have kids identifying with and adults filled with sweet nostalgia.
A new classic for your bookshelf, we suggest you scoop this one up ASAP!
John's Turn, written by Mac Barnett, illustrated by Kate Berube, $16.19, Bookshop and Amazon.
Share this story