Mother Stories
Latham Thomas On Her New Book, Quarantining With A Teen, & More!
Written by Katie Hintz-Zambrano
Photography by Photographed by Heather Moore
Jun 17, 2020
Like many of you, we would give a lot to have a casual coffee date with a friend right about now. Especially if that friend was the one and only Latham Thomas—the Brooklyn-dwelling doula, author, entrepreneur, mother (of a 16-year-old son), "self-care sorceress," and advocate for women everywhere. Alas, a digital meetup will have to do. In our case, our "Coffee With…" Q&A with Latham proved to be quite enlightening, as the multi-talented founder of Mama Glow celebrates the paperback release of her inspiring book Own Your Glow—a.k.a. the self-care guide we all need right now. As luck would have it, Latham's release comes during a week where there's a national effort to shine a light on Black authors and help to "Blackout" the best-sellers list with Black voices (look up #blackoutbestsellerlist for more info). Perhaps with your own cup of joe, tea, of juice in hand, read on below to hear about Latham's newly minted best-seller, the exclusionary roots of the publishing industry, the busy mama's A.M. and P.M. routines, her biggest excitements and fears as a mother, and much, much more!
How do you take your coffee/tea/morning beverage? "My first morning beverage is water, and then I make a green juice. My green juice has celery, cucumber, lemon, ginger, and green apple. I usually drink all of this around 7 or 8 o'clock in the morning."
Early bird or night owl? "I'm kind of both! I wake up early, with the sun. And I love daytime. I love being outside. I'm a photosynthesizer, I love being in the sun. But when I am really focused, I can stay up late and I can get things done. So, I'm preferably an early bird, but I can be a night owl."
What's your morning routine usually like? "I'm all about moving slowly. In this time of quarantine, it's been really great because I've been able to move at a pace that makes me feel relaxed, which I'm grateful for. I usually head to our roof and hang out and take in the sun. I'll meditate up there. I do sound meditation. Sometimes I go for a run and I love that, when it's cool out and nobody's outside yet. Then, I shower and get ready for the day and then I'll do work. At home, I'll do work at my dining table and there are a lot of plants around me, so it feels like a little jungle. That's where I like to be."
What about your nighttime wind-down routine? "This is all about doing my rituals with my face—washing my face, applying an oil, massage. Sometimes I'll be straight out of the shower and do a full-body self-massage with shea butter and coconut oil. Sometimes I read a book, but usually I'll wind down by watching a program or a film. Maybe I'll listen to a podcast. And do some reflecting and journaling. I might go outside and sit on the roof. I love listening to the birds in the morning and also when they start to chirp again at night."
What books are currently on your bedside table? "I currently have my book, Own Your Glow, but not because I'm reading it. I have a daily journal I use called Many Moons. I have a book called Moon Lists, The Politics of Trauma, and The Secret Lives of Church Ladies, which is not out yet, but I am previewing it."
What does "owning your glow" mean to you? "To me, owning your glow is the art of being a fully expressed version of yourself and standing in your power. Especially in a world that wants us to turn away from ourselves and away from our bodies. It's an opportunity and a declaration of you being yourself. It's about you shining in spaces where people want you to dull our light. It's about being in your power, in a time when we've been relegated to silence for so long. For me, it's someone who listens to their unique needs, embraces self-care as a pathway to empowerment, and moves to their own beat. They don't let anyone else dictate how their life should be functioning and they're moving in the way they feel aligned."
How would you describe your book, in a nutshell? "Own Your Glow is like a healing balm. It's a meditation on slowing down and embracing self-care. It's a pathway to empowerment and, through reflection exercises, an enriching companion for change."
How do you personally treat yourself and, as your book says, "live luminously"? "I'm a big 'rest first' person. I'm someone who does a lot, but I do also take the time to rest. For me, luminous living is leaning into your needs fully and respecting your boundaries and honoring who you are. I know I'm someone who feels more fulfilled when I'm not rushed, I like to take my time, and move intentionally. So, that's how I design my life. To me, that's living luminously. Take whatever you've been given, and make it beautiful. It's expanding on the radiance and making a life worth living and making it yourself, not succumbing to what we're told. It's about moving in the direction of your soul."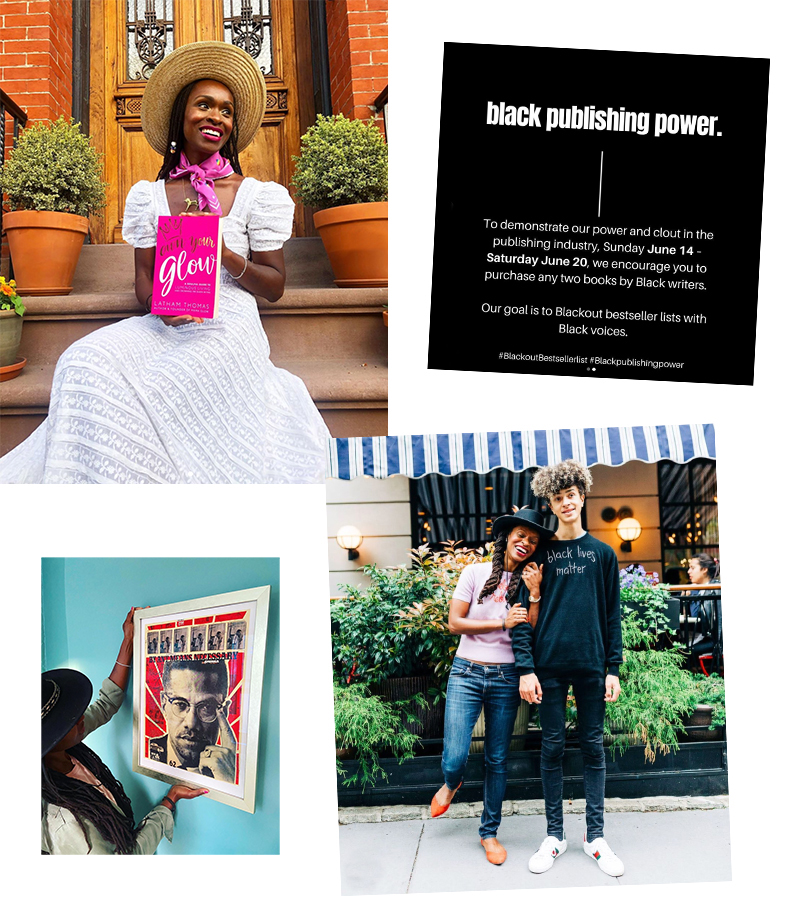 How has quarantine—and the current national outrage and protests—changed your morning routine and general self-care practices? "This time has allowed me to lean deeper into self-care, even though it feels like I'm busier than ever. This time has called for me to really reclaim rest. Part of my self-care is to spend time alone, and turn off my phone. I call it phone-fasting. I feel like I'm off my phone a lot. I'll be on Instagram a few times a week to post, and then I'm outta there. I'm off of the news. I just stay off. It's made me be more disconnected so that I can maintain peace of mind. This time is also allowing me to spend a lot of time and energy with my son, who is 16, and heading to college in a year. Quarantine has been great for us to bond and I view bonding with my child to be one of my self-care practices. It makes me feel so good at a soul-level."
How would you suggest others—especially Black women—take care of themselves during this intense time? "We have to change the legacy. Black women have inherited a legacy of taking care of others. It's in our blood almost. It's something our ancestors did for hundreds of years. We do this in our own communities, we take care of each other, so we have to lean into a new paradigm and think about what is possible for ourselves and what we need. But we also need to ask and design spaces that allow us to ask for what we need and get it. We need people around us who will help us get what we need, so that we can feel affirmed and supported. So, asking for help is a part of that. Find out what feels right for you. I wouldn't give anyone a suggestion on what they should do, but I do know there are a lot of things that can help with stress management that can be explored. This is a powerful time to begin a meditation practice and to connect with a licensed mental health provider. It's a great time to get one of those motivational group texts going, and have a regular practice where you're by yourself outside and getting fresh air—walking, running, doing some sort of movement to move the stress hormones out of your system. All of these things are suggestions, but people need to choose what feels good for them and what they're going to be consistent with. I would say commit to something consistent and start today. Think about what you need first. Once you know that, you can design your life around a practice that incorporates these pieces. And certainly I have a lot of suggestions within Own Your Glow to do that."
You've spoken a bit on social media about the challenges Black authors face in the publishing industry. What do you see as the biggest hurdles? "There's a lot. There's gaslighting, there's bias, there's pay discrepancies and disparities, there's lack of institutional support within the organization, there's lack of PR and marketing resources for authors of color and Black authors. There isn't the mindfulness of putting them with an editor who might understand the subject matter or cultural lens they're speaking from. There's so many things. But I would say it's a really skewed industry because it was started by the aristocracy, by people who wanted to publish philosophy and literature. This was a high-brow thing that these people could do, like collecting art. That's where the industry started, so it already has this exclusive historical framework and began only publishing male authors. There's never really been a reckoning of why it is why it is. So many of these systems haven't been examined until now. It's definitely time for publishing to change and to put the power into the hands of folks who are writing and producing their work. It's important for people to know that Black authors are under tremendous pressure to perform. Their books have to succeed or they don't get advances that warrant writing a book. Your purchase means a lot. I always tell people to buy three. I always buy three of a book—one for myself, one for a friend, and one for a stranger. In a time before corona, I would usually leave the book for the stranger somewhere in public, like in an airport or on a bench or on the subway."
What are ways customers can best support Black authors, especially during this week's #BlackoutBestsellerList challenge? "In addition to the Power of Three rule above, you can also use social media to support authors, by using swipe-ups in your Stories, and by spreading the word to your friends. Let them know that you're buying from Black authors and suggest you should all do it together."
We know you've been enjoying extra time with your son, Fulano, during quarantine. What are some things you're enjoying doing together lately? "For us it's cooking and eating on our roof. We've recently started ordering from this Ethiopian restaurant that we love, so on Sunday nights we've started a ritual of eating an Ethiopian platter on our roof and we'll just talk and listen to music. He's a DJ, so he'll bring his speaker up, and it'll just be a vibe. It's so awesome. We have so much fun. Sometimes we sit on the stoop and we'll talk about life together. We'll go for walks also, but mostly he's into riding his bike and running. He's 6'4″ and has this incredible stride and he's much faster than me now. So, running isn't great for us to do together, but walking together and cooking together is. Cooking for me is a love language, so I love feeding him and then just sitting and talking at the table. We've also been listening to a lot of music and he makes his own music. So, I'll go and listen to him in his production studio. He's doing house music, and an incredible trap/soul/R&B/hip-hop album. I'm really proud of what he's been doing. He's in the Berklee School of Music Summer Program, which he's doing virtually. So, there's a lot of music going on in the house, which is so lovely."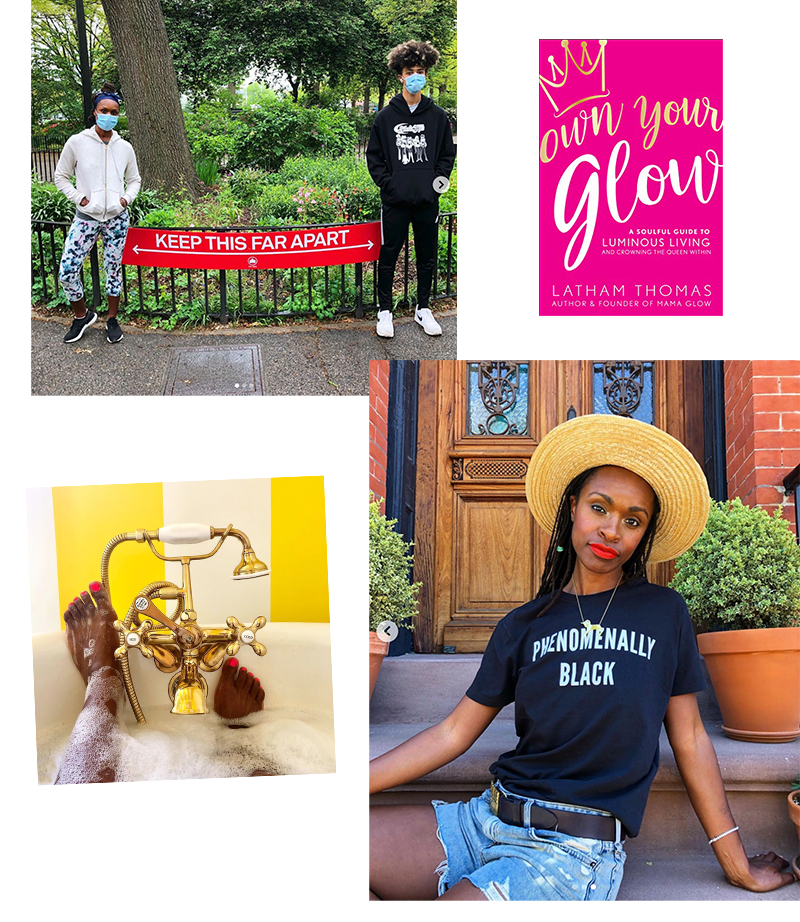 We know you're vegan, what are some of your go-to family meals to make? "Beans, rice, avocado, sautéed greens with some sauerkraut and kimchee and hot sauce. Black-eyed peas, farro, kale, and mushrooms. In the summer months, we love grain salad dishes and greens and sprouts. Those are the kinds of the foods we love around here. My son loves an avocado toast and a soup. He likes to make these vegan tortellinis and a pasta sauce."
What excites you most about motherhood right now? "Everything. I find every stage is exciting. I do miss when he was little. I have to close my eyes and imagine that time now and I miss those moments, now that he's taller than me. But I love the conversations now. I love that he's becoming an adult before my eyes. Everyday that he wakes up that I get to be his mother, I'm just so thankful. It's also been exciting to share my story with others. For me, parenting has been a journey and my son teaches me so much."
What makes you most nervous? "The times that we're in now. My son walks outside, and he's 6'4″. He's perceived as a threat, as a Black man. Of course, he's not threatening looking. I look at him and see a child, but not everyone sees him that way. So, I get nervous about him being out in a public space. I get nervous about him encountering law enforcement, because we know that you don't have to be doing anything wrong to become a victim of police violence. So, I get nervous about that."
Favorite films of the moment? "I recently watched Spelling The Dream on Netflix, which was amazing. I love cartoons, so anything Disney/Pixar. I love The Toy Story franchise. The animated stuff is giving me joy right now."
When quarantine is over, what are the local spots that you'll be heading to first? "I'm not sure where we'll go first, but there is this place Oxomoco, it's a Mexican spot and they have these beautiful drinks and food and an outdoor space. I will probably go there and have a Paloma and some really good Mexican cuisine."
You always have so much going on and in the works—what's up next for Mama Glow, your doula training program, and other initiatives? "We launched our digital training program for doulas in March and it's been kicking butt, it's so amazing! We have one once a month. We're currently in our June program and enrolling for our July program now. I am so thankful that we have people who are joining us globally. The online training will continue even after quarantine, because it's really feasible for people and now we have the digital program down. We have other community programs in the works that we're building. They're great for doulas who are a part of our program and even for those who are not. We have some great webinars that folks can tune into and past webinars that people can watch on our website. It's going to be a continuation of education and our advocacy efforts to advance birth equity. That's going to be our continued work. And also to advance this career path for doulas."
You can keep following along with Latham on Instagram at @GlowMaven and purchase her book, Own Your Glow, from Bookshop, your local bookstore, or Amazon.
Share this story