Food
6 Easy Tips For Healthier Eating Habits In The New Year
Written by Katie Hintz-Zambrano
Photography by Photo Via Revolution Foods
Jan 10, 2019
A new year is officially in full swing! Which means a fresh start is granted to all, including your kids. If you're looking to get your children eating healthier this year—both at home and at school—Chef Dominick Hayman, MS, NDTR, Regional Product Development Chef at Revolution Foods, has some advice to share! Chef Hayman is committed to collaborating with students to create nutritionally balanced meals that they actually want to eat. In fact, Revolution Foods, a company that designs, produces, and delivers two million kid-inspired and chef-crafted meals every week to early childhood education centers, districts, charter schools, and community and afterschool youth programs across the country, engages with students at every step to understand their likes and dislikes—so they know a thing or two about how to satisfy even the pickiest of eaters.
Each of Revolution Foods' meals (which happen to be served up at our son's school), made with clean-label ingredients, exceeds nutrition guidelines and broadens kids' palates. So, in celebration of a fresh new year, Chef Hayman serves up six totally do-able tips for a post-holiday, family-wide, healthy-eating plan that'll help start your kids' 2019 return-to-school season off on the right foot.
Tip #1. Eat at Home.
"During the holidays families get together for large meals and eating out oftentimes takes precedence over staying in between those family outings. While fun, eating out can lead to over-eating or eating unhealthy foods in general. The fresh new year is a wonderful time to get back to your roots and choose to eat at home, prioritizing fresh foods and clean ingredients that the whole family can enjoy."
Tip #2. Don't Forget the Fruits (and Veggies).
"Holiday meals usually come with an array of fruit-focused (or garnished) desserts. Delicious, yes, but not what we look for when considering daily fruit intake. After the holidays, make the effort to ensure your family eats at least two servings each of fresh fruits and veggies a day, without the excess sugar of traditional holiday treats."
Tip #3. Refocus on Portion Control.
"The dining table is full of great looking and smelling food during the holidays. The new year is an ideal time to refocus your family's attention on healthy portions with more nutrient-dense foods such as leafy greens and whole grains so they feel satisfied, not stuffed. Make it fun and create imaginary dividers on the kids' plates, allowing them to fill their plates accordingly; this is a great way for young ones to learn about healthy portions."
Tip #4. Reinforce a Healthy Routine.
"Lounging around during holiday breaks is a tradition and necessary to recharge from school and work. But once your family is back to a normal routine, it's important to keep up with a regular exercise and eating schedule to help transition the body back into its normal rhythm. That means, prepping the kids with healthy breakfasts before school; make it a family affair during dinner by inviting them into the kitchen to help you prepare those nutritious meals. Go a step further and get your kids involved with planning the family's menus at home. Start with family visits to the grocery store, allowing the kids to help pick out fresh ingredients for their lunches and dinners. Over time, this will encourage them to enjoy trying new healthy foods and help them make better choices in school and later in life."
Tip #5. Limit Sweets.
"Cakes, cookies and pies are seemingly everywhere in sight during the holidays. Now that the season has wound down, opt to limit sweets—both your family's intake and what is available in your house. Removing sweet treats from the home is a great way to keep kids from eating them. Swap sugar-heavy treats with bowls of fresh fruits, whole wheat crackers and nuts in the kitchen. If the kids crave something sweet, a bowl of berries is much better than another cookie!"
Tip #6. Inspire Healthy Eating At School.
"Studies show healthy school meals can directly impact academic performance and inspire a life-long love for healthy food. Which is why it's important to encourage your kids to share what they are eating at school, so that you understand their likes and dislikes, as well as whether or not the meals value both nutrition and taste. Don't be afraid to get involved and be proactive in sharing their feedback with school officials so that they understand what must be changed to improve the nutrition and taste of school meals."
Have you talked to your child's school about their lunch program? This year, we encourage you to connect with your school administrators to understand how school meals are currently operated. For example, you can ask if the school handles meals on its own or sources a portion of the meals from a third party, find out how meal plans are created, and if the school invests in nutrition-based education outside of the lunch room. Knowing the answers to questions like these will help determine potential areas for improvement.
Note that you can often meet with food vendors during parent-teacher conferences and back-to-school nights. If they're not already doing so, you can advise your school to become more involved in wellness and nutrition education by creating fun, educational courses or lessons so that students are able to learn about healthy foods and eating habits at an early age, which is the goal Revolution Foods uniquely strives for.
Lastly, you can present Revolution Foods as a potential partner for delivering nutritious and delicious meals, as well as prioritizing the importance of teaching students about healthy foods daily. From delicious meals made with high-quality ingredients to cooking and gardening lessons in schools, Revolution Foods continues to fulfill its mission to building lifelong healthy eaters. What more could a mama want?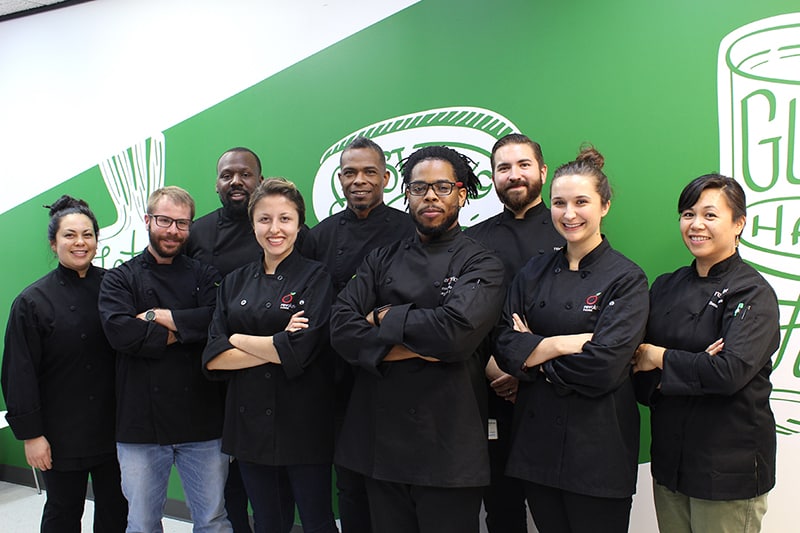 This post is brought to you by Mother + Revolution Foods. For more healthy eating ideas, recipes, and to get Revolution Foods served up at your child's school, head over to revolutionfoods.com.
Share this story