As the temps drop and those epic summer vacation adventures fade even further into the rearview, there's nothing better than setting your sights on a warm-weather family vacay to escape the winter gloom. And when it comes to seeking out summer in the States all year round, no place quite compares to Hawaii. Whether you are looking for heart-pounding hikes, enlightening cultural experiences, or an itinerary stacked with nothing more than beach, pool, beach, repeat, the island of Maui has got you covered. MOTHER traversed the island (with two small kids in tow) to bring you all the best tips for doing Maui as a family.
Getting There
More airlines have finally realized what a hot spot the Hawaiian islands are, and many have added additional flights to a wider variety of islands. This is a win for Hawaii-hungry travelers, as more flights mean more convenience and lower ticket prices. Alaska Airlines still rules the skies when it comes to those cross-Pacific flights, offering more nonstop flights to Hawaii from the West Coast than any other airline. Alaska currently offers over 175 weekly flights to Hawaii from Los Angeles, Seattle, Portland, San Francisco, San Diego, Oakland, San Jose, Sacramento, and Anchorage, arriving in Kauai, Kona, Maui, and Oahu. From the West Coast, expect to spend between $200-$500 per round-trip ticket. We flew Alaska and were impressed with the on-time friendly service, the extra leg room in premium seating (very helpful for facilitating naps!), convenient and free stroller and car seat check, more than 500 free in-flight movies that we could stream on our own devices (Toy Story 4 was a hit), and the upgraded snacks—gratis granola, Kind Bars, and more were a welcome departure from the standard pretzels and peanuts, especially for the kids. Flight time from the West Coast is approximately 5 hours.
Getting Around
The whole island of Maui is approximately 48 miles long and 26 miles wide, so driving around the entire island wouldn't take more than half a day or so (without stops). That said, any place you may want to go is rarely more than a one-hour drive away, and the jungle scenes out the window will have everyone captivated. A drive along the Hana Highway is a destination in itself, but we found with kids, it was best to do only a portion of the drive, with some fun stops along the way. You can rent cars from the airport, or if you are staying at a resort, airport transfers are easy to come by. Lyft and Uber are both available here (but wait times for pick ups can average 30 minutes), as are local cab companies.
What To Do: Beaches
One of the best things about Maui is that your trip can either be an adrenaline-fueled adventure or an opportunity to simply chill by the beach and do a whole bunch of nothing. We opted for an itinerary that blended a good amount of both. Time at the beach is a no brainer, but with kids, we wanted to steer clear of those famous North Shore monster waves. Baby Beach in Lahaina is the perfect public beach for small kids—thanks to a fringing reef just offshore, the waves are small if non-existent here. The sand is super soft, and the depth stays between two and three feet, even when you walk out quite a ways. The reef also attracts a number of fish and other sea life, so it's a great place for beginner snorkelers to get started. Kapalua Bay is consistently named one of the best beaches in the world, and it's a great spot to camp out all day. It's best to arrive early, as the parking lot fills up at this popular spot. Leave strollers and wagons in the car—you have to traverse a concrete stairway down to the beach. Finally, Kamaole III ("Kam III," as the locals call it) is an especially family-friendly beach that is known for being a hangout for sea turtles (look, but don't touch!) and even boasts a playground complete with swings.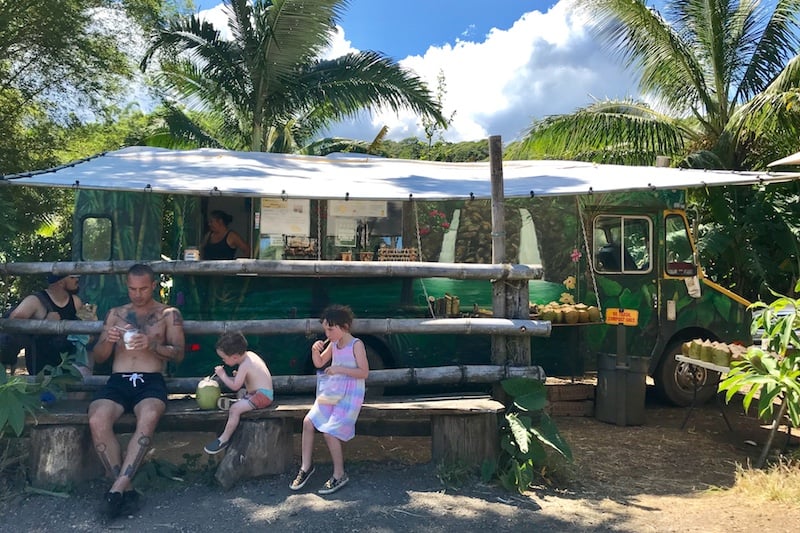 What To Do: Hiking
For much of Maui, lush rainforests bump up against white sandy beaches, and both beckon. Jungle waterfalls were high on our wishlist of things to see while in Maui, but with a 2-year-old and a 6-year-old, we knew a multi-hour hike to find one wasn't an option. Luckily, the Twin Falls Hike couldn't be more perfect for families, or anyone for whom hiking long distances isn't possible. Located just 30 minutes from the old school surf town of Pa'ia and on the first leg of the Hana Highway, there is a parking lot off the main road demarcated by a food truck/juice stand. Once you hike in, it's only about 10 minutes to the first falls, 20 minutes to a second waterfall, and 30 minutes to the Twin Falls. There is a well-kept fire road that will take you most of the way, which is doable even with strollers, but if your party is able, we suggest choosing one of the lower trails, which offer some great climbing, rock scrambling, and even require a river crossing (prepare to get your shoes wet!). We opted for a third route—we donned our water shoes and hiked through the river itself to get to the first waterfall and swimming hole. The water level varied between ankle and chest height, but was incredibly refreshing, and the kids loved navigating the rocky riverbed, hanging on to vines for support. The first falls spill into a large swimming hole, with cliff jumping options for every level of risk taker. Post hike, make sure to stop off at the coconut truck. Pick up a fresh young coconut and after you drain the sweet water, make sure to bring it back to the man with the machete so he can crack it open, fashion a spoon out of the shell, and show you how to scoop out the meat. The fresh coconut ice cream is also to die for (and dairy free!), as are the bags of crunchy coconut candy and fresh sugar cane sticks.
What To Do: Culture
One of the things we love most about traveling with kids is that we tend to seek out more opportunities for learning while in a new place, and the rich culture of the Hawaiian islands offers an abundance. The Maui Pineapple Tour was undoubtably delicious (pretty much all the pineapple you can eat, plus a world-famous Maui Gold pineapple to take home) but we actually learned so much, and will never look at a pineapple the same way ever again! The tour is great for all ages, the guides are passionate, funny, and knowledgable, and we left knowing everything from how pineapples are planted and grown (on bushes, not trees!) but also much about the agricultural history of the islands. The tour leaves guests off at the neighboring Hali'imaile Distilling Company, where PAU Maui Vodka is distilled using the Maui Gold pineapple. Grown-ups can sign up for a tasting, or the whole family can relax by the coffee and smoothie truck parked under a tree and order Hawaiian coffee or fresh fruit smoothies and juice. Dozens of chickens and ducks roam freely, making the place a de facto petting zoo for the littles. If that wasn't enough, the warehouse next to the distillery houses Makai Glass Maui, a glassblowing studio and gallery. Follow the signs in the gallery to a mezzanine level where you can watch the glass artists at work. Lastly, for a real taste of the local culture, we timed our visit to coincide with the annual Maui Fair. The kids were lured by the classic carnival rides and games (plus, where else can you see a volcano from a ferris wheel?) but we spent plenty of time in the sweet-smelling pavilion featuring all the award-winning local fruits and flowers grown on the island, and we filled up on poi mochi donuts and chicken hekka—more than 40 local non profits had booths serving up local, homemade fare. Lastly, a trip to Hawaii is not really complete without a luau, is it? We opted for the best on the island—The Grand Luau at Honua'ula. A traditional pig roast and torch-lighting ceremony, a buffet overflowing with traditional Hawaiian treats, and a beautiful performance of hula and story telling that lasted well into the night.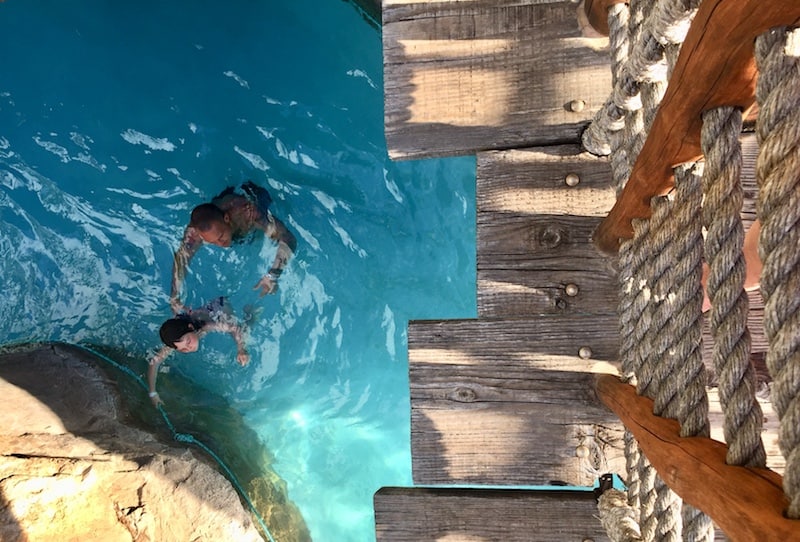 Where to Stay
Like most places, Maui offers a mix of smaller inns, Airbnbs, and large resorts, and each have their merits, depending on how you want to travel. Airbnbs will likely be the most inexpensive option, and it's easier to find spots with kitchens and multiple bedrooms—a perk when traveling with kids. But for those who come to Hawaii to experience the best beaches, plenty of pool time, and even some kid-free hours, many of the island's resorts were designed with families (and convenience) in mind. We ended up staying at the Grand Wailea, and upon entering it's easy to see how travelers get hooked on this place. Fresh orchid leis for the girls and kukui nut leis for the boys were presented upon crossing the threshold, and our room offered a breathtaking view of the ocean and the miles of pools below. Our water-loving family couldn't get enough of the waterslides—7 in total, 5 of which our small kids were able to ride. There's a lazy river, a Tarzan rope swing, a waterfall grotto, the only water elevator in the world, and even a tot-friendly "beach pool" with real sand. Needless to say, we swam till we were pickled, ate dinner, then swam some more (pools stay open till 10 p.m.). Thanks to complimentary sunscreen stations throughout the pool area, no one got burned, and thanks to the comfy cabanas, we were able to to order healthy hummus plates and fresh fruits poolside without trekking to a restaurant or back to our room. And while the pools were a draw, it was impossible to ignore the crystal blue Pacific just steps away. The Grand Wailea has its own private beach, and they'll set up your beach chairs for you, arrange a SUP (stand-up paddle board) lesson, or plan a kayak adventure. The water is bathtub warm, the waves are mellow, and the sand is as soft as it gets. Best of both worlds, indeed. Free snorkel courses take place in the snorkel pool in the mornings, and there are dozens of other free cultural classes, tours, and workshops for guests. And of course there are the kids' clubs and day camps on offer if some solo time is called for. The spa is even accommodating of keiki (the kids!), offering everything from mama-and-me massages to teen treatments.
Where to Eat
The one rule in Hawaii is "Always order the fruit plate." Forget about the humble, grape-heavy dishes we call fruit plates back on the mainland—a Maui fruit plate is a thing of beauty, whether you order it from a fancy hotel or a roadside café (oftentimes the latter is even more impressive). Papaya, pineapple, starfruit, guava, dragonfruit, lychee, mango—not only are they all delicious, but they look wacky and wonderful, and sampling will feel a little like a walk through Willy Wonka's chocolate factory. Our first fruit plate was served to us at the Grand Wailea's Grand Dining Room, where we had the breakfast of all breakfasts—an all-you-can eat buffet made up of a mix of standard breakfast fare (omelet bar, buttermilk pancakes, smoked salmon) paired with local specialities (fried rice, dim sum style buns, malasadas, a.k.a Hawaiian donuts, and macadamia-nut butter on everything). Another kid-friendly perk is that kids under five eat free here. But the fruit was just as impressive at a casual little cafe in Pa'ia. Meanwhile, Island Fresh Cafe is as charming as they come, with a cooler of fresh coconuts at the modest entrance, a smattering of tables set in a garden, and a pair of friendly servers. When our daughter squealed with delight upon finding starfruit in her fruit plate, the server went back to the kitchen and brought her another bowl filled with the celestial delicacy. Don't miss the banana bread French toast, and be sure to order your latte with local macadamia milk. You can't go wrong with any of the poké and shave ice joints for a casual and satisfying snack (get the bean paste!), and Mama's Fish House is a classic Maui spot to watch the sunset and enjoy some really good seafood, like the Mama's special: lobster and crab stuffed mac nut crusted mahi mahi. We finished off our trip with a dinner to remember at Humuhumunukunukuapua'a. The name, which we tried, and failed, to pronounce throughout our trip, is also the name of Hawaii's state fish, and both can (and usually are) shortened to Humuhumu. The restaurant is set in a cluster of open-air Polynesian thatched roof structures that are floating in their own lagoon—so yes, it's a pretty special experience. Sunset is the prime time to go, and order whatever your server tells you to. Even though this was by far the most upscale meal of the trip, the amazing server made our kids feel completely welcome, and even gifted them stuffed Humuhumu fish on the way out. Plus, kids under five eat free here, as well, which makes a big difference, considering the prices. But the food is stellar—our appetizer was a sampler of fresh, raw, local seafood and included salmon, abalone, shrimp, tobiko, tuna, and more. We tried two versions of local pineapple wine, and even the kids enjoyed frothy, fruit-topped virgin cocktails. And we all cheered to one of the best family vacations ever.
For more wanderlust, check out our list of 10 Family Travel Destinations We Are Dreaming About for 2019. 
Share this story