Toys
Meet the Twins Who Are Designing Dolls for a New Generation
Written by Erin Feher
Photography by
Photo courtesy of Worldgirls
May 22, 2019
Carlissa and Laken King are identical twins who hatched the idea for a better doll in high school. "It was a 'straw-that-broke-the-camel's-back' kind of moment," says Carlissa. "We were looking through a stack of fashion magazines in our high school library and realized the disappointing lack of representation of us and so many other girls on those pages." Today, after twelve years of hard work, the Worldgirls are ready for their debut. Each Worldgirls doll embodies a specific archetypal trait—warrior, healer, explorer, rebel, and scholar—so that children can identify with the dolls' unique passions rather than their looks. The 18-inch-tall playmates come with a 28-page mini-book, a pair of matching trait patches, and of course, an incredible outfit. We adored these multidimensional dolls at first sight, and wanted to find out more from their whip-smart founders. Read on for our interview with Carlissa King below. And you can score your own Worldgirl right here!
Tell us a little about your background.
"We are identical twins born and raised in Brooklyn, NY. We played tennis competitively starting at age five and went to great public schools in BK. We attended Amherst College in Massachusetts and started an Amherst-centered apparel business at school with our best friend—that was so much fun and reaffirmed our dream of having our own company and creating cool things."
Why did you start Worldgirls?
"Growing up in Brooklyn as these tall, black twins, having diverse friend groups, and coming from a humble background, but playing tennis, a predominately white wealthy sport, gave us this unique perspective. On the one hand, we were able to see the socio-economic and racial inequalities, and on the other, experience the beauty of interacting with people from all walks of life. Our lives were all the more enriched because of these experiences, and we felt that the magazines perpetuating this narrow depiction of the world were doing way more harm than good. Worldgirls is our way of working to level the playing field. We believe that early education and awareness is the way. We want to show children that you can support and celebrate one another, no matter your background. In doing so, you can change the images in those magazines, change the inequalities, and pursue what makes you happy. Aside from the magazines, from a young age, we've always loved children, had an entrepreneurial and creative spirit, and believed that education was the key to a better world."
Tell us about the dolls.
"Our dolls represent girls from different countries and backgrounds, but they are all connected, as they attend Worldgirls Hall, the oldest, baddest, most top-secret school in the world. Each doll is assigned a trait: Warrior, Healer, Explorer, Rebel, or Scholar. Laken actually came up with the traits after looking at our mom's old Carl Jung psychology book. We've always loved categories, archetypes, astrology, the Spice Girls, Harry Potter, etc., and felt it would be a great vehicle to help kids look beyond the physical. Pemberly is our Explorer: she's from Brooklyn, plays tennis, is biracial—a black mom and white father—, and has a non-verbal twin brother. Maud is our Rebel (always with a cause!) and she's from Sweden. She is adopted and has two fathers, Papa and Baba. Zari is our Scholar and world-class chess player. Oftentimes when people think of doing a black doll from another country, they immediately go to Africa, but with our own Caribbean background—our family is from Guyana—we really wanted to highlight the Caribbean because it gets no love! We intentionally went with Barbados, because it boasts a super high literacy rate, so for us, making Zari from Barbados was perfect."

The old-school doll companies have tried to make their dolls more diverse and up-to-date, with mixed success. Where do you think they are still falling short?
"We think they fall short in authenticity and genuine desire for change. They are more reactionary and we are more proactive. We're not going to wait fifty years to come out with something that people have been asking for for ages. And you said it, they're 'old-school!' Even when you look at American Girl, their rollouts for their diverse dolls always seem to be pushed to the side, cut short, not promoted as much. While we applaud the efforts of Barbie, Disney, American Girl, and the like, it's tough to erase that history—and even many of the present-day practices—from the minds of many. We want our dolls, packaging, content, and products to be fresh! It's 2019! For us, we don't call our dolls multicultural as many people do, because it's more than that. We want to tackle racial, socio-economic, differently-abled, sexuality, religious, body, gender, cultural issues—everything under the sun! And we KNOW that we don't know everything about all of these issues, so it's going to be a journey of listening, sharing, and learning. Also, when people say we're multicultural, it's almost as if Barbie and AG are still the standard, and everything else is 'other.' People don't apply descriptors to those companies and dolls, when in reality we are the ones striving to represent the actual standard and the world we live in."
What's it like running a business with your sister?
"We are not lovey-dovey as we say, and would never call each other best friends, but we are certainly in tune with each other. We've always had the same inner circle of friends, attended the same schools, enjoy similar things, have resembling mannerisms, still suffer from twin talk/babble, etc. —someone once called us an SNL skit. There was no decision to partner, it just was. The dolls popped into my head, I ran to Laken in the school hallway between periods, and she said yes, let's do it. Working with each other and having that built-in partner is amazing, but definitely comes with its challenges. Because our comfort level is so high, our ability to separate the personal and business relationships can be challenging. Of course we have disagreements concerning Worldgirls, but we bounce back very quickly. As with any relationship, communication is crucial, and we are always working on it. Bottom line: wouldn't change it!"
What has the experience of launching your own business been like?
"We came up with the idea in high school, but did not think it was feasible for us to pursue anytime soon. It wasn't until our senior year at Amherst, when we won the 1st Annual Social Innovation Pitch Competition, that we were like hey, maybe we should go for it sooner rather than later. We graduated in 2011 and incorporated in 2013. Someone once told us that starting a business takes twice as long and costs twice as much, and that was so true for us. Probably worse. First, we had no idea how to make a doll. Zero. We started researching in 2012 and for a year, nothing. Our crazy lucky break came when my sister, who was working at Scripps Networks at the time, spoke to a colleague about our idea, and he just so happened to be a doll enthusiast and knew someone who worked in the industry. From that point on, we were able to begin phase one. But we faced our biggest challenges when it came to manufacturing. Our dolls sat in two different manufacturers for two years. Finally, the third manufacturer was the charm. It turned out to be the very first manufacturer we contacted back in 2013, but we did not go with them initially because we were doing a really small order and it was just too expensive, so we had to move on. We came back in 2017 and with them, we were able to see our dolls come to life with through samples. But then came to the next obstacle. We did not have the money needed to produce the dolls, and the manufacturer was unable to work with us on a financial solution. We didn't know what to do. We were upset, discouraged, and it was Thanksgiving Day, 2018. I went on my computer and started researching—microloans, loans, grants—and came across line of credit. We went to the bank, applied for the line of credit, and were approved two days later, which was unheard of. Now after twelve years, we have our dolls."

What were some of the biggest challenges?
"Getting all the details right. It was painstaking. Down to the dolls' eyelashes. Working with people who didn't quite execute a particular vision and then having to pivot and find someone else. Money. There was never enough of it."
What about the rewards?
"On our journey to launch Worldgirls, we've worked with some uber talented, compassionate people, many who took a chance on us and said we love this idea and we want to help you. 98% of the work was done by women and it was overall a very international project."

How do you believe playing with Worldgirls will consciously and subconsciously effect kids' view of the world around them and the people in it?
"We want kids to look at Worldgirls as their friends and to understand that playing with a doll that is different from them is normal, which we hope translates to real life. And with the traits, it's all about exploring who you are as a person and igniting your passions. The dolls are great learning tools. In Zari's story, for example, coconut turnovers and tamarind balls are mentioned in the first few pages, and the idea is to pique curiosity and in turn, have the child look it up, make a turnover, want to meet someone from Barbados, so on and so forth. Here, girls are at the center of our stories in a dynamic way, which benefits both girls and boys. If everyone can read Harry Potter and Percy Jackson, then young children, no matter their gender, can read Worldgirls stories. Even as young readers, we didn't realize until we got older that we automatically pictured characters as white. And it's something that stays with you. We want to make sure kids grow up with a more complete picture of the world, because they will remember."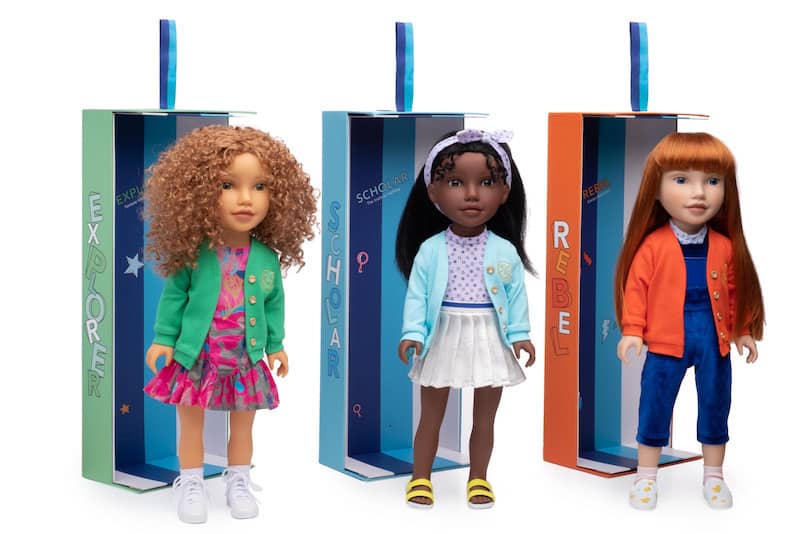 The Worldgirl Dolls pictured above—Explorer (Pemberly), Scholar (Zari), and Rebel (Maud) are all now available for $89 at ecWorldgirls.com. The Healer and Warrior dolls will be available soon!
For more on all things dolls, check out our piece on the growing market of dolls for boys and a roundup of diverse baby dolls for kids.
Share this story