Books
You Are Here By Zach Manbeck—An Uplifting Book For Kids + Adults
Written by Katie Hintz-Zambrano
Photography by Photographed by Kristen Murakoshi
May 10, 2022
Often times the teachings we hope to pass onto our kids are the most simple ones of all—to be kind, to be present, to be patient, to keep going, and so on. In artist Zach Manbeck's stunning debut book, You Are Here—which he both wrote and illustrated—beautiful life-long lessons are brought to life powerfully in a page-turner that helps kids make sense of one of the biggest existential questions. What will you do with your one precious life? And how will you do it?
"You are here. And from here, you can go anywhere!" the book begins. "But how will you find your way?"
Lesson #1: "Begin! Everyone begins differently. So whether you walk, skip, dance, or sit…be your own kind of brave."
Lesson #2: "Explore. Wander in every direction!"
And the lessons (paired with simple explanations) keep on coming: Take Your Time, Fall Down!, Keep Going!, Look, See, Be Patient, and so forth.
"I hope that this book encourages others to be kinder to themselves," Manbeck says about his over-arching goal. "You're on your way, in your own way! You Are Here is a great introduction to the power of challenging your own thoughts in order to build a healthier, happier mind."
Along with reaching kids with these encouraging words, Manbeck understands that adults need them, too (himself included).
"I was inspired to write You Are Here after beginning to learn one of the hardest lessons I've had to learn in my life—how to be kind to myself," he says. "In college and post-graduation, I was SO hard on myself. It wasn't until I let go of the reigns a bit that things magically fell into place…and that's the real magic of You Are Here. Once I opened my mind to kindness, my dreams came true. You'll find your way, if you let it find you."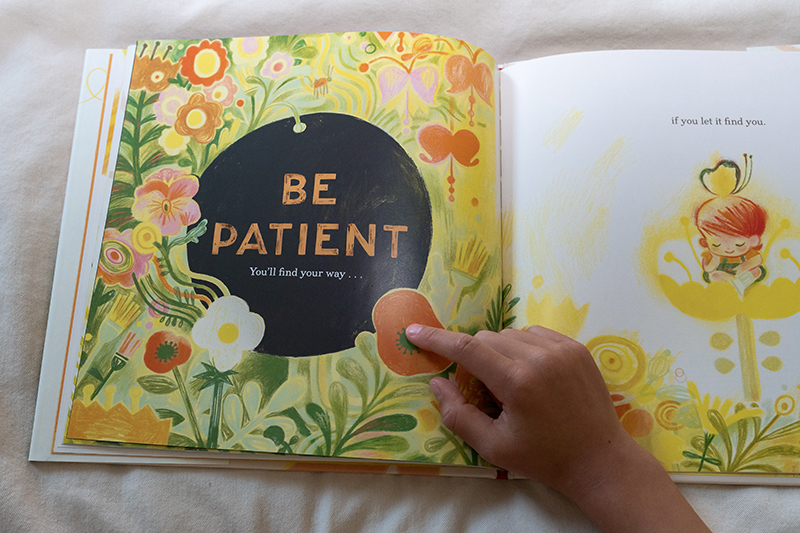 To go alongside the age-old, tried-and-true lessons, are vivid illustrations in a chorus of bold spring tones, created primarily in colored pencils and gouache—a new technique for Manbeck.
"I usually am more of a painter, and I used to hide my lines because I criticized them so harshly, so it was incredibly freeing to let my pencil lines come through and embrace them," says Manbeck. "The quality of the pencils gives the artwork a nostalgic softness, and creates a gentle feeling of motion."
A simpler and modern take on the beloved theme of Oh, the Places You'll Go!, the brand-new title You Are Here is a beautiful classic-in-the-making and a wonderful gift for kids—and adults, alike.
Buy It Here: You Are Here by Zach Manbeck, $17.99, Bookshop and Amazon.
Share this story