Authors & Illustrators
All about Juana Martinez-Neal's Powerful New Book, Zonia's Rain Forest
Written by Katie Hintz-Zambrano
Photography by Jasmine Pulley
Apr 22, 2021
Just in time for Earth Day—and Earth Month—comes a beautiful new kid-lit title from author-illustrator Juana Martinez-Neal that reminds us all of the interconnectedness of life on this planet. Zonia's Rain Forest (available in Spanish as La selva de Zonia) takes readers on a journey through the Amazon, where they get to spend a day alongside the main character—an Asháninka girl named Zonia—who introduces everyone to her animal friends before stumbling upon destruction.
"Being born and raised in Peru, I wanted to touch on the rights of the Indigenous people over their lands," explains Martinez-Neal of the book's deeper intention. "I hope Zonia makes us see that what we know as 'home' is just one way of life, of many that exist in this big, interconnected world of ours. I hope Zonia also makes us consider the source of everything that we get and purchase. If we opt for more responsible and sustainable products, we can not only be helping the environment but maintaining other people's ways of life."
Also the illustrator behind award-winning titles Alma and How She Got Her Name (which she also wrote), Fry Bread: A Native American Family Story, and  La Princesa and the Pea, Martinez-Neal's latest creation includes her unique, signature illustrations layered on top of materials from the Amazon. (You can watch this video to see her inspiring process, as well as the emotional story behind the book.)
"I am a mixed media artist mainly because I believe that different books call for different textures and techniques. As I was working on the sketches for Zonia, it was clear that I needed to include printmaking in the art. The unevenness and inconsistency of the transfers would lend perfectly the feel of the Amazon," she explains. "I knew I wanted the paper to have a different texture and color than what I normally use for my paintings, I just had not found it yet."
"Then, I learned about this small group of Indigenous women from Chazuta in the Peruvian Amazon, who make paper from banana bark. It was immediately clear, this was the paper I was looking for. Each sheet of paper was made by hand by people from the Amazon with the Amazon itself. I picked up the paper on my trip to Peru in 2019, I had to cut and glue the sheets to fit the size of paper that I needed for Zonia. If you look at each spread of the book, you will find the seam on the left or right… which makes for more interesting art. I then layered the acrylics, pastels, and colored pencils for all the characters while I used woodcuts and linocuts for all the leaves and plants in the book."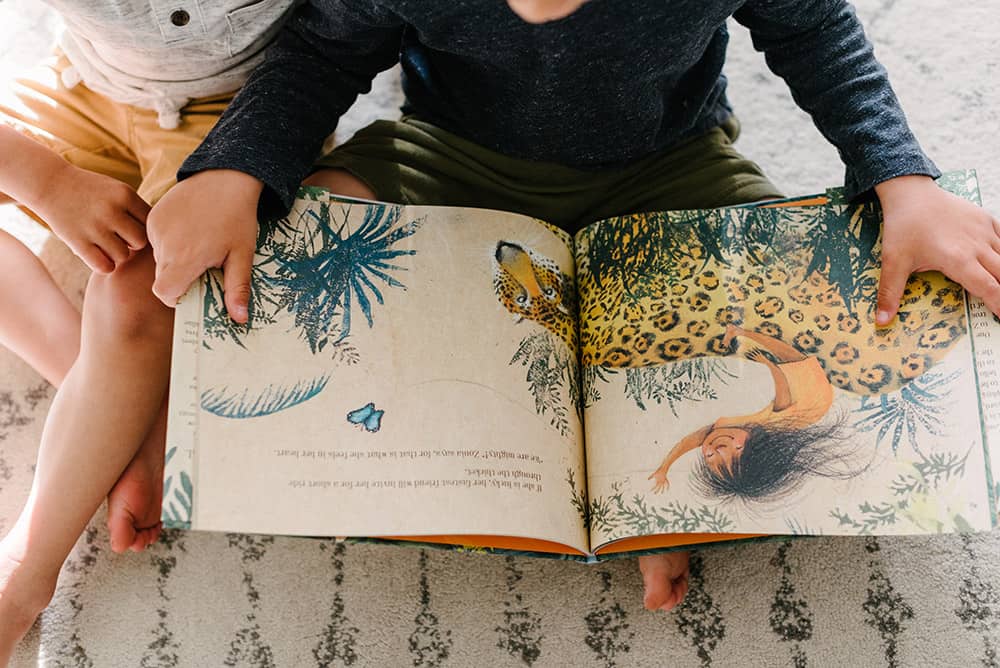 After reading the richly textured and illustrated tale, a first instinct of parents might be to teach their own children how they as a family can protect the Amazon rain forest—often referred to as "the lungs of the Earth." But Martinez-Neal has some thoughts to share about this impulse.
"Perhaps it is a good idea to consider refraining from our immediate reaction to the book, which may be the huge desire to 'protect' the Amazon and its inhabitants. It's important to look at the work that is already being done; listen, and more importantly, follow the Indigenous knowledge and efforts to improve rights and living conditions," she says. "Ruth Buendía is a real-life example of these. Ruth is an activist, she was the first woman president of the Central Asháninka del Río Ene. She educated and coordinated the Asháninka people to oppose the creation of mega-dams in the Asháninka lands. These mega-dams would have displaced and endangered their lands and way of life. Ruth is a great inspiration, which is the main reason why I dedicated the book to her. Much like Zonia, Indigenous people throughout the Americas and the world are organizing and leading efforts to protect the Earth."
In other words, you can use Zonia's Rain Forest as a jumping off point to educate yourself and your family more deeply about the various Indigenous people, lands, and activism happening in the Amazon and beyond. As Martinez-Neal says: "I hope Zonia's Rain Forest gets us started on our journey to create a world that is more equitable, just, and conscious."
You can scoop up Zonia's Rain Forest via Bookshop, Amazon, and many local bookstores. You can also read more about Juana Martinez-Neal and her process behind Zonia and her other books at JuanaMartinezNeal.com and follow her @juanamartinezn on Instagram.
Share this story