We've already explored ways to boost your child's body image starting in toddlerhood, but it's always good to get a refresher in just how important it is to do so. Luckily, Common Sense Media just came out with a study exploring Children, Teens, Media, and Body Image and some of the the results might surprise you.
The study revealed the following, which is also summed up in a handy infographic below (and here).
-Children as young as 5-years-old express dissatisfaction with their bodies.
-More than half of girls and 1/3 of boys as young as 6 and 7 feel their ideal body is thinner than their current body size.
-5- to 8-year-olds who think their moms are dissatisfied with their bodies are more likely to feel dissatisfied with their own bodies.
-87% of female TV characters aged 10-17 are below average in weight.
-Measurements of toy male action figures exceed even that of the biggest body builders.
-41% of teen girls say they use social media to "make themselves look cooler."
Of course, there are things you can do at home to help your child win the poor body image battle. Common Sense suggests the following, as well as other tips listed in the infographic.
-Emphasize health, not weight.
-Teach appreciation for all types of people.
-Focus on talents and strengths.
-Ban "fat talk" and say why you appreciate your own body.
-Be active and eat well for health, not size.
-Watch your comments about other people's bodies and appearance.
-Choose quality media with diverse characters.
-Tune into your kid's lives, asking about their friends, school, and feelings.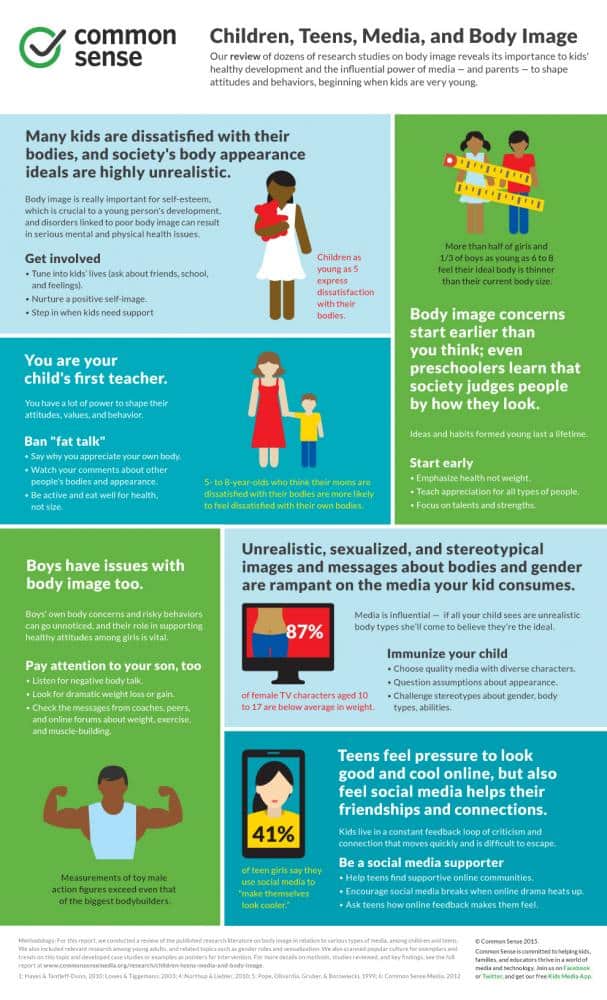 Share this story