Parenting Advice
15 Ways Kids Can Nurture Long-Distance Relationships With Relatives
Written by Katie Hintz-Zambrano
Photography by Photographed by Katie Hintz-Zambrano
Apr 10, 2020
Relationships between children and their grandparents and other extended family members can be a very special thing. However, when that in-person connection is disrupted due to distance and today's shelter-in-place orders, it's time to get creative when it comes to strengthening those intergenerational bonds. Below, we've got 15 ideas to keep your kid's most important long-distance relationships (grandparents of otherwise) thriving.
Make Zoom Your Friend: If you haven't already, start to embrace all the digital ways you can see your extended family's faces. To keep communication consistent, we love a regularly scheduled meetup via FaceTime, Zoom, HouseParty, or another app. The latter two allow more flexibility when it comes to adding multiple extended family members to one call.
Teach Them How To Have A Conversation: Let's admit it, not all kids are natural conversationalists—especially when put on the spot. If your child has trouble staying engaged during video calls, have a few open-ended questions handy for them to get involved. Anything from "what did you do today?" to "what did you like to do when you were my age?" and so forth. You can discuss and develop your question list with them before they jump on the call.
Read Together: Whether they're able to snuggle shoulder-to-shoulder or if you need to use FaceTime to do it, have your child crack open a book to bond with their elders. Bonus points if the book features intergenerational characters! Our suggestion: The newly released Madame Badobedah by Sophie Dahl (who just so happens to be the granddaughter of the legendary Roald Dahl!) and illustrated by Lauren O'Hara. The tale takes place at the dreamily rendered Mermaid Hotel and features a young girl, Mabel, who befriends an adventurous older woman in Room 32. The richly illustrated pages paired with the suspenseful text will keep kids and grandparents riveted until the very end.
Become Pen Pals: Go back to the basics and break out paper, pencil, envelopes, and stamps and help nurture a pen pal relationship between your child and an older friend or family member. Your little one will have fun anticipating a response to their note and you can count down the days on the calendar until it arrives.
Share Your Kid's Art: In addition to writing letters, sending special artwork for grandparents will surely make them proud. Anything from the extra kid art you have laying around the house, school projects, or an original piece will do the trick.
Make A Family Recipe: There's nothing quite like a delicious, passed-down recipe. Ask your loved ones to share their favorites and get your kid in the kitchen to try whipping it up. Bonus points if you can cook to an old-school soundtrack from the loved one's era.
Skillshare: Know an elder with a skill to pass down? Many families are utilizing FaceTime and other digital tools to have grandparents, great aunts, and others teach their child new skills, from sign language to sewing to trading gardening advice.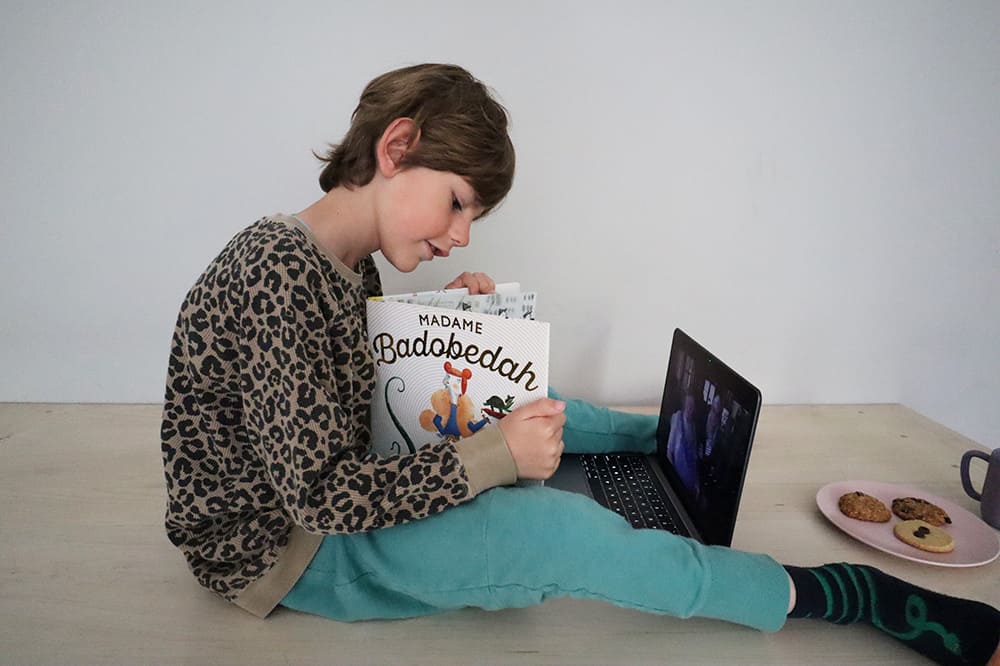 Play A Game: While it's harder to play a classic board game when not IRL, there are plenty of options—such as Words With Friends and Monopoly—that you can play in tandem online, even when physically apart.
Make a Family Tree: A good exercise for any age, have your child quiz their extended family on their roots in order to make a complete family tree.
Create A Photo Book: There are plenty of online services that make custom photo books. Take some time to comb through all of those pics on your phone to narrow down your favorites in order to make books based on the best photos of Grandma & Me, Grandpa & Me, Auntie & Me, etc.
Have Them Interview Each Other: Help your child prepare some questions that'll help them learn more about their elders (take a look at 20 starter questions right here). If you're able to record the conversation—either via video or audio—it'll become an instant keepsake.
Share Memories: What's more funny than hearing a hilarious story about one of your parents when they were your age? Encourage older family members to recount silly stories to your child (and then brace yourself for your kid bringing it up every now and then from there on out!).
Look At Family Photos Together: Especially if you live a long distance from family, keeping family photos and photo albums around the house and within a child's reach is key. Reference them often and also encourage your child to share pictures of themselves with long-distance relatives, either physical photos or digital renditions.
Send A Surprise Gift: Know something (other than a pen pal letter or your kid's artwork) that your loved one would like? Plan a surprise gift with your child and sneakily wait until it arrives and you receive a response.
Ask Your Kid For Their Ideas: As with many things, your child is likely to have great ideas to add to this list! Ask them their ideas on creative ways they can work on bonding with grandparents and other loved ones from a distance, and add those to your plan.
For more ideas on stay-at-home activities, check out our roundup of 100 Screen-Free Things To Do With Kids, The Best FREE Art Classes On Instagram, How Your Favorite Children's Book Authors Are Saving Story Time, and The Best FREE Education Websites & Apps For Kids.
Share this story