Artist Moms
6 Family Photo Tips From One Of Our Favorite Photographers
Written by Nicki Sebastian
Photography by Photos by Nicki Sebastian
Oct 28, 2022
With November and December right around the corner, there's no better time than NOW to get family photos taken. These photos can be used for holiday cards, gifts for family and friends, and to mark the year that was. If you've booked a photographer, congrats! If you haven't, might we suggest you do so sooner rather than later (this is their busy season!). One photographer who has hundreds of family photo shoots under her belt is Nicki Sebastian—a MOTHER favorite and photographer behind so many of our features. Because Nicki is an absolute pro when it comes to capturing beautiful, fun, and playful family portraits, we asked her to lend her best family photo tips to read before you—and your kiddos—get in front of the camera. Enjoy!
Location.
When it comes to location, it's really the light that matters most. And after lighting, consider the comfort level of your kiddo(s). In-and-around-your-home shoots provide a really intimate setting that can be great for little ones who are most comfortable on their own turf—and not to worry, an obsessively cleaned house isn't necessary when shooting family photos! Throw any clutter in a closet or spare room (or just leave it if you want to remember this time exactly as it is), use available window light for indoor images, take photos in the front and backyards, and even take a walk around your neighborhood! An in-home shoot is great for shy children as they often love to show off their space and their toys, and the process of sharing their domain helps them to become more at ease with a new face.
If you're looking to venture beyond your own four walls, consider a park with shady spots that your family frequents together! Ideally morning or late afternoon is best for outdoor locations (especially the beach), and the fresh air and less familiar surroundings can be a welcome distraction for those not wanting to be in front of the lens. Plus, you can always pack a picnic lunch and treats and make it a larger excursion where the shoot doesn't have to become the main focus of the day, so the pressure is alleviated a bit and your little ones see it more of a fun family outing as opposed to a forced task.
Outfits.
When considering what to wear, style is key, but comfort reigns supreme! Choose outfits that speak to your everyday vibe (you'll want to recognize yourself when looking back at old pics), and if you're purchasing new ensembles, make sure the kids wear them a bit (but maybe not during spaghetti night) before shoot day so there are no unforeseen meltdowns due to itchy fabrics or too-tight waistbands. Parents should consider clothes that they can easily move around in easily as well—because the best photos are ones that incorporate play and cuddling and laughter, as opposed to stiff, distracted subjects with restrictive attire.
Prepare.
Choose your photographer based on their portfolio and get familiar with the kinds of images they create—family portraits can range from formal and fine art, to loose and photojournalistic, as every artist has a different take on creating imagery. Also, if you have any specific kinds of shots you'd like to capture, I recommend putting together a Pinterest board of inspiration imagery so you and your photographer are on the same page. Pull images from their website and add in other work that speaks to you too—but also allow some room for organic, naturally unfolding moments, because some of the best photos are the most unplanned!
During The Shoot.
Snacks and bribes really do the trick! It's okay to be 'that parent' and put a carrot in front of the noses of your children—and by carrot, I mean the promise of ice cream or a small toy or whatever it takes! Also, pack plenty of snacks and take frequent breaks to maintain blood sugar levels and encourage stamina. As easy-going and fun as your photographer might be, it still requires some luring on your part to get little ones on board with participating in a family photo session, so don't skimp on the treats (it's okay, once or twice a year won't ruin them for life) and make sure your kids are well-fed and hydrated before the shoot as well!
Leave It To The Professional.
As tempting as it might be to control the actions and/or facial expressions of your children throughout the shoot, let go of this task, relinquish control, and allow the photographer to work their magic. Yes, your son or daughter might make silly faces or may not be smiling in every frame, but the alternative is your own face contorted into an expression of either frustration or heavy coaxing—neither of which will translate on the holiday card. Your photographer should have plenty of experience and tricks up their sleeve to get more than a few smiles out of your children, and in the meantime, you just plaster a pleasant grin on your own face and pretend that everything's just fine—it's fine, it's all fine. Worst case, you have priceless images of your children being unapologetically themselves, and I guarantee those photos will be some of your most cherished once the stress of the day wears off!
So, You Hate Photos…
The minute a lens comes out, I forget how to move my appendages and my hands turn into claws, which perhaps is why I became a photographer (to hide behind said lens). But I do know how important it is to document fleeting moments, and the joy that our framed family photos bring me is truly indescribable—which is why I put on my Suck it Up Hat a few times each year and get in the frame, and you should too. The temporary inconvenience and short-term stress of planning a family shoot is a very small price to pay for images that truly freeze time and act as proof of my existence. Unfortunately, there's no cure-all for the camera-averse, but the outcome of bottled memories and images that can be passed down for generations is worth all the awkwardness ever.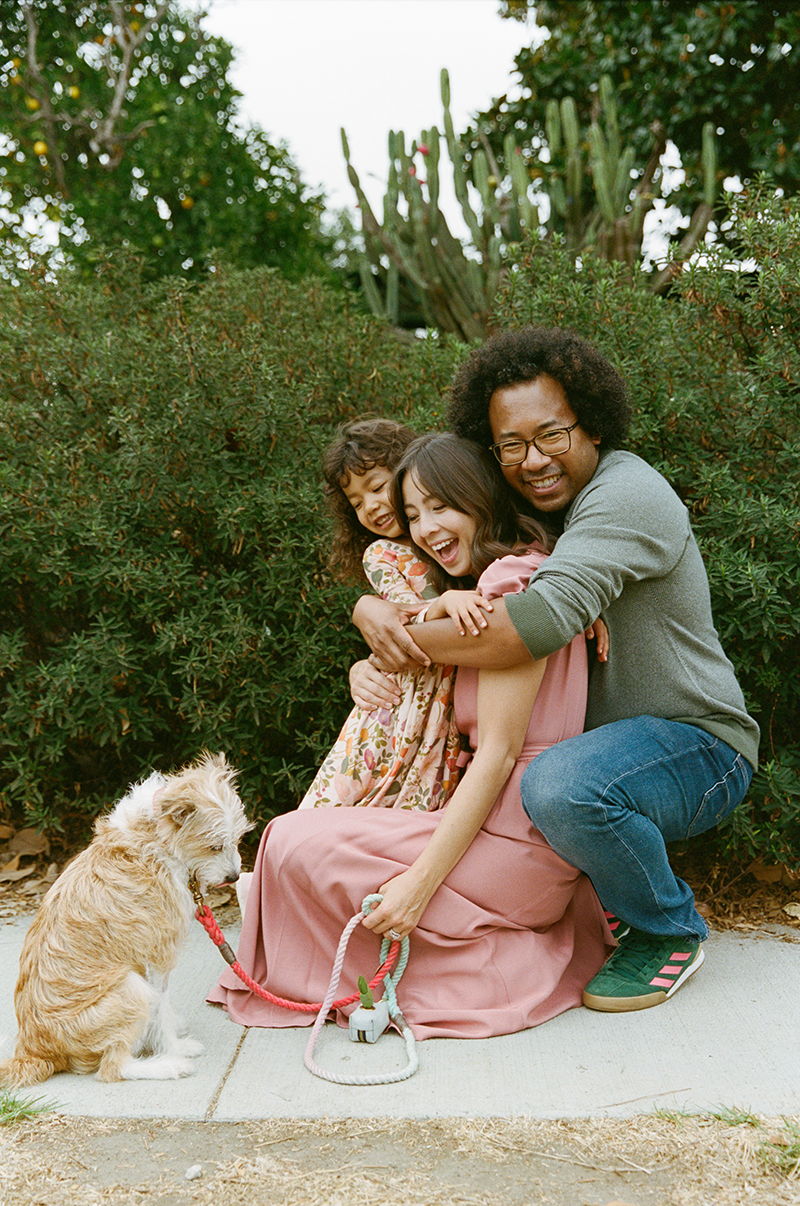 For more family photo inspiration, be sure to follow Nicki at @nickisebastian on Instagram.
Share this story