Books
"Guess How Much I Love You" Releases A 25th Anniversary Edition
Written by Katie Hintz-Zambrano
Photography by Photographed by Susan Work
Jun 16, 2020
While many of us are homebound for the foreseeable future, nostalgia seems to be having a resurgence. Whether it's turning your kids onto movies you loved as a little (is Mrs. Doubtfire suddenly in our queue? It's in ours!), making passed-down family recipes, or enjoying a classic book from your past. Which makes the 25th anniversary of the classic tale Guess How Much I Love You all the more sweet.
The book, written by Irish author Sam McBratney and illustrated by Anita Jeram, was first released in 1995 and features the touching tale of Little Nutbrown Hare and his father, Big Nutbrown Hare, competing about who loves whom more. "I love you as high as I can HOP!" says Little Nutbrown Hare. "But I love you as high as I can hop," counters Big Nutbrown Hare, hopping "so high that his ear touched the branches above."
Over the last 25 years, the beloved book has been flipped through by millions of families around the world, made into a toddler-friendly board book, stuffed animals, and even an incredibly sweet TV show with a cast of additional characters (Little Field Mouse, Otter, Little Redwood Fox, Blue Bird, Little Grey Squirrel, and Little White Owl).
And now comes the Guess How Much I Love You 25th Anniversary Edition of the book. The keepsake-worthy rendition features a beautiful slipcase, the beloved book itself, and a limited-edition giclée print to hang up in your child's room.
With Father's Day already on the horizon, we can't think of a better daddy-and-me date than snuggling down with this classic tale that's celebrating its impressive quarter of a century mark.
Guess How Much I Love You 25th Anniversary Slipcase Edition, $12.49, Amazon or IndieBound.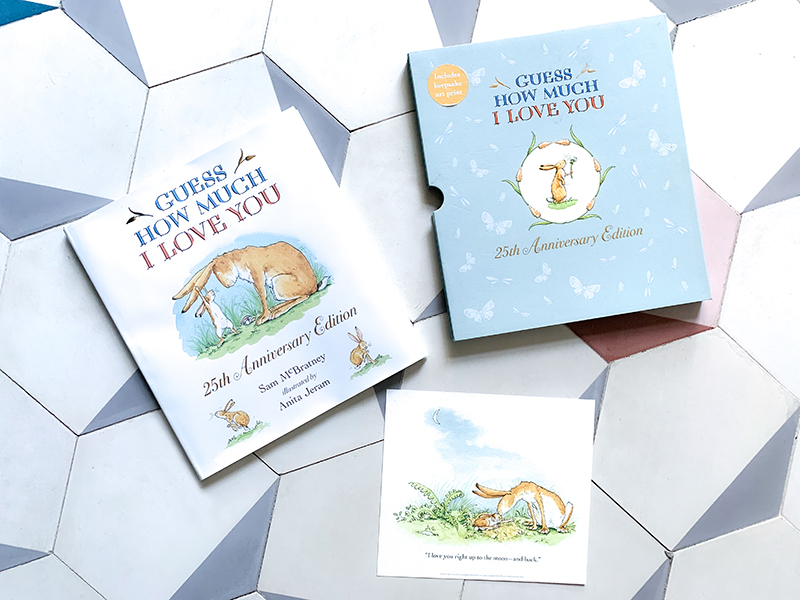 This post is brought to you by Mother + Candlewick Press.
Share this story