Mother Stories
Artist & Mother Madeline Donahue
Written by Katie Hintz-Zambrano
Photography by Yumi Matsuo
Mar 22, 2023
Back to story
Photography by Yumi Matsuo
1 / 38
Photography by Yumi Matsuo
2 / 38
Photography by Yumi Matsuo
3 / 38
Photography by Yumi Matsuo
4 / 38
Photography by Yumi Matsuo
5 / 38
Photography by Yumi Matsuo
6 / 38
Photography by Yumi Matsuo
7 / 38
Photography by Yumi Matsuo
8 / 38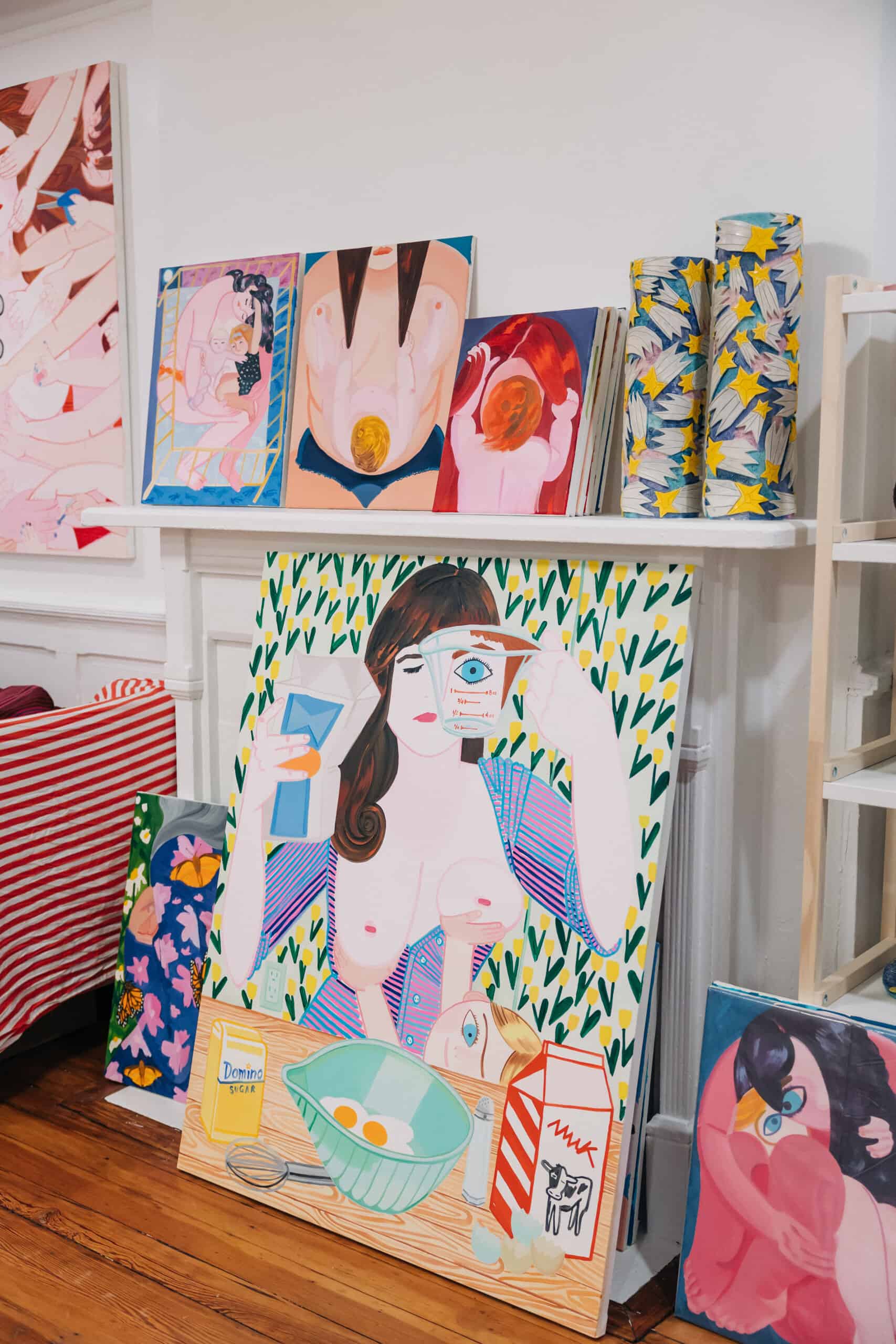 Photography by Yumi Matsuo
9 / 38
Photography by Yumi Matsuo
10 / 38
Photography by Yumi Matsuo
11 / 38
Photography by Yumi Matsuo
12 / 38
Photography by Yumi Matsuo
13 / 38
Photography by Yumi Matsuo
14 / 38
Photography by Yumi Matsuo
15 / 38
Photography by Yumi Matsuo
16 / 38
Photography by Yumi Matsuo
17 / 38
Photography by Yumi Matsuo
18 / 38
Photography by Yumi Matsuo
19 / 38
Photography by Yumi Matsuo
20 / 38
Photography by Yumi Matsuo
21 / 38
Photography by Yumi Matsuo
22 / 38
Photography by Yumi Matsuo
23 / 38
Photography by Yumi Matsuo
24 / 38
Photography by Yumi Matsuo
25 / 38
Photography by Yumi Matsuo
26 / 38
Photography by Yumi Matsuo
27 / 38
Photography by Yumi Matsuo
28 / 38
Photography by Yumi Matsuo
29 / 38
Photography by Yumi Matsuo
30 / 38
Photography by Yumi Matsuo
31 / 38
Photography by Yumi Matsuo
32 / 38
Photography by Yumi Matsuo
33 / 38
Photography by Yumi Matsuo
34 / 38
Photography by Yumi Matsuo
35 / 38
Photography by Yumi Matsuo
36 / 38
Photography by Yumi Matsuo
37 / 38
Photography by Yumi Matsuo
38 / 38
The artwork of Madeline Donahue will stop you in your tracks—thanks to her vivid, colorful, and often humorous portrayal of "the juggle" every mom faces.
From a car filled to the brim with toys, to a moment of after-shower peace interrupted by axe-throwing children—Madeline's portrayal of motherhood via colored pencil, paint, and ceramics aims to capture the extreme highs and lows of day-to-day parenting.
"I find all the difficulties of parenting pretty funny and a lot of my ideas come from feeling like I have totally failed or am totally humiliated by an experience," says the Houston-born, Brooklyn-based mother of two. "This time as a mom of little kids is also so precious, so the ideas are coming from the complexity of those two polarities—the abject and the sublime."
Thanks to motherhood, her process has also become incredibly efficient. "I am limited by the time at hand each day, so I work quickly," she says. "The drawings are done in one sitting. I want to have fun while I make my work, so I don't obsess over details or linger too long on anything."
And clearly, this method is winning for Madeline—with a rapidly growing fanbase (follow her @madelinedonahue on Instagram), and a steady lineup of future exhibits.
Amidst it all, the busy artist was kind enough to invite us into her colorful Brooklyn studio (with her children in tow) to show us around, and discuss everything from motherhood and her creative practice, to her favorite fellow mom artists and so much more!
Settle in and enjoy!
Madeline's latest work will be available through Hesse Flatow at the Dallas Art Fair (April 20-22), and at her solo show at Various Small Fires (Dallas), opening June 3. You can also contact Madeline directly about her work via Instagram.
*All works by Madeline Donahue are reprinted with permission of the artist.*
Did you always know you wanted to be a mother?
"Yes, I always, always wanted to be a mom. I was in no rush to have a baby, but at the same time knew I wanted to be a mom. I absolutely love being a mom to my two kids. At the same time, I was raised to be afraid of pregnancy and my body. I was raised in Texas right as sex education and abortion came under attack again. As a teenager, I took myself to Planned Parenthood for routine checkups instead of visiting my family doctor so I would have some privacy and autonomy with my own reproductive care."
"When I entered my thirties, I felt the relief of being 'old enough' to have a baby. I aged out of the pressure and fear my family had placed on my body. This is such a strange part of being someone able to carry a baby—all the shame and pressure that accumulates onto the body. But maybe this has all made it easier to be a mom. As a mom, I feel so happy and so capable of loving my kids."
What was it like going from 1 to 2 children?
"When my first kid, Twyla, was born, I made her my priority. I was in grad school but otherwise spent my time with her. I loved our quality one-on-one time. My second kid, Clement, was born a couple months before Covid hit. Prior to Covid, my daughter was in preschool and I had some time during the day to get to know my new baby. Lockdown made the transition to two kids more chaotic. I was not able to get that wonderful focused solo time with my son. I felt guilty that I could not give Twyla the full attention I wanted to show her. Naps and feedings seemed impossible."
"At the same time, we were able to bond as a group. I really piled on the positive praise any time they were good to each other. Now my kids are best friends. My son's favorite person is his sister. I now have time to give them undivided solo attention. We take turns doing things one-on-one. I think solo time with each kid and parent is so important."
"I find all the difficulties of parenting pretty funny and a lot of my ideas come from feeling like I have totally failed or am totally humiliated by an experience."
What excites you most about motherhood right now?
"My kids are 6 and 3 right now. There is a little more autonomy for all of us at this point. It gets more and more fun the older they get. They can make their own decisions and we can really DO stuff. I walked across the Brooklyn Bridge with my son recently and then we spent the day walking around lower Manhattan. We walked 9 miles that day. He loves to paint ceramics and helps me with projects around the house. My daughter and I can sit and draw for hours. She is reading and that whole world is opening up. She is also starting to cook. I can see a little of the person she will be in the future. I love the thrill of a future with them."
What makes you most nervous?
"I experienced a lot of loss as a kid and teenager. This 100% plays into the way I parent and into my work. Having a kid opens you up to potential pain in a whole new way. I have a variety of ways I deal with anxieties about parenting. I read everything I can find until the fear goes away. I love listening to Rob Delaney talk about grieving and loss. I am happy to see an evolving conversation about these subjects."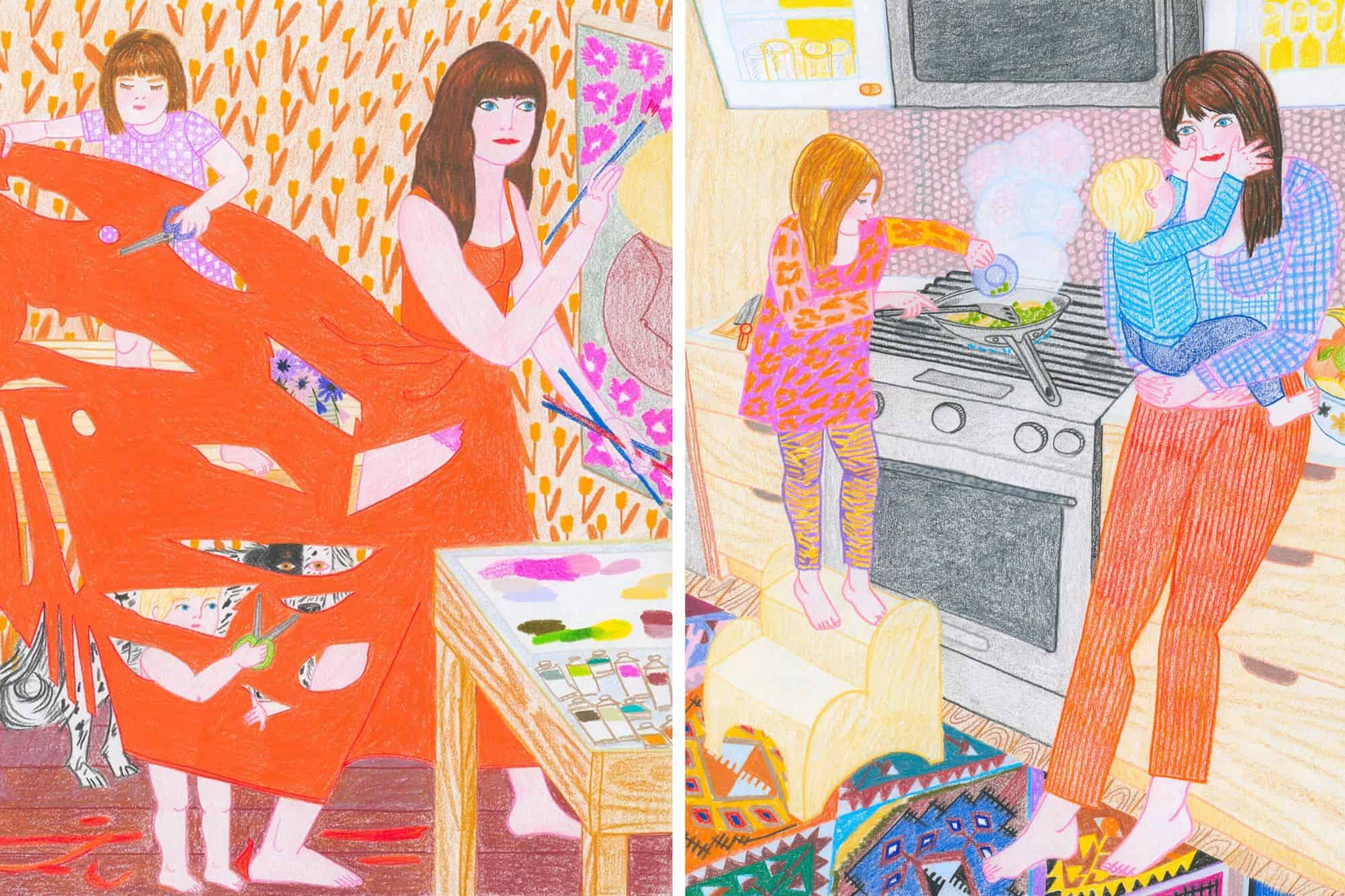 Were you always an "artist," even as a child?
"I grew up in Houston. I started drawing as a baby and remember needing to draw—it was an obsession. My uncle brought stacks of paper to my house and periodically checked in with my mom to be sure I had drawing materials. I would draw on anything I could find and would often draw on my dad's business cards. He still has boxes of business cards covered in my drawings."
"At some point, my dad built a small beach house and before the walls went up, I drew all over the interiors and framing of the walls. I painted a large mirror in his house, wiping away the old painting and making something new every time I went to his house. At my mom's house I could paint or make art anywhere in the house as long as I didn't ruin the hardwood floors."
Are there things from your upbringing that you're consciously trying to incorporate (or not incorporate) into your kids' upbringing?
"I try not to be too precious about anything. I don't set my kids up to fail. I don't worry about stuff getting broken or lost. Now my studio is at home so we have a dedicated place to make art together. I try to be calm and have a sense of humor about things."
"I also come from a family of people who talk about stuff and I talk to my kids. My parents did not put any weight or expectations on who I might be. I don't have any expectations about who I want my kids to be. I want to be around them and am trying to create an environment where they can be themselves. I think a lot about what was comfortable, safe, and fun for me as a kid and I try to do the same."
Is making art or fostering creativity a constant in your kids' lives?
"I don't put any pressure on them to be creative or to be artists. Both of my kids happen to be really interested and really good at making things. They have access to my materials and we have space to experiment. My studio is in our home and they come downstairs sometimes while I work. They describe the work and give me input."
"When Twyla was little we had a sticker wall—a wall wrapped with thick paper that we covered with stickers. Each morning we spent an hour or two putting stickers on the wall. We now have an indestructible butcher block table in our dining room. I cover the table in paper and we draw on the table with Tombow markers, the only markers my kids will use. We can draw like this for hours."
Tell us how your art career evolved, starting in college.
"I worked full-time in college while at SMFA at Tufts, supporting myself through undergrad. I painted portraits, I worked at J.P. Licks (the local ice cream shop in Boston), I worked in restaurants, I babysat. I worked at school as a teaching assistant and as a tech in the screen printing department. I interned for artists in the Boston area."
"Once I moved to New York, I focused on finding jobs that provided healthcare. I had a job styling books for personal libraries for all kinds of people in the city. I traveled around the city and went upstate to style personal libraries and spaces. I pulled books for TV and film sets. I built a library of books for Denzel Washington. This job seemed frustrating at the time because it separated me from my studio practice and goal of being a working artist. Now I am so grateful for it because I learned how to run a small business and how to advocate for myself as a business."
"When I left this job, I focused on assisting jobs. I was a full-time artist assistant for Jeff Koons. I then freelanced and assisted artists, photoshoots, video shoots, anything creative I could find. I quit working when I got pregnant because a lot of the jobs I had weren't super safe for pregnancy."
"I applied to grad school again. Of course, I got in while I was pregnant. I started when Twyla was 6 weeks old. This is when I finally had some time to focus on my own work. From here my own career evolved. I totally believe that the work comes first. Now I just focus on making work."
"For me, working day by day, one piece at a time, is the best way to work. I think small. When I don't have a lot of time, I think of the easiest thing to do."
How has becoming a mother impacted your creativity, art, and career?
"When I had my first kid, I didn't have an art career. I'd been working a lot to support myself and didn't have a strong studio practice or any attention on my work. Then, when I became a mom, I was hyper-focused on my new baby. I had this superpower in the studio because I was so obsessed with my baby. I could go to the studio and be really efficient with my time. I had nothing to lose and a lot of freedom to do what I wanted."
"Previously it had been hard to focus when I had studio time. I felt like every painting had to be a masterpiece. Now I make anything and some of what I make might be good. There is no pressure to make a perfect piece of art. This comes from having something else to think about—my kids—I work for them in a way. I work efficiently to make the most of my studio practice and then my time with them."
"Now that I have the beginnings of an art career, I also work for them. I want to support my family. I want to have something to do other than be obsessed with my kids. It is a symbiotic relationship. The time restriction of parenting has been great for me. Too much free time and too many options can be distracting. Narrowing my focus makes me more inspired and it is easier to make focused work."
Has the topic of family dynamics always been of interest to you?
"Yes, I am always drawn to intimacy and family. Artists sometimes make one or two works about their families and I find myself drawn to these works. I often think—why stop there, why just one or two paintings? Faith Ringgold's show at the New Museum was brilliant because it was a lifetime of work about family. I grew up on Frida Kahlo, who made a life of work about family and her loss of the opportunity to be a mother. I loved Dana Schutz's paintings made after the birth of her first kid. Of course, I grew up on Alice Neel. I was also drawn to Jennifer Bartlett's 24 Hours paintings and recently found out they were about her experiences as a mother."
"I have always loved Nikki Lee's photographs. I grew up on Surrealism, Modernism, and Impressionist work from Houston museum collections. My favorite painting at The Menil Collection is about a mother, 'Rape' by Magritte. It is the torso of a woman painted to look like a face. Magritte painted it after the violent death of his mother."
"Many modern masters painted their families. Why can't I do the same? Intimacy is at the core of my work. Somehow my experiences as a mother have opened up a universe of ideas for creating work about intimacy."
Do you feel that things are shifting with more respect being paid to motherhood portrayed in art?
"Designing Motherhood is working hard to catalog and exhibit every experience of motherhood from all perspectives. The media seems to be paying more attention to mothers, parents, and caregivers since the pandemic. The New Yorker has a whole sub-genre of parenting cartoons. The New York Times, along with other news outlets, now have devoted parenting sections. I don't have any data on how that's affected the art world, I still feel like an outsider among my peers. Women in general still only make up 11% of museum acquisitions. I am lucky to be a part of that statistic."
"I don't know how much of a real focus there is on perspectives of motherhood in contemporary art. Social media can make it feel like things are changing because we can pick and choose who we see. Social media is also empowering more people to show and market their own art. I do think this has done a lot to organize artists who have children. It feels less lonely to be a parent trying to make work and get some recognition."
From drawing to painting to ceramics—how do you choose which medium to use to bring a concept to life?
"Drawing is at the core of my work. I start most work with a small sketch. From there I might make a more complete drawing or a larger painting or ceramic. Ceramics are the newest medium, so they can be the most strange and fun."
Do you remember any moments of "rejection" before your current "success"?
"If I don't have time to make work, I start to feel rejected, and look outside of myself for reasons why things aren't going the way I want them to go. The moment I'm re-immersed in my practice, I don't have time to think about or perceive experiences as rejection. Focusing on making the work is really the only thing to think about. Opportunities and success come from having available work."
Do you have regular hours that you try to work each day?
"I make something everyday. My studio is at home, so I can go down and work on something here and there depending on how much time I have that day. During the week I start making art at 10 a.m. and I will draw or paint until school pick-up. If someone else picks the kids up, I work until the piece is finished."
"I like to start and finish a piece in one day. This keeps me from second guessing my idea or overworking it. If I have three hours in the studio, I might make a small drawing or painting. If I have all day, I make a large painting. I have an evolving list of ideas for artworks and I pick the project each day depending on how much time I have at the moment."
Can you take us through the process of creating one of your pieces—from ideation to completion?
"I find all the difficulties of parenting pretty funny and a lot of my ideas come from feeling like I have totally failed or am totally humiliated by an experience. This time as a mom of little kids is also so precious, so the ideas are coming from the complexity of those two polarities—the abject and the sublime."
"Some ideas come as little impulses and I jot them down as quick sketches or I describe them as a text. Then, when I have a little more time, I'll work on that idea like working on a joke. I draw and redraw the image until it feels right. Sometimes the drawing is enough. Other times I want to see it as a painting or ceramic and I will find a way to translate the idea into paint or clay."
"I am limited by the time at hand each day, so I work quickly. The drawings are done in one sitting. I want to have fun while I make my work, so I don't obsess over details or linger too long on anything. I work so the idea translates into an image—so it might make sense to someone other than me."
Do you have any creative habits or practices to get going?
"My biggest rule is to not linger too much when I start working, I just start making something. I make a lot of work even if it isn't any good. I just try to have fun, and if something starts to feel stressful, I figure out how to make it fun."
Any advice you'd give to fellow moms about carving out time to be creative?
"I worked with painter Diana Horowitz when my daughter was a baby. She told me over and over again not to overdo it and to enjoy being a mom. This was great advice. It goes by so fast. It's easy to feel like you're missing out on an art career when you're home changing diapers and wiping snotty noses."
"For me, working day by day, one piece at a time, is the best way to work. I think small. When I don't have a lot of time, I think of the easiest thing to do. For a while, it was one-color line drawings."
"I am also very organized. I use standard sizes of paper and canvases so I'm familiar with the size of my surface when I work. Everything in my studio is organized, simplified. Also—when I'm with my kids, I'm not thinking about anything or anyone other than my family. Taking time to enjoy my life with them is the most important part. I often feel the most inspired when I have been alone with my kids."
You have a significant social media following. Do you have any rules or boundaries when it comes to social media or screen-time?
"Just like everyone else, I'm trying to spend less time on my phone. I have clear boundaries with myself and don't let social media affect my self esteem. I think social media has given power to outsiders in the art world. I appreciate that it is an empowering artist's tool. I don't take anything that happens online seriously. I am aware of its toxicity. The targeted ads, especially for facial improvements, dieting, and 'self-care' (the industry of physical perfection), are insulting and toxic. Recent research about the effects of social media on young girls is devastating. At the end of the day, I don't care what other people think of me. I am ok with my flaws. I love seeing art online and I love the community social media can foster and I focus on that."
What other artists—mothers or not—are you especially loving right now?
"There are so many creative people and creative moms in my neighborhood in Brooklyn. My friend McKendree Key is an artist who runs the ceramic studio Artshack. Everything she does is so effortlessly fun and creative. The studio recently expanded and now has a cafe."
"My friend Mina Stone has a restaurant, Mina's, at MoMA PS1. She is similarly effortless, cool, kind, and inspiring. We regularly cook from both of her cookbooks (Cooking for Artists and Lemon Love & Olive Oil) and I give them as gifts whenever possible. I love anyone who feeds me when I see them."
"Artist friend Lisha Bai recently started Studio Archive Project, an online platform to exhibit and sell work from artist's archives. Her goal is to make good work available to everyone. She and I often text while we work late at night and around our kid's schedules."
"My friend Gabriela Herman is a lifestyle photographer who travels all over for photoshoots. She is always open to coming over to take portraits. Being around her reminds me of photoshoots my friends and took of each other when we were teenagers. She is super playful. So many mothers don't have any photos of themselves. Gabi makes sure we are all seen."
Any big goals or happenings—professionally or personally—that you're excited about for the year ahead?
"I have a solo booth at Dallas Art Fair with Hesse Flatow on April 20-22, 2023. I will then have a solo show with Various Small Fires in Dallas opening on June 3, 2023. I am from Texas and these presentations are the first time I will show in my home state, which is very exciting. I will then have a solo show at Nina Johnson in Miami in January 2024. I am very excited about all of these projects!"
Share this story