Parenting Advice
10 Tips for Raising Bilingual Kids
Written by Erin Feher
Photography by Photography by Emily Scott
Oct 3, 2019
From tot soccer to music-enrichment classes, most of us are constantly on the lookout for ways to spark learning (and perhaps inspire future passions) in our kids from an early age. Of those, exposure to a second language is one that is proven to bring with it major intellectual, cultural, and practical benefits. From a more-focused attention span and an increased ability to multi-task, to the decreased risk of dementia and Alzheimer's disease in older age, bilingualism is a boon to brains at all stages. To provide some insight into how we can best support our kids in learning a second (or third!) language at home, we turned to Aussie mama Chontelle Bonfiglio, the creator of Bilingual Kidspot and an ESL educator who is raising her two young children to be trilingual (English, Italian, and Spanish).
Chontelle believes there are a few key practices that can help parents foster a bilingual household—one of the easiest and most effective being stocking up on plenty of bilingual books. "Don't underestimate the importance of reading books," she says. "Make sure to have lots of different books available in the minority language, especially your child's favorites. Let your child choose new books regularly to motivate them."
See her ten tips for raising bilingual kids below!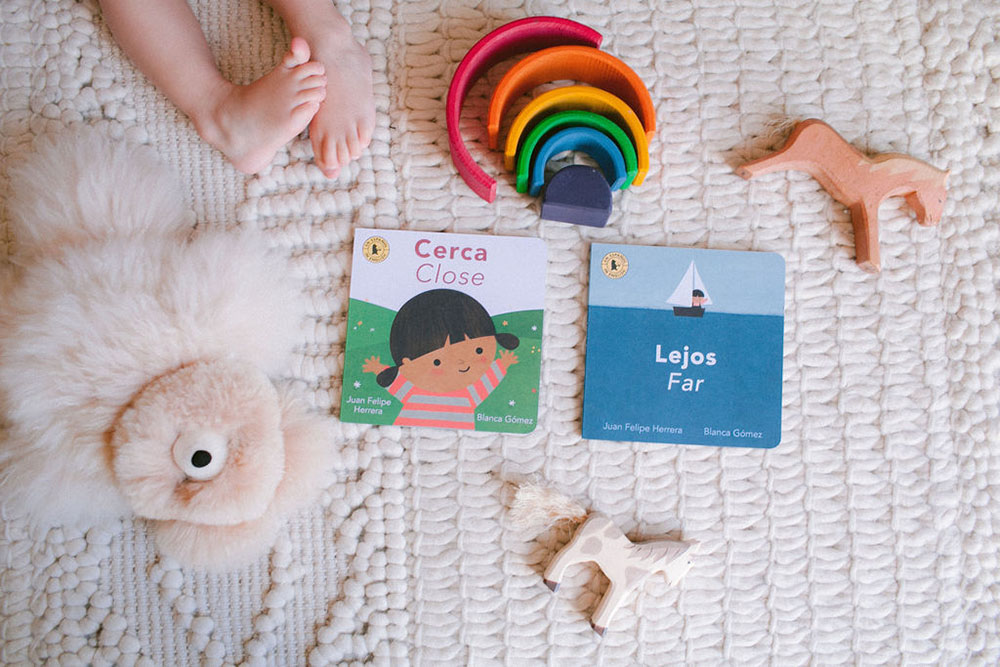 1. Don't be afraid. One person, one language (a.k.a. OPOL) is the most popular method for raising bilingual children, and is as simple as it sounds: Each person speaks to the child in the same language consistently and does not speak the other language, as to not confuse the child. But don't let the fear of not speaking the language perfectly yourself stop you from using this method! Just speak it as well as you can, and you and your child can learn and improve together. This works especially well for families that already speak more than one language.
2. Add more books to your library. Stock up on your kid's favorite titles in different languages. And try exploring dual language board books that feature English text alongside the language you are trying to learn. Two of our favorites are the newly released Cerca/Close and Lejos/Far—written by Juan Filipe Herrera, and featuring English and Spanish on each page, alongside stunning illustrations by Blanca Gómez.
3. Read aloud to your child every day. We cannot stress enough the importance of reading to your child every single day. Whether it is with their bedtime routine, or just throughout the day randomly, installing a love of reading is one of the best things you can do for your children. By reading to them every day, you are feeding them new vocabulary and exposing them to new words they may not otherwise hear. Even when your child is old enough to read themselves, you should still be reading to them.
4. Play music and sing songs. Try playing music and singing songs in the minority language. A melody helps children memorize words and phrases that they wouldn't otherwise be able to, and lyrics help to broaden vocabulary. It can also be a lot of fun!
5. Cook together. You can learn about other cultures by cooking different dishes from around the world. Learn new vocabulary in the kitchen working together to cook a meal.
6. Travel to places the minority language is spoken. If you're able to, immerse your child in the language by traveling to a place where everyone speaks the language. It may not always be possible for all families, but it is a fantastic way to improve your child's language skills.
7. Offer screen-time in the minority language. If you allow screen-time for your bilingual child, use it to your advantage. Let your child watch programs and play games in the minority language to give them more exposure.
8. Find a caregiver who speaks the minority language. If you are a working parent, finding a bilingual caregiver who speaks the minority language is a great way to give your children more exposure. The important thing is that they only speak their native language to give your child the "need" to speak it to communicate.
9. Look into immersion preschools and grade schools. Enrolling your child in an immersion program for preschool and grade school is an excellent way to boost fluency—whether you speak the minority language at home or not!
10. Buy them gifts to help their language development. For birthdays, Christmas, or other gift-giving holidays, buy your kids language learning gifts—things such as books in the minority language, or puzzles and games that encourage them to talk and use the language. Make language learning fun!
For further reading on this subject, you can check out Chontelle's full list of 25 Ways to Boost the Minority Language for Bilingual Kids.
Share this story