Beauty
The Best Stretch Mark Creams For Your Baby Bump
Written by James Kicinski-McCoy
Photography by Image via STORQ
Jul 9, 2014
As we watch our bellies grow over the course of nine months, our excitement and love for our newest family member grows, too. Pregnancy can bring so much joy, but one thing that is often concerning to new moms-to-be are the stretch marks that come with it.
Of course, not all women get them, but many of us do. Some argue that those pesky baby stripes are hereditary, while others swear that they can be prevented with proper care. On the same hand, there are many woman who wear their stretch marks with pride, but it's also not uncommon for moms to feel self-conscious about their post-baby bellies.
With that in mind, we've gathered ten great belly-moisturizing oils and creams that mom's swear by. While we cannot guarantee that they will keep the stretch marks totally at bay (again, genetics!), you can at least help prevent them and keep that dry, itchy, stretching skin moisturized and feeling good. Plus, a little tummy rub never hurt anyone.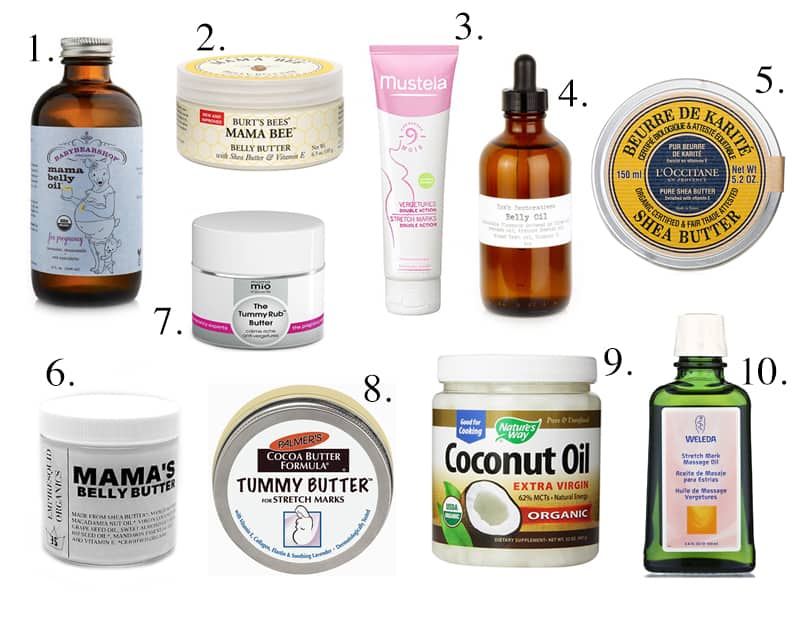 1. BabyBearShop Organic Mama Belly Oil, $28, Amazon. 2. Burts Bees Mama Bee Belly Butter, $12.99, Amazon. 3. Mustela Stretch Marks Double Action, $25.47, Amazon. 4. Isa's Restoratives Belly Oil, $25, STORQ. 5. L'Occitane Pure Shea Butter, $42, Amazon. 6. EmpireSquid Organics Mandarin Mama's Belly Butter, $34, Etsy. 7. Mama Mio The TummyRub Butter, $36, Giggle. 8. Palmer's Cocoa Butter Tummy Butter, $8.76, Amazon. 9. Nature's Way Extra Virgin Organic Coconut Oil, $15, Amazon. 10. Weleda Stretch Mark Massage Oil, $25.50, Amazon.
Share this story