Baby Gear
6 No-Fail Baby Shower Gifts
Written by James Kicinski-McCoy
Photography by Photo via Ciara Richardson
Jul 17, 2014
Have a baby shower to attend over the weekend? Join the club. With all of the summer babies that are just around the corner and the Saturday and Sunday afternoon showers that are filling up your calendar, it's good to have easy, pre-planned, or even last-minute gift options for the beautiful mama to-be and her new babe. And, because we've been to our share of baby showers and sprinkles (yes, that's a thing), we share six, no-fail gifts that you can wrap up in a jiffy, and are guaranteed to make your pregnant pals smile.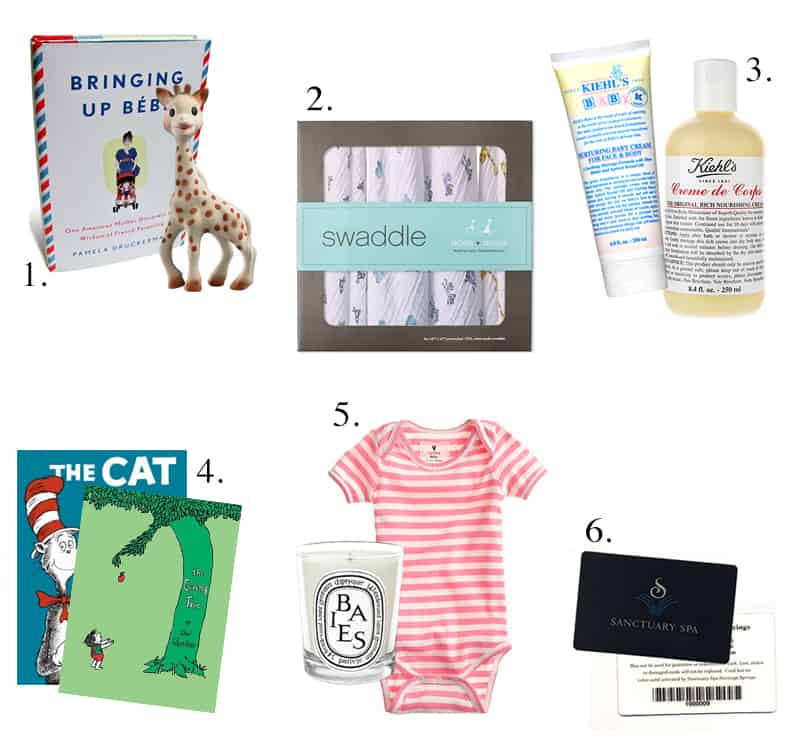 1. The useful gift: A good read for mom and a classic teething toy for baby. Bringing Up Bébé, $14.66, Amazon. Sophie The Giraffe, $18.44, Amazon.
2. The last minute gift: Every baby needs swaddle blankets for the early months of life. Just make sure there's a gift receipt in case she's already received a load of them. Aden + Anais Swaddle Blankets, $34.95, Amazon.
3. The necessity: Help mom and baby protect their precious skin with nourishing cream. Kiehl's Baby Cream, $19, Kiehl's. Kiehl's Creme De Corps, $18, Kiehl's.
4. The sentimental gift: Build baby's library with some of your childhood favorites. The Cat In The Hat, $5.06, Amazon. The Giving Tree, $10.39, Amazon.
5. The splurge: Give mom something she can enjoy like a scented candle, and help dress baby in a soft cotton onesie in classic stripes. Diptyque Baies Candle, $60, Amazon. Baby One-Piece, $24.50, J.Crew Baby.
6. The treat: Pamper mom with a trip to the local spa. Treat her to a pre-natal massage or a spa pedicure. Prices vary.
Share this story