Given that today is officially the first day of autumn, we found it appropriate to share with you our seasonal wish lists! Fall happens to be one of our most-favorite times of year. As hard as it is to say goodbye to summer, we welcome the cooler temps, the turning leaves, and all of the other things that the season brings with it—cozy sweaters, hot soups, and festive holidays! Check out our list of autumnal picks below and see what we're coveting right now!
James' Picks:
"This past summer, I started focusing on self-health in a big way, which includes being more active as a family, eating cleaner, and also running or hiking each morning. I have since acquired a nice little collection of running and workout gear. These running shorts are my favorite and I need to stock up on more colors!" Van Cortlandt Short, $60, Tracksmith.
"My friend Karen Mordechai of Sunday Suppers started a premium line of home essentials including olive oil, gourmet salts, honey, maple syrup, and more. I am looking forward to creating delicious fall dishes with these beautiful products." ILA, available soon, Sunday Suppers.
"I can't stop laughing at this hilarious keychain because I try to live by this motto on the daily!" Not Super Into Giving A Shit Keychain, $15, Spartan Shop.
"These sacred smudge sticks are made up of white sage, sweetgrass, lavender, and roses. These bundles are not only beautiful, but smell divine. Bonus: they also make great gifts!" Sacred Smudge Stick, $12, Meus.
"Birdie has been attending all of her big sister's volleyball games and tagging along on my morning hikes. She needs a good pair of sneakers and her only request was that they had to have pink on them. I think these tiny Nike's will fit the bill." Nike Rosherun, $45, Zappos.
"I lost my beloved Clyde hat while in San Fransisco a few months ago and have been dying to get my hands on a new one. This alabaster headpiece is a dream!" Wide Brim Pinch Hat, $312, Clyde.
"Sailor's third birthday is at the end of this month and he is a big Star Wars fan. I'll be stocking up on little action figures for the big day!" Snow Mission Darth Vader Figure, $5.88, Amazon.
"Reading has become a form of therapy for me. I can't wait to dive into this book. I have heard great things about it." All Light We Cannot See, $15.29, Amazon.
"I just received 3 bottles of my very favorite wine from Revival Vineyards. It's full and rich and perfect for a fall dinner party." Revival Cabernet, $125, Revival.
"This little amethyst stone pyramid is so pretty. Amethyst is said to attract spiritual energies and provide peace of mind. The pyramid is a symbol of positivity and unity—all good things." Amethyst Stone Pyramid, $5.49, Amazon.
"I have been living in this new jumpsuit from Ilana Kohn's fall collection. It's comfortable and can totally be dressed up or down. I'll definitely be wearing it all season long." Kate Jumpsuit, $276, Covet + Lou.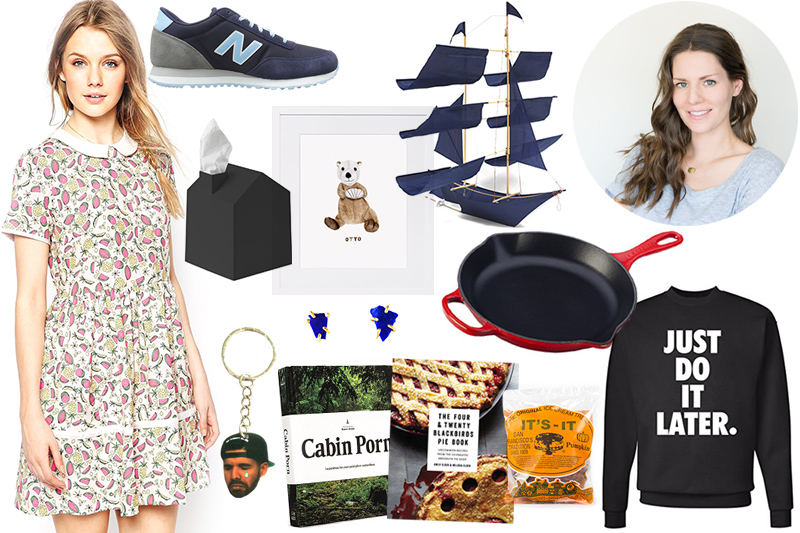 Katie's Picks:
"My son Diego takes his lovey, an otter named Otto, absolutely everywhere he goes. So, to celebrate this very important family member, I'm having my friend Lana Effron do a custom illustration of Otto, as well as Diego's other lovey, Monkey, to frame and put on a picture wall in his bedroom. He's going to be thrilled." Custom Lovey Illustration, $95, Lana's Shop/Etsy.
"A beautiful ship to hang in my son's room…which I am totally copying from Mother profile subject Kendra Smoot!" Sailing Ship Kite in Indigo, $40, Half Hitch Goods.
"Suddenly all of my 'non-stick' pans and pots are failing me. This beautiful and classic Le Creuset version is going on my birthday list!" Le Creuset Signature Iron Handle Skillet, $189.95, Amazon.
"A new cozy sweatshirt to nap in." Just Do It Later Sweatshirt, $40, Amazon.
"Because tis the season in the Bay Area! I think this would make a great Thanksgiving or Halloween party snack, as well." It's-It Pumpkin Ice Cream Sandwich, $22 for a 24-Pack Case, It's-It.
"I recently made my first pie ever—a key-lime version—and I'm ready to challenge myself with something fruity and crusty in time for the holiday season." The Four & Twenty Blackbirds Pie Book, $20.95, Amazon.
"Written by two cool San Francisco-based dads, this book is sure to incite some seasonal wanderlust." Cabin Porn: Inspiration For Your Quiet Place Somewhere, $21.78, Amazon.
"After over a decade of not really driving, I'm relearning the skill and will soon be zooming around in my little electric car. I think a new keychain is in order. This one is so random." Crying Tear Drake Keychain, $6.50, Etsy.
"I hardly ever wear earrings, but I love this tiny burst of electric blue, one of my favorite colors." Variance Objects Lapis Small Studs, $96, Metier.
"It's back-to-school cold season! I really hate the look of tissue boxes all over the house, so this little product helps cover the eye-sores." Umbra Casa Tissue Box, $6, Amazon.
"One of my girlfriends is getting married in a fruit-themed wedding in October. It's going to be a quirky, woodsy affair, and I'm trying to find the perfect fruit-print dress to embody the spirit." d.RA Printed Skater Dress with Contrast Collar, $48.37, Asos.
"Now that my son is going to preschool, my schedule has opened up enough to accommodate a little gym time, and I'm due for a new pair of sneaks." New Balance Classic Core Collection Sneaker, $64.95, Amazon.
Share this story