Holidays
Pro Tips On How To Survive Holiday Travel With Your Kids
Written by Katie Hintz-Zambrano
Photography by Photo Courtesy  of Krystle Wilson/Everything Krys
Dec 21, 2018
Traveling with kids…it can be the best of times and the worst of times. Especially when traveling with very young children. In order to aid your journey—during the holiday season and beyond—we've compiled some ace, easy-to-follow family travel tips below. Enjoy and good luck!
Snacks Are Your Ally: Any travel pro can tell you, snacks for kids are key. Pack plenty of family favorites and maybe some extra-special treats to help curb tantrums and restless moments. It'll also help you avoid ordering sub-par, overpriced food off the airline menu or in the airport. Mess-free options are best!
Pack Travel-Friendly Activities: An age-appropriate activity book is a great way to keep your kid engaged and having fun during travel and unexpected layovers. Here are 30 activity books and compact games to consider. Other travel-friendly favorites for all ages include stickers, magnetic puzzles, window decals, Play-Doh, search-and-find books, and other ideas listed here. Wrapping up any new item, so your kid has the extra fun element of "revealing" his/her next activity, is always a bonus and can eat up a little extra time while you're getting to your destination.
Embrace Tech: Especially on long-haul flights or car rides, letting your kids watch movies, listen to podcasts, or play with apps can be a major sanity-saver. When possible, download your apps early so that your phone or iPad is fully loaded and ready to go once you're en route. For toddlers, preschoolers, and early elementary students new to apps, we suggest the following options to download: Hair Salon 1, 2, 3, and Santa's Salon, all which let kids style a host of characters' manes. We also love Toca Life: Town, which has endless options for playing around a miniature town (grocery shopping, going to the park, etc.). For the tiniest tots, Sago Mini is the way to go. There are over 20 Sago Mini apps catering specifically to the preschool set and they are all wonderful and easy for tiny fingers to navigate (we especially love Friends and Babies Dress Up). For kids with an affinity for a specific character (Batman, Daniel Tiger, Elsa, etc.), think about downloading a special app featuring his or her favorite character and reveal it during travel for an extra boost of excitement. For early learners, these 5 education-centric apps are teacher-approved: Moose Math by Duck Duck Moose, Starfall ABCs, Thinking Time Pro—Cognitive Skills for Early Learning, Toca Tea Party, and Touch And Learn Emotions. Also, don't forget to bring a comfy pair of headphones if you think those handed out on the plane will be uncomfy for your kid.
Dress For Success: Dress your kid in comfy layers that are easy to pull up/down for bathroom runs and/or diaper changes, as well as cozy enough to (fingers crossed!) take a nap in. Think about slip-on shoes to get through security faster. And pack some extra t-shirts for kids in your carry-on in case of unexpected spills.
Baby-Specific Advice: Traveling with babies can be a source of anxiety for so many parents. Because the experience is quite different than traveling with kids, we've outlined a more comprehensive survival guide over here and these 15 pointers over here.
Other Pro Tips: Mother favorite and fearless, travel-savvy mama Krystle Wilson has a host of other family travel tips that she's outlined on her blog. Some of the major takeaways: Time your travel wisely, shell out for direct flights and seat upgrades if you can, select your seats (including bulkhead options) and meals early, check your luggage, utilize travel strollers and baby carriers, and much more advice over here.
For more family travel tips, be sure to check out our pieces on How To Entertain A Toddler On A Plane, How To Occupy A Preschooler During Travel, 30 Activity Books & Games For Kids, Teacher-Approved Apps For Kindergarteners, Tips For Entertaining Kids During Travel, How To Prepare For A Medical Emergency Abroad, 15 Tips For Flying With An Infant, and How To Survive A Road Trip With A Toddler.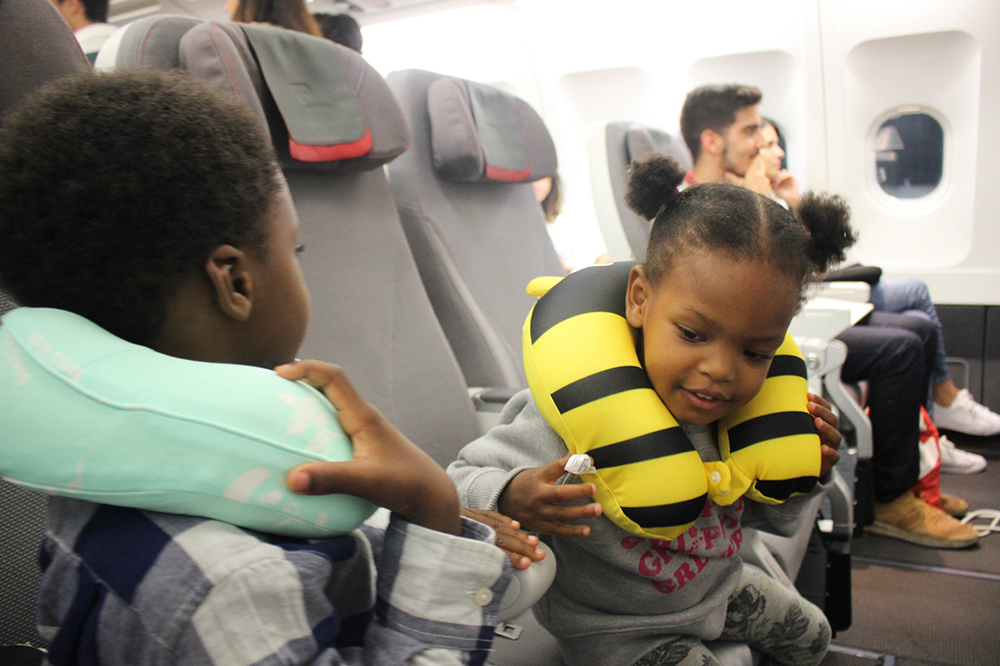 Share this story