In the same way a classic Dutch bike conjures images of beautiful minimalism infused with play (entire well-dressed families whizzing down the street in style), the new stroller company Joolz, out of the Netherlands, hopes to make its strollers synonymous with function meets form.
Using what the company calls Positive Design, or design that contributes to "a positive life, from pregnancy to the first day at school," the sleek and chic Joolz Geo² was created with the human body (both of parents and minis) top of mind.
That means a stroller featuring loads of style, mega maneuverability, and maximum ergonomic comfort, thanks to an easy-to-fold-up/fold-down design, an adjustable handlebar and high-set bassinet/seat that's optimal for parents and kiddos, an XL canopy with a ventilation system so your child can stay shaded (while you can still play peek-a-boo), a XXL basket in the bottom for all of your stuff, and a "future-proof" modular design that offers three configurations as your family grows—no more swapping out a single stroller for a double! (See complete demo video below.)
Not to mention, the extra good-looking design, which comes in beautiful navy and black (out of a variety of 6 available colors) and features a beautiful leatherette trim. Accessories one can purchase with the starting price of $999 for a Mono stroller include a cup holder, a diaper bag, footmuff, umbrella, and a full line of 100% Organic Oeko TEX Certified essentials, such as blankets and fitted sheets you'll love!
Bonus: Joolz' commitment to sustainability means the stroller itself is delivered in cardboard packaging that includes directions for transforming the jumbo box into a lampshade, birdhouse, or chair. Plus, for each Joolz product sold, the company plants a tree.
To find out more, and to see where you can try out the stylish stroller for yourself, visit: Joolz.com.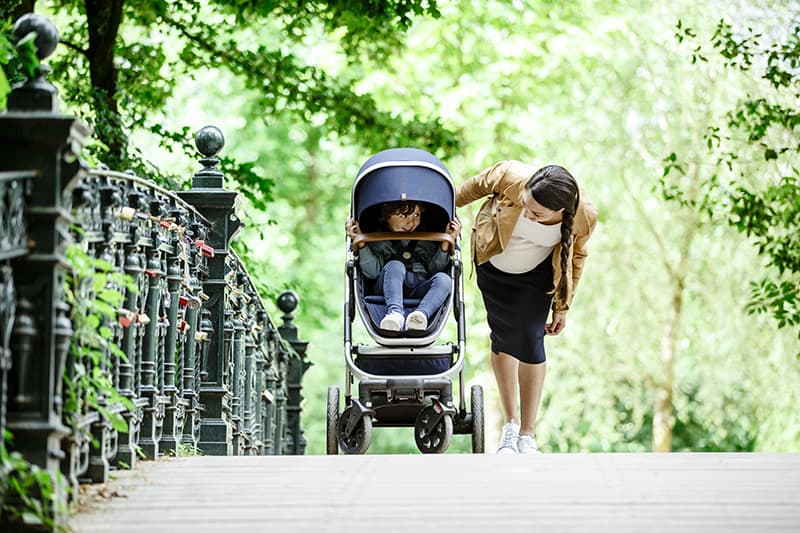 This post is brought to you by Mother + Joolz
Share this story