Mother Hoods
The Getaway: Joshua Tree With Kids
Written by MELISSA GOLDBERG
Photography by PHOTOGRAPHY BY BRYAN GOLDBERG
Jan 21, 2020
For a vacation that actually feels like a vacation, an escape to the dreamy desert will do the trick. And nothing counteracts the hustle and bustle of daily life like communing with the otherworldly rock formations, spindly fauna, and good vibrations of Joshua Tree. Joshua Tree is located in the high desert of Southern California near the famous Joshua Tree National Park. The energy here heightens the senses and inspires the soul, and in our experience even mellows the most high-energy kiddo.
The village is comprised of locally owned merchants, artists, nature lovers, and adventure seekers. There is truly something for everyone—from sound baths and boulder climbing to amazing pizza and coffee. You can visit year round, but our favorite time to visit is late March to mid April, just as the cactus flowers are blooming and the weather is an agreeable average of 75 degrees.  Below we share our favorite kid-friendly hikes, places to stay, where to find good eats, and other great things to do in Joshua Tree with kids!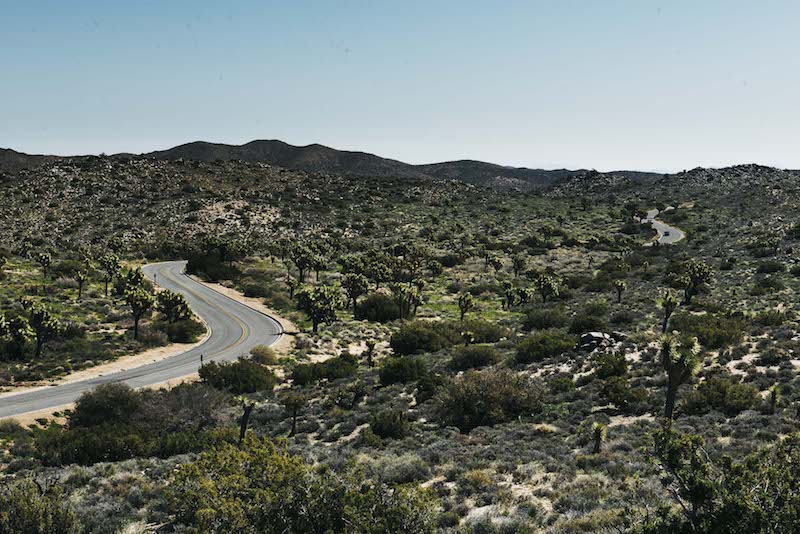 Getting There:
We drove down from the San Francisco Bay Area through Los Angeles. From the Bay Area, the drive to Joshua Tree is about 6 1/2 hours. From Los Angeles it's about 2 hours. The closest airport is Palm Springs International, about a 45-minute drive to Joshua Tree Village.
What to Do:
Take a walk around Joshua Tree Village and visit the artist galleries at Art Queen. The kids liked visiting the world famous crochet museum in the smallest bright green building and seeing all the crocheted creations. Be sure to keep little ones close by, as the delicate weavings are for eyes only. Around the corner, there are troves of treasures to be found at the vintage shops dotted along the main road (Twentynine Palms Highway). We spotted lots of cowboy boots and funky vintage clothing. One of our favorite shops to visit for souvenirs is The Station Joshua Tree. They have a variety of handpicked vintage items, records, and some cool Joshua Tree swag. You can also pick up a bottle of delicious California olive oil (and the newly launched Hinoki Body Oil), at the Wonder Valley Oil Shop located right in The Station. We were lucky enough to run into Alison Carroll, the woman behind the brand, working the counter that day. She shared with us how they harvest their olives in the groves of Northern California, and even offered us a tasting.
For outdoor enthusiasts, don't miss Joshua Tree National Park. There are three entrances to the park, with one about 10-15 minutes from Joshua Tree Village (west entrance) and one about 30 minutes away, closer to Twentynine Palms (north entrance). Depending on where you stay, you'll likely use one of these two entrances. To enter the park you'll pay a $30 fee per car that is good for seven consecutive days of visiting the park. We easily hiked Split Rock trail (a 1.9-mile loop) and Arch Rock trail (0.5 mile) with kids, and both included lots of boulder climbing along the way. There were a few picnic tables at Split Rock that can be used to eat a packed lunch. Arch Rock can be a little tricky to find—we started at the White Tank campground at campsite #9 and followed the signs for the trail. Other hikes we have enjoyed with the kids were Skull Rock (a 1.7-mile loop), Wonderland Wash trail, and Wonderland Ranch (0.9 mile), Ryan Ranch (1.5-mile loop), and Cholla Cactus Garden nature trail (0.4-mile loop). If staying near the park or in the park, take a light night hike or join one of the night sky programs the park offers for some prime stargazing.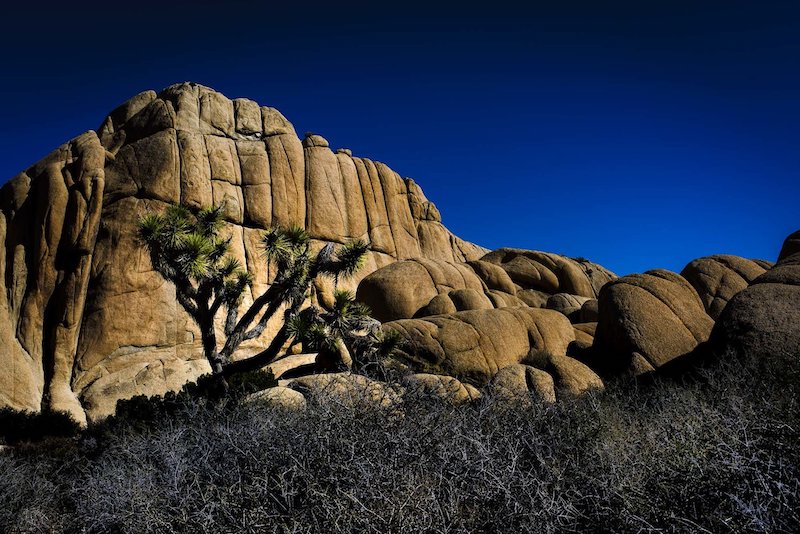 Visit Pioneertown, the small town was built as a movie set in the 1940s. It's a replica of a late 1800s Old Western town and was used to shoot westerns and house and entertain the families of the Hollywood movie stars in them. We started our visit with a stop into Pappy and Harriet's and put our name down for a table. This Tex Mex spot serves up home cooked BBQ with a Western twist. The wait for a table can get up to two hours here sometimes, so put your name down and use the wait time to go explore Pioneertown. Walk down Mane Street and you'll be transported back to the Old West. If you happen to be there on a second and fourth Saturday in the months of October through June, you can catch a real Wild West show in the middle of town. Many of the old movie sets have been turned into cute shops where you can buy local, handmade, and vintage products. We spent about an hour walking around the shops and taking fun pictures. The kids loved the baby goat petting zoo that is next to the shop with a woman spinning yarn out front and selling goat milk soaps and lotions. For some cool vintage and desert finds, head to the Pioneertown General Store. We picked up some old pins to add to our denim jackets.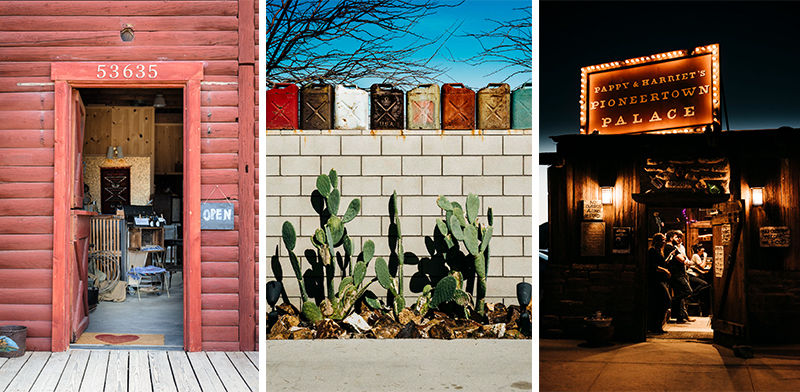 If you are looking to take a small piece of the desert home with you, shop for desert plants at the Cactus Mart. They have interesting varieties of cacti, succulents, and our favorite—dried out cholla wood. Kids will love the "dig your own cactus" area. They will get a set of tongs to dig into a pile of dirt to find tiny cacti, and will take them home in an egg carton.
Where to Eat:
What kid doesn't love pizza? In Joshua Tree, Pie for the People makes delicious pies in all sizes and flavors, and they also sell by the slice for a quick grab-and-go. Our personal favorite pie is the Go Westo Ma Pesto, which is pesto pie topped with thinly sliced potato, Guinness caramelized onions, and feta. We are still dreaming of this pizza! For a good cup of coffee, walk next door to the Joshua Tree Coffee Company. They take roasting coffee very seriously and have fresh cold brew on tap. Across the street, Crossroads Cafe has a great menu (one for kids, too). Get the burger and chili cheese fries topped with their three bean chili and pico de gallo. For a home-cooked breakfast try JT Country Kitchen—the breakfast burrito and a stack of pancakes are the way to go.

Where to Stay:
When it comes to lodging in Joshua Tree, the options are endless. With the ever-growing popularity of the town and the national park, Airbnbs are popping up everywhere in the area, but you can find glamping and camping spots all around, too. For a splurge, stay at the Instagram famous Joshua Tree House, and choose between three distinct and beautifully designed spaces by Sara and Rich Combs. For this trip, we stayed at Mark and Lyanne's Cottage, located in Twentynine Palms and five minutes from the park entrance. It's a well thought out two-bedroom cottage with the guest in mind. We had everything we needed for our family of four and couldn't get enough of the hammock swings out front and their record collection.
Another family-friendly option is The Ox House in Joshua Tree. This newly opened Airbnb sits on 2.5 acres of desert land and offers its own game room with a ping pong table and giant Jenga set. There's a fire pit behind the property for roasting marshmallows at night while searching for stars. Leave those portable cribs at home, because they thought of that for you and have one stashed away for their littlest guests. If you are looking to stay in the Old West, Pioneertown Motel has been around since 1946 and has many stories to tell. This 19-room motel was redesigned a few years ago and given an updated modern makeover, but still has that Western charm. We like it because it's only steps away from the shops and Pappy and Harriet's. For unique glamping and camping options, check out Hipcamp. Here you can find information on campgrounds in the national park, as well as other fun stays around Joshua tree, like spending the night in a tipi or an old Airstream.
Whatever you decide to do or where you stay, try to go slow. Wake up early and watch the sunrise with your coffee or tea. Find a nice boulder to climb on and meditate, taking in the energy of the desert (have little ones try, too!). You will take away a feeling of peace, stillness, and relaxation. It's no wonder why people come back to this healing place time and time again.
For more far-flung family adventure tips, check out our Mother Hoods guides, including a local's guide to Joshua Tree!
Share this story