The official kick-off to summer—and summer break—coincides with family travel a-go-go season. Which is why we are bringing back a fresh batch of Mother Hoods guides to a variety of cities across the U.S. and abroad. First up: Shirley Erskine-Schreyer gives us a tour of Berlin, where she has lived for the past 11 years with her three daughters (Nova, 2, Bella, 9, and Michaela, 27). The American-born founder of Wunderhaus—a physical-turned-digital platform for mothers supporting mothers—is currently splitting her time between Lisbon and Berlin, and provided her tried-and-true suggestions for what to do in Berlin with kids below!
What are Your Favorite Places in Berlin to…
Eat With Kids:
"I enjoy eating at restaurants with my children a great deal. I have somehow convinced myself that this will be beneficial for them in the long run and they will become easier and easier to take to a restaurant as they get older. It has worked thus far with Bella, so I guess I must be doing something right. When I choose a place it has to be spacious so that when Nova gets restless I can walk around with her and we always get an early reservation so the restaurant will not be so packed. One of our favorite places is Cecconies. This is in the Soho House right by the lobby, so there is a lot of space for Nova to roam. Grill Royal for family celebrations, birthdays, and our wedding anniversary. The latest addition to the Berlin culinary scene is Root. It's really cozy and spacious, which checks off everything on my restaurant with children list. When I am not at a restaurant with the girls, we love to visit the vegan donut shop Brammibals."
Eat With Adults:
"There are two long-standing classical places in Berlin, Borchardt and Grill Royal. Their menus are delicious, Borchardt is known for selling one of the best schnitzels in Berlin, while Grill sells the best steak.  But both their menus are filled with many delicious offerings that include vegetarian options. November is the latest spot that is more cozy for a girls dinner or date night. If you like authentic Indian food, India Club goes over and beyond and every single dish is super delicious."
Shop For Kids:
"There are so many wonderful boutique shops for kids my absolute favorite is Walking the Cat, Fete des Enfants, and Hai. For simple, functional, and inexpensive clothes, I really like going to Arket in the West of Berlin."
Shop For Yourself:
"There are many shopping areas in Berlin. Alte Schonhauser Allee is the main street with shops in Mitte and Frederichstrasse has Galerie Lafayette and is a shopping street as well. I enjoy shopping at Other Stories, The Corner, Ganni Arket, and the mega department store in the West, KaDeWe."

Play With Your Children:
"I have this tradition with all of my girls and we love to visit the bookstore! Dussman has an amazing English section and whenever we go there we leave with a truckload of books for myself and the girls. We love it! There are many, many wooden structured playgrounds in Berlin that can be spectacular or simply run down. Kollwitzplatz and Arkonaplatz have wonderful playgrounds in Mitte and when it is summer, the parks have a lot of sunlight and at Kollwitzplatz during the market on the weekend you can see parents socializing and sipping wine—it's a lot of fun for the parents and children."

Play With Adults:
"There are so many crazy clubs in Berlin, Berghain being the premium. I have yet to grace their hallowed halls because a.) I have not tried and b.) the bouncers are uber selective. Chateau Royal has a great bar to meet for drinks and sometimes has a DJ. My friends and I mostly enjoy dinner parties that can either be tame or become slightly wild. Either way, I somehow always fall asleep somewhere, a horrible habit since high school—my poor husband can't take me anywhere!"
Get Out In Nature:
"When the weather is warm, everyone loves to go to the lakes. I wish I could name some, but my mind is a sieve since I had Nova and I can't remember anything. The Uckermark is a great area outside of the city that has become all the rage in the past few years, there is even a huge ostrich farm. Berlin is lucky to have an amazing park right in the city, the Tiergarten is wonderful for picnics, being aware of the nudes, of course, and riding your bike as a family. Cafe am Neuen See has a great restaurant and beer garden with boats that you can row around a little pond."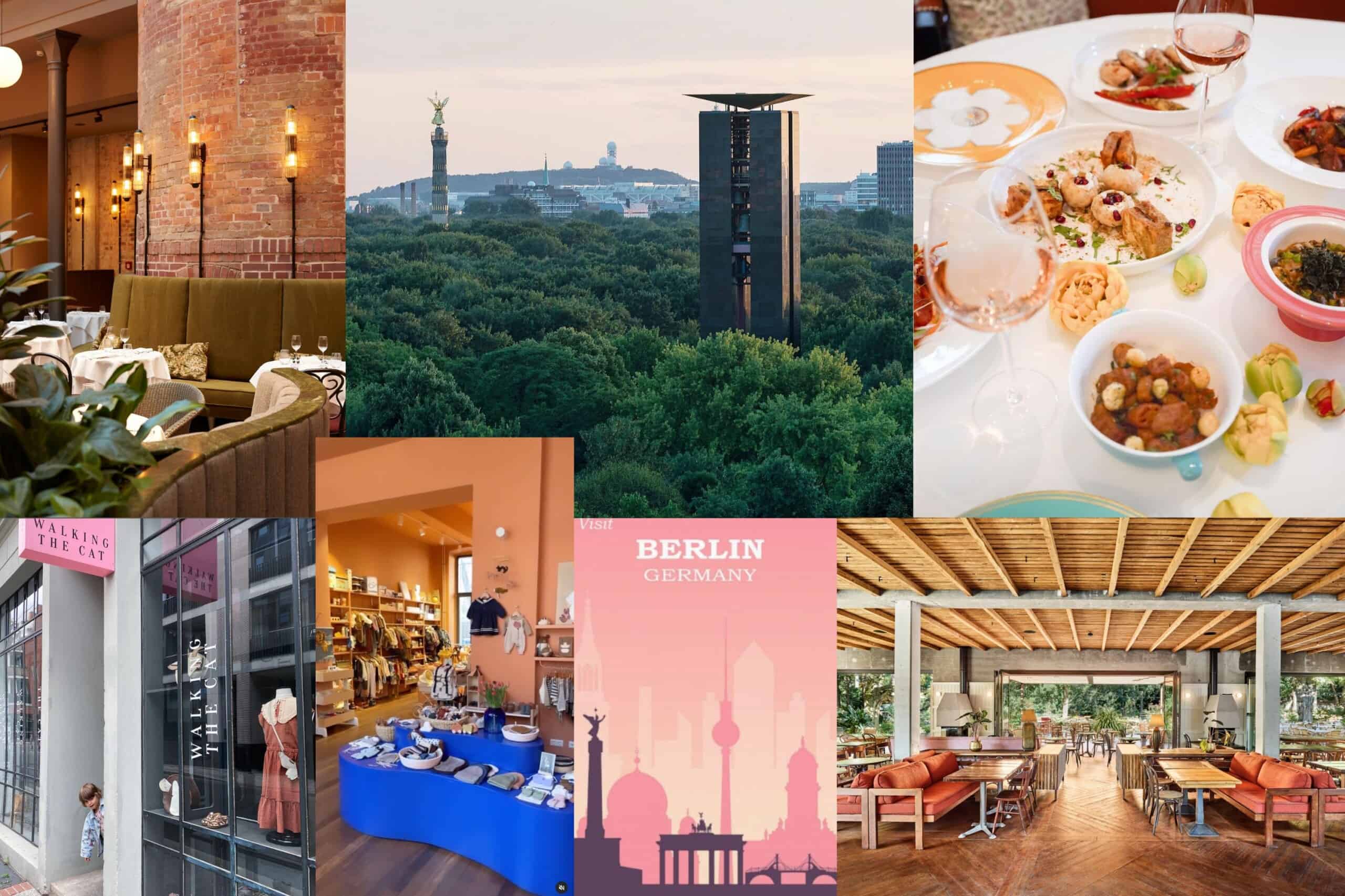 Best Flea Markets or Thrift Shops:
"Mauerpark is the premium flea market or flohmarkt as it is known in German. Arkonaplatz has a great market, as well, that is around the corner from Mauerpark, they both run on Sunday. 17 Juni is on Saturday and has a wonderful vintage selection of homeware. Made in Berlin has several locations and they have a large selection of vintage clothes. There are two pound shops in Mitte that if you dig deep enough you will come out with some gems. Mimi on Goltzstrasse is the top vintage shop where many designers go for inspiration."
Favorite Spots To See Art:
"The TV Tower is a favorite of Bella's—she went there on a class trip. Brandenburg Gate and the Angel of Peace, which you can climb to the top off. The Museum für Naturkunde is really great, they have a room with jared stingrays that is interesting and a taxidermy of the famous polar bear, Knut, from the Berlin Zoo, which is a bit strange but endearing I guess."
Hotels You Recommend Visitors Stay At:
"Hotel de Rome, Soho House, Hotel Telegraphenamt, Chateau Royal, and Zoo Hotel."
Where To Take Out-of-Town Visitors:
"The Tiergarten has so much to offer, so it's our favorite spot. You can also visit the Reichstag Dome, but the tickets are always sold out, the trick is to make a weekend reservation for brunch and you will get in with no trouble."
Any Tourist-y Places That Are Worth It To Visit?
"The Jewish Memorial, The Brandenburg Gate Tiergarten, and the Angel of Peace. They are all within walking distance of each other and a great start to get a history of the city."
For more on Shirley, check out her 2016 MOTHER Stories profile!
Share this story