Ready to go international with your brood? Once everyone's passports are in order, why not consider family-friendly Copenhagen? From the candy-colored canal houses to the delicious food (desserts are a big thing here) to the enviable urban planning that makes getting around car-free a breeze, Denmark's capital city is an ideal place to introduce your kids to the benefits of travel. After all, if seeing how other people live is the point, why not start in a place deemed the happiest city in the world, due to its shorter workdays, free college tuition, more vacation days, and sociable culture? Not to mention, the language barrier here is low: Almost all Danes are taught English from a very young age, and as a result, 86% of Danish citizens speak English fluently. We recently packed up our family of three to explore this laid-back city, and we've brought back the MOTHER-centric scoop on what to do in Copenhagen with kids below!
Getting There & Getting Around
Copenhagen Airport (CPH) in Kastrup is the main international airport serving Copenhagen and it's only 7 kilometers from the city center. Transfer options include taxi, bus, and metro. Metro is the quickest option at about 15 minutes, and a one-way ticket costs DKK 36 (Danish Krone), the equivalent of $5.38 U.S. dollars. A taxi takes about 20 minutes, depending on traffic, and costs around DKK 250 ($37.37). A bus takes about 35 minutes and costs DKK 36 ($5.38) for a one-way ticket.
You truly don't need a car in Copenhagen. The city is known for its stellar bike infrastructure and public transportation. The brand new Frederiksberg metro station opened up this past winter (the gleaming new station was just steps from where we were staying), so we ended up taking the train everywhere. If that had not been the case, we probably would have rented bikes to get around. The bakfiet cargo bikes are super cute and can tow 1 to 4 kids (or a serious haul of shopping bags). Bike rentals can be found everywhere, and fun fact: almost no one locks their bikes here. When everyone has a bike, no one needs to steal one!
What To Do: Culture
DesignMuseum Danmark features industrial design, art, and crafts. We started at the museum's Klint Café for a quick snack of pickled herring smørrebrød (open-faced sandwich) and ham toasties, then proceeded to the exhibits. Most of the museum is dominated by industrial furniture, including the The Danish Chair exhibit, which shows a diverse collection of chairs and tells the story of how the "Danish Chair" became an international brand. Don't miss the Bauhaus workshop, where you can design your own postmodern postcards and paper lanterns. The museum shop is exceptional, and a great place to pick up gifts with a connection to Danish design history.
Rundtaarn's helical ramp is as much an experience as the art showcased in its Library Hall. There are special workshops and programs for children throughout the year, so do not be surprised to find groups of children here on school field trips. Follow the narrow wooden stairs to the viewing deck and get a blustery 360-degree view of Copenhagen. Continue on to the very top to see Europe's oldest observatory.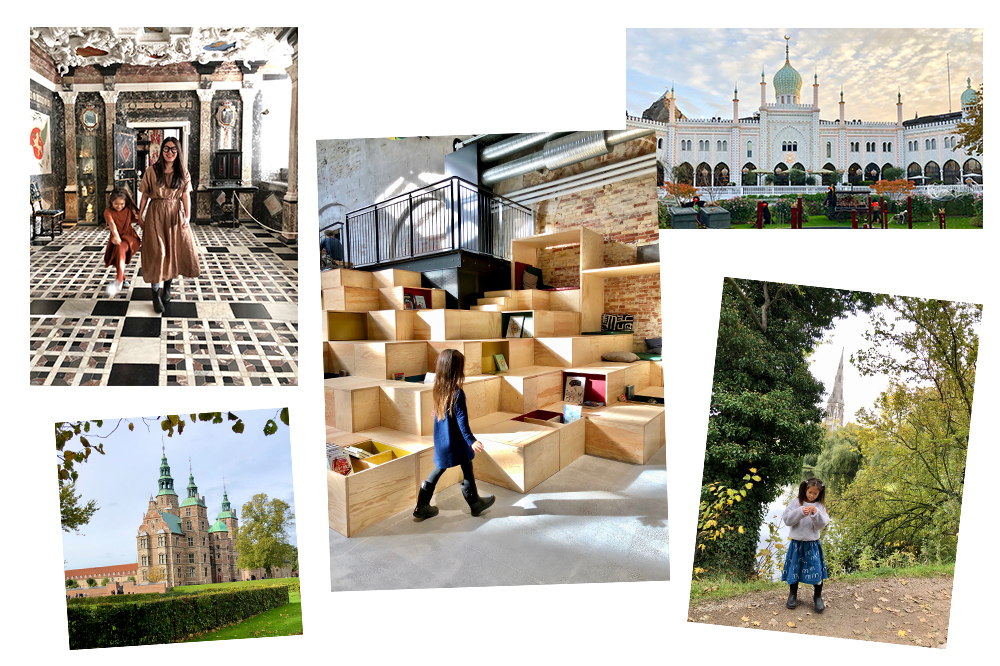 Lined with colorful restaurants and restored houses, Nyhavn Canal was originally a commercial port and once inhabited by Danish author Hans Christian Andersen. From here you can hop on a canal tour and see the city from the water. Our one-hour tour was a mellow ride and the boat captain shared a lot of local information.
If you take the canal tour, you can cross off Den Lille Havfrue (the Little Mermaid) from your list. However, if you are a fan of the fairy tale and would like to see the bronze statue from land, be prepared for a bit of a walk. Take the scenic route through Churchillparken, passing the 19th century St. Alban's Church, Gefion Fountain, and the star-shaped Kastellet fortress.
What To Do: Play
Tivoli Gardens is a 19th-century amusement park for everyone, from locals and tourists, to toddlers and teens and grownups alike. It is the second-oldest amusement park in the world with several roller coasters, kiddie rides, play spaces, live entertainment, an aquarium, and arcades. And unlike so many American amusement parks, the food options here are top-notch (Cakenhagen and Gemyse are notable restaurants in the park—read more on them below, in Where To Eat).
Dominated by two lime tree paths, Kongens Have (Kings Garden) is an immaculately manicured park that is part of Rosenborg Slot (Rosenborg Castle). Kids can play on the grounds and visit the ducks in the castle moat. There is a rose garden on the north side of the castle that is perfect for wandering. From the park, make your way to the 400-year-old Rosenborg Slot to see the ballroom on the top floor and crown jewels kept in the treasury below.
Superkilen Park in Norrebro is a must visit. The half-mile long urban park is divided into three spaces: the red square with swings, a play structure, and boxing ring; the green space with tables for picnics and walking paths; and the black square topped with wavy, white lines. But beyond its incredible visual appeal, there's a cool story behind the design: The space is wedged within one of the most ethnically diverse neighborhoods in Denmark. It was conceived as a giant exhibition—a sort of collection of global found objects that come from the 60 different nationalities of the people inhabiting the area. There's exercise gear from muscle beach in L.A., sewage drains from Israel, palm trees from China, and neon signs from Qatar and Russia. A small plaque near each object explains what it is and where it is from, in both Danish and in the language(s) of its origin. We recommend going here for unstructured play time and letting the kids explore, especially if you have a skateboarder. This is a great place for a low key day. On the edge of the park is Norrebro Library, which has been newly remodeled with a family-friendly open plan. Check out the kids section, which begs to be climbed, with built-in cozy reading nooks.
Where to Shop
For a tiny shop, Mini Pop carries a big assortment of clothing, accessories, and toys for babies and kids up to six years old. Keep an eye out for Danish brands MarMar Copenhagen and Konges Sløjd. Since we stayed in the neighborhood of Frederiksburg, we got to explore the boutiques there. Lille Stadfeldt carries high quality children's wear from a curated list of European labels. Prik carries toys that you can find in the US, but it also has hard-to-find, old-school ones like miniature porcelain tea sets.
Did you know Denmark is the birthplace of a little company known as LEGO? The brick behemoth has a flagship on Vimmelskaftet 37. The small shop is actually a little disappointing, but the most ardent fans will find the two-story lego mural and statue near the entrance worthwhile.
There is no shortage of shopping for grown-ups in Copenhagen, especially for design lovers. We recommend under-packing your luggage so you have plenty of room to bring home your new wardrobe. Pop into Mads Nørgaard to pick up modernist fashions and their signature tees, which are classic for good reason. The Baum und Pferdgarten store on Vognmagergade 2 carries a large assortment of their innovate designs, yet still manages to feel spacious and lofty. Their dresses and outerwear are not to be missed. Other Danish labels to check out in central Copenhagen include Stein Goya, Ganni, Henrik Vibskov, Munthe, and By Malene Birger.
On the main shopping street Strøget make sure to visit HAY House for contemporary Danish interior and design products. It is the perfect balance between simplicity, fun, and functional. For ceramics, textiles, and accessories, check out the pretty Stilleben shop. As a bonus, they carry Arhoj ceramic ghosts and mugs if you can't make it to Studio Arhoj. Nyt I Bo is a minimalist interior design dream, highlighting Danish furniture craftsmanship. The shop is near the Frederikskirche (Marble Church) and was one of our favorite stops in the city.
Where To Stay
There are plenty of cool hotels in this design-minded city, conveniently located near shopping and sights. For this trip, we decided to try out Kid and Coe and ended up staying at the Madvigs Alle Residence in the Frederiksberg neighborhood. We loved the spacious apartment and and its proximity to so many coffee shops, restaurants, and boutiques. A few design standouts are the Nobis Hotel, housed inside a turn-of-the-century building—formerly the Royal Danish Conservatory of Music. Meanwhile, at the Hotel Alexandra, each and every room is a celebration of Danish modern design. True design nerds need to book one of the top-floor suites, which honor individual Danish designers Verner Panton and Anders Petersen.
Where to Eat
Aamanns Etablissement is the perfect place to try smørrebrød (traditional Danish open-faced sandwich). We tried a smørrebrød selection of beef tartare with bèrnaise cream and kale, chicken salad with pickled mushrooms and apples, potatoes with hazelnut mayonnaise and pickled onions, and marinated herring with pear and cheese. Lunch at this elegant restaurant pairs easily with visits to Kongens Have and Rosenborg Slot, which are only a five-minute walk away. Reservations are highly recommended. Make sure to wash your hands in the washroom. The herb-infused hand soap recipes were specially created by the chef to create a full Aamanns experience.
If you are going to Tivoli, and you should, there are a couple of dining options to consider inside the park. Cakenhagen is a konditori that serves the prettiest pastries with prime views of the fairy tale-like Nimb Hotel. It is the perfect spot to take a break from the rides and have afternoon tea. Try the flødebolle, a Danish chocolate-covered cream puff. We ordered the chocolate one filled with raspberry cream, the gold-dusted white chocolate flødebolle filled with honey cream, and the currant praline cake. Cappuccinos and a hot cocoa topped us off until dinner.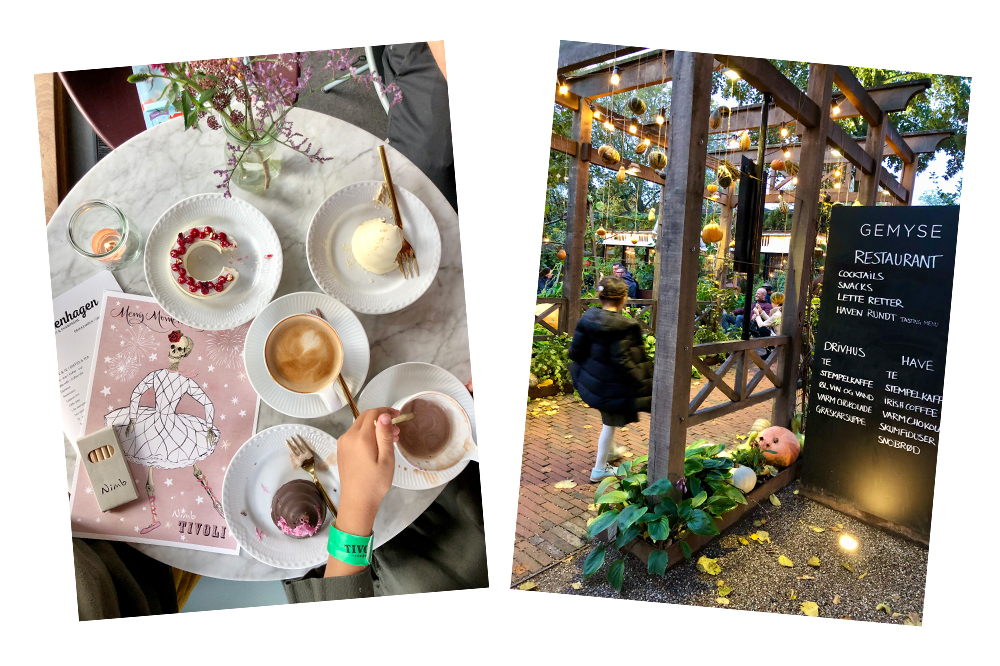 But it's not all sweets at Tivoli. Nestled in an urban garden, Gemyse is a fine dining restaurant where organic, seasonal vegetables are the star of the menu. We loved the corn crisp over risotto, the dahl with crispy onions and coriander, harissa with pickled walleye, and the kid's chicken with potatoes and vegetables. Go before sunset if you would like to enjoy the garden view. Dress smartly. Reservations are recommended. If you want just an afternoon sweet treat, you can arrange for a little bonfire in the gardens to roast twist marshmallows.
Grød porridge bar offers morning oat porridges and açai bowls and lunchtime risottos and congee along with freshly squeezed juices and coffees. It is an easy win for a healthy meal. They were kind enough to customize an açai bowl with only bananas and apples for our picky eater.
For kids and kids-at-heart, Sømods Bolcher has been producing hard boiled candy by hand for 125 years and is the royal court supplier since the 19th century. We could not resist the peppermint candies with the royal guard design. Visit the factory on Nøregade 26 and take home these royalty-approved sweets as souvenirs and gifts. Haven't had your fill of treats yet? Lakrids by Bülow is a Danish, luxury licorice shop and is our favorite souvenir from Scandinavia. We usually get several jars of the classic, the salt and caramel, and the strawberry and cream. It was the perfect way to end the sweetest family trip to Copenhagen!
For more far-flung family adventure tips, check out our Mother Hoods guides, as well as our travel guides to Maui, Death Valley, Joshua Tree, 
Share this story