Books
Love in the Library: A True Story From A Japanese Incarceration Camp
Written by Katie Hintz-Zambrano
Photography by Photographed by Morgan Pansing
Feb 18, 2022
While February is known to many as the month of love, it's also a time of somber remembrance for the Japanese American community. February 19 is known nationally as the Day of Remembrance—marking the day, in 1942, that Franklin D. Roosevelt signed Executive Order 9066. This devastating, racist order led to the forced incarceration of 120,000 Americans of Japanese ancestry from the West Coast during WWII.
Seen as a threat because of their Japanese heritage, families and individuals were given mere days and weeks notice and forced to abandon their homes, jobs, educations, and communities. Only taking with them what they could carry—and leaving behind precious heirlooms, pets, and entire lives—these American citizens were sent to 10 camps in remote rural areas, where many were imprisoned for up to 4 years.
While there are numerous stories that have emerged from this civil rights atrocity, a new children's book—Love in the Library—breaks down this horrific time for young readers, while sharing a unique story of life in detention.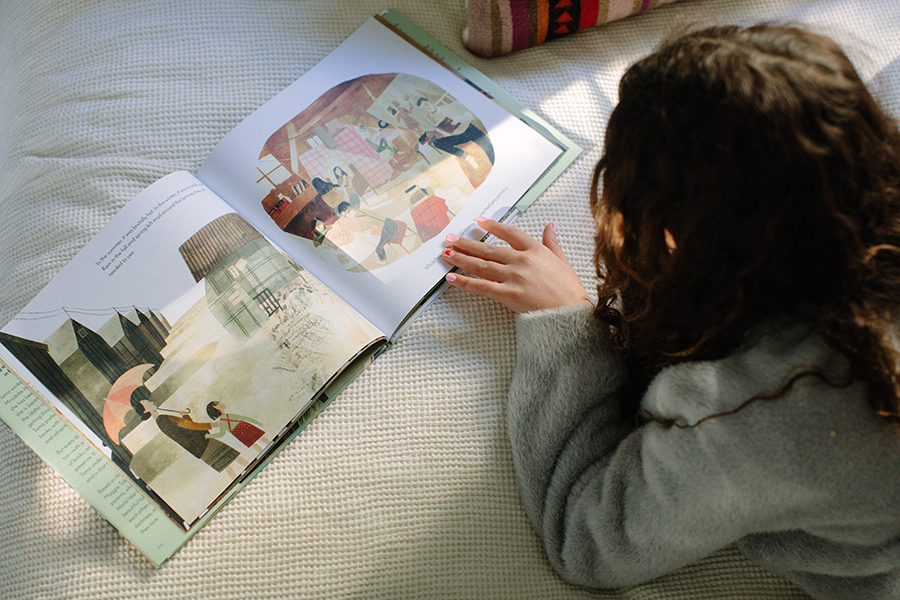 Author Maggie Tokuda-Hall drew upon the true-life love story of her grandparents (Tama and George) who met at a Japanese incarceration camp in Idaho (called Minidoka) to create Love in the Library.
Illustrated in stunning detail by artist Yas Imamura, the book follows Tama, a young college-aged woman who has found herself forced to live in a desert surrounded by barbed wire and armed guards.
Tama's job at the camp is to serve as librarian at the camp's library, which is where she meets George—an eager young man who checks out book after book just to spend time with her.
More than just a hopeful love story (the two go on to fall in love, and have their first of five children at the detention camp), Love in the Library also shares the devastating uncertainty and complex emotions that Tama feels after being incarcerated for no reason other than her heritage, and with no end to prison life in sight.
The book also chronicles the harsh conditions, lack of privacy, and racist nature of the camps.
"It didn't matter who you were, just what you were—and being Japanese American then was treated as a crime," Tokuda-Hall writes in the book. "And though each camp was different, they were all the same. Uncomfortable and unjust. In the summer, it was brutally hot. In the winter, it was brutally cold. Rain in the fall and spring left mud around the latrines they all needed to use. Whole families shared single rooms. No one had any privacy."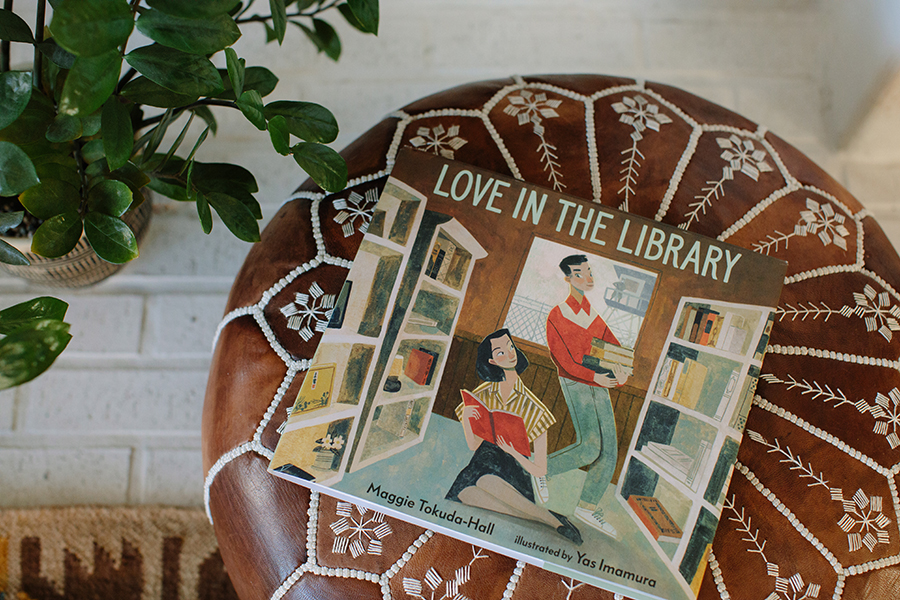 As Oakland-based mother and author Tokuda-Hall explains in her Author's Note, Love in the Library is about America's past, but it's also about our present.
"As much as I would hope this would be a story of a distant past, it is not. The racism that put my grandparents into Minidoka is the same hate that keeps children in cages on our border. It's the myth of white supremacy that brought slavery to our past and allows the police to murder Black people in our present. It's the same fear that brings Muslim bans. It's the same contempt that creates voter suppression, medical apartheid, and food deserts. The same cruelty that carved reservations out of stolen, sovereign land, that paved the Trail of Tears. Hate is not a virus; it is an American tradition."
A story of love, pain, and a call to action—we encourage you to put Love in the Library on your must-read list right away! (You can purchase the book via Bookshop and Amazon).
Share this story