Summer is in full swing and we couldn't be more thrilled! With longer days, trips to the beach, and backyard BBQs on the brain, we've rounded up our seasonal favorites. From a much-needed romantic getaway for two, fresh new kicks, and a collection of wellness-inspired must-haves, here's what's on our personal wish lists! What's on yours?
James:
"I received the latest and greatest from Vitamix last month and have been putting this workhorse through the ringer. I use my new blender at least twice a day—I make a smoothie for breakfast and, since quitting coffee, have been making a matcha latte mid-morning. I also use it to make homemade salad dressings, nut milks, sauces, and more." Ascend A3500, $619.95, Vitamix.
"I have been living in athleisure wear as of late, which I'm kinda loving because just putting it on makes me feel like I'm more fit, even if I haven't worked out yet, ha! These color-blocked leggings from Outdoor Voices are my favorite. Cute and comfortable, and functional." Dipped Warmup Legging, $95, Outdoor Voices.
"As I mentioned above, I ditched coffee during a cleanse I did last month. Since then I have had zero anxiety, which made me give up the java for good. I have replaced my faithful morning cup with a homemade matcha latte. Matcha does have caffeine, but not the kind that gives you the shakes or leaves you crashing a couple of hours later." Ippodo Matcha Green Tea, $48.25, Amazon.
"I waited very impatiently for the See Sun for Jenny Pennywood launch. I collect Jen Garrido's tea towels and could not wait to get my hands on these limited edition prints. Some things have already sold out, but there are still a few amazing pillows and napkins available." See Sun for Jenny Pennywood, prices vary, Jenny Pennywood.
"My in-home cardio workout of choice involves a mini-trampoline, my laptop, and only sets me back a whopping 16 bucks a month. I look forward to getting my sweat on daily!" LEKfit on demand, $15.99/month, LEKfit.
"I've been upgrading my shoe game over the past few months (because shoes!) and these emerald green satin babies are my latest addition. I rock them with vintage Levi's and a t-shirt, but they would also look killer with a LBD and a crimson red lip!" Satin Middle Slingback, $319, Reike Nen.
"I am so incredibly proud to support this amazing project Cooking Up Trouble—Recipes To Nourish Women. It's a collection of beloved recipes from the friends of creators Leela Cyd and Anne Parker, along with other tastemakers and influencers. 100% of the proceeds are donated to Planned Parenthood. Talk about a group of inspiring ladies and a truly important cause!" Cooking Up Trouble, $30, Cookinguptrouble.org.
"Babaa Knitwear recently launched its summer collection and I stocked up on knits for the whole family. This multi-color striped number is one of my favorites. I especially love that it comes in both kiddo and mama sizing for the cutest, matching, mommy-and-me look!" Jumper no23 Plum, €95.00, Babaa Knitwear.
"For the love of olives! This incredibly smooth and buttery oil is a must-have in every kitchen. Once you go Wonder Valley, you will never go back! Bonus points for the stellar artwork and branding." Olive Oil, $33, Wonder Valley.
"I've been sitting in the infrared sauna at Pure Sweat + Float Studio, which is just down the road from my house. Not only am I hooked for the detoxification and relaxation aspect of the sessions, but it's also an incredible contributor to cell health, immunity, and healing. Those with Lyme Disease are encouraged to use the saunas regularly. I have Alpha-Gal, which is a syndrome resulting from a tick bite that makes you severely allergic to mammal products (beef, pork, dairy, gelatin, and more), and sitting in the infrared sauna is a great way to work on getting my levels down and on the road to recovery. We are thinking of installing one in our home, since we have the extra space, and the saunas are way more affordable then we thought they would be." Full Spectrum Infrared Sauna, prices vary, Sunlighten.
"I mentioned my love for matcha above, and what's a delicious green tea latte without the perfect cup? I like to make a pretty big serving, and so this small breakfast bowl is the perfect matcha match!" Meadow Bowl, $50, A Question Of Eagles.
"My dear friend Brooke has the most bad-ass antique, fine jewelry company. When our friends get together for girls' night, she pulls out her collection and we all try them on and 'ooh and ahh!' I recently joined the cool-kids club and bought two of her stunning rings to add to my right hand. I'm obsessed!" Antique Rings, prices vary, Arrow and Anchor Antiques.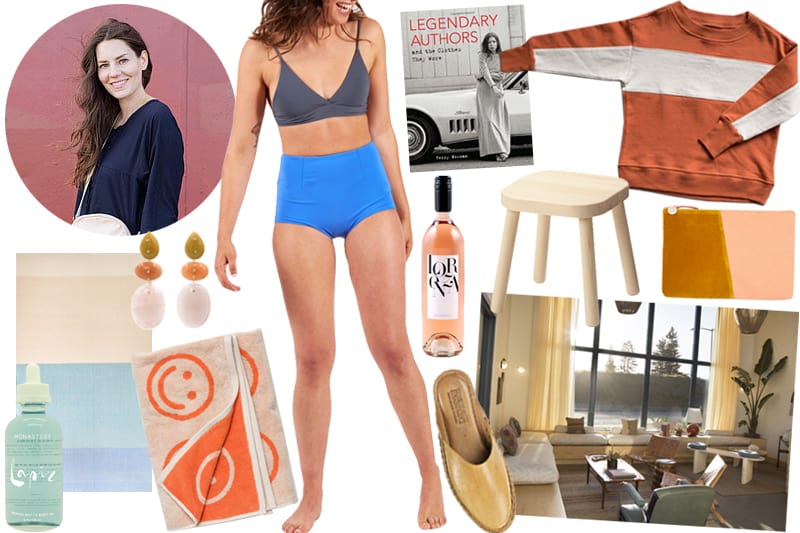 Katie:
"I just got this color-block bikini (black on top, blue on bottom) from local, S.F.-based label Pali Swim and I'm loving it. It's just the right amount of coverage and it's built for activity. No matter how much I am chasing my kid around, nothing falls out of place." Marco Top, $78, Pali Swim. Bodega Bottom, $68, Pali Swim.
"This book is on my coffee-table-tome wishlist. It looks at 50 writers—including Zadie Smith, Simone de Beauvoir, Maya Angelou, and Joan Didion—and discusses both their sartorial and literary style. Bonus: It's jam-packed with rare, vintage photos." Legendary Authors And The Clothes They Wore, $20.39, Amazon.
"I recently got this sweatshirt for my 4-year-old son, and I basically never want him to take it off. Paired with little, booty-hugging leggings, it's the epitome of kiddie cool." Rugby Sweatshirt, $45, ARQ.
"A brand-new Clare Vivier shop just opened in San Francisco, and I couldn't be happier! It's a homecoming of sorts for Clare, who studied in S.F. and lived here for 12 years before moving to L.A. and launching her inspiring empire. I wrote a big story on the opening for the San Francisco Chronicle and I'm excited for tourists and locals alike to experience and shop the space, which is located across from the very first Blue Bottle Coffee kiosk in Hayes Valey." Tahiti Flat Clutch, $235, Clare V.
"IKEA score alert! We recently got a bunch of these kids' stools for our Mother x Lonny lounge at West Coast Craft and they are sleek, easy-to-assemble, and versatile (I have since used them as stools and mini side tables). Plus, you can't beat the price." FLISAT Children's Stool, $14.99, IKEA.
"My husband and I are in desperate need of a weekend away, just the two of us. I have heard great things—and seen swoon-worthy pics—of the new Sandman hotel in Santa Rosa. It has beautiful, modern design touches in each room (including bunk beds for the kids, should you bring them), a just-opened pool, and a very cool hotel bar/restaurant." Rooms start at $165 a night, The Sandman.
"I recently got these slides from S.F.-based company Mohinders, and they are now my go-to. They've gone to the beach, to and from preschool drop-off/pick-up, and even Disneyland! They're a nice no-brainer when you just need to get out the door fast, and I'm excited to see how the leather ages over time (I've heard they only get better)." Mohinders City Slippers, $165, Mohinders.
"What's a summer without rosé? I love this bottle, locally crafted by mother-and-daughter pair Melinda Kearney and Michelle Ouellette, whom I profiled for Refinery29 waaaaaay back when. It's been so great to follow their journey and bumping into them—and shooting them—for our most recent mama-"kiddo" street style feature!" 2016 Lorenza Rosé, $20, Lorenza.
"A bright, happy, and fresh beach towel is always in order for summer. This one is from local, mama-owned brand, Baggu." Beach Towel, $42, Baggu.
"This beautiful tablecloth by recent NYC-to-S.F. expat (and new mama) Dana Haim is great in that it doubles as a beach textile to picnic upon. It's already enjoyed many a trip to Ocean Beach!" Dana Haim Luz Tablecloth, $120, Dana Haim.
"I met the couple (and new parents) behind Monastery at the most recent West Coast Craft showcase, and was blown away by their cool booth (one of the best at the event), and their product branding. It all felt like a breath of fresh air. I'm excited to try out their body oil, which has notes of ginger, grass, grapefruit, and peppercorn, and a #shelfie-worthy bottle to boot." Lapiz Matte Firming Body Oil, $36, Monastery.
"After so many seasons highlighting understated jewelry, it's fun that big, show-stopping pieces are having a moment. And no one does them better than my friend Jessica Winzelberg. Her mobile earrings, featuring a plethora of big stones, are made-you-look perfection." Mobile Earrings With Jasper, Aventurine, and Rose Quartz, $280, Jessica Winzelberg.
Share this story