Mother Hoods
The Getaway: Doing Death Valley In The Winter…With Kids!
Written by Melissa Goldberg
Photography by Photography by Bryan Goldberg
Dec 12, 2019
It's easy to get stuck in a rut when it comes to winter travel—there's family to visit, snowy mountains to ski, or, for the lucky ones, maybe a warm-weather escape like Maui or Mexico. But if you're looking for something a little different, and like us, have a handful of National Parks on your travel bucket list, winter is the ideal time! Specifically, visiting Death Valley National Park during the winter can be a great way to beat the peak season crowds and the record-breaking heat, which can reach up to 120 degrees during the summer months (!). Death Valley is located in Eastern California in the Mojave Desert. It's well known for it's dry climate, magical properties, and jaw dropping sunsets. It is unlike any other place we've ever visited, and being that it's the second largest National Park in the United States, it's massive size—120 miles long—leaves so much to be explored. So, when we were looking to escape the holiday madness at home, we traded it for an adventure in Death Valley National Park. Below we share our favorite kid-friendly hikes, places to stay and where to find good eats!
Getting There
The closest airport is McCarran International in Las Vegas about 120 miles Southeast of the park. The drive from the San Francisco Bay Area (where we were coming from) is approximately 8 hours and the drive from Los Angeles is approximately 4.5 hours. There are two entrances into the park, one on the eastern side near Beatty, NV, and one on the western side near Lone Pine, CA. There's a $30 entrance fee per car that's good for 7 consecutive days of entry.
What To Do
The best way to plan your days in the park is to pick up a map at the entrance or the visitors centers. The rangers at the visitor center are very knowledgeable and can make suggestions for hikes and viewpoints that will work with all ages, schedules, and preferred levels of activity. We spoke to the rangers about things to do with a 7 and 9 year old in tow and they suggested some great spots. Don't forget to ask for junior ranger books for the kids here as well, it's the perfect way to keep them entertained while driving from spot to spot in the park. At the end of the trip, go back to the visitor center with their finished books and they can swear in as junior rangers and receive a special pin.
Skip the crowds during the day and head to popular Zabriskie Point to watch the sunset. We arrived here later in the day and took the short paved walk (.4 miles) up to the top of the look out. Be prepared for the spectacular views that follow. The strange shaped rock formations all along the sides of the mountains are touched with a soft gold light showing various colors of pinks, blues, and yellows hidden within them. These formations have been here for more than five million years and are a result of mineral sediments that gathered at the bottom of an ancient lake that was in Death Valley nine million years ago. To hike into the formations down below Zabriskie point, you can take the moderate (3 mile) hike from Golden Canyon Trailhead to Red Cathedral and back. Another don't miss hike is the Badwater Basin Salt Flats which is the lowest point in North America, sitting at 282 feet below sea level. Drive and park in the nearest lot and walk (.5 miles) into the basin. Once you are at the end of the small trail into the basin, the bright white salt flats go for miles in either direction, a total of 200 square miles, and you can walk freely across the flats. Kids can spend hours here running, jumping, and getting their energy out while parents snap epic pictures. This hike is easy and flat and perfect to do with kids of all ages. Due to the crystal formations and their raised edges, I would leave strollers in the car as it could be difficult to push wheels over them. From the salt flats we drove to Artist's Drive. This is a 9-mile one-way road through narrow canyons, dips in the road and unexpected twists and turns along the beautifully colored Armagosa mountainside. You'll pass the famous colored mountains called Artist's Palette. You can park and admire them from afar, or to get a closer look you can walk the .9 mile free hike to reach them from a small parking lot. On the second night we watched the sunset at the Mesquite Sand Dunes. Fair warning, the amount of energy needed to walk up and down hills through pure sand is harder than it looks. Walk out as far as you want to go and find a nice tall dune to settle in on. Here you can watch people with sleds going fast down the hills. Or for the adventurous, bring your own small disc sled and take turns sliding down for the most memorable winter sledding experience! As the sun goes down, the colors in the sky and the sand change gradually. This is the perfect opportunity to sit and watch nature work its magic with a warm beverage and a snack. For a fun surprise for the kids, pack some hot water in a thermos and a few hot cocoa packets.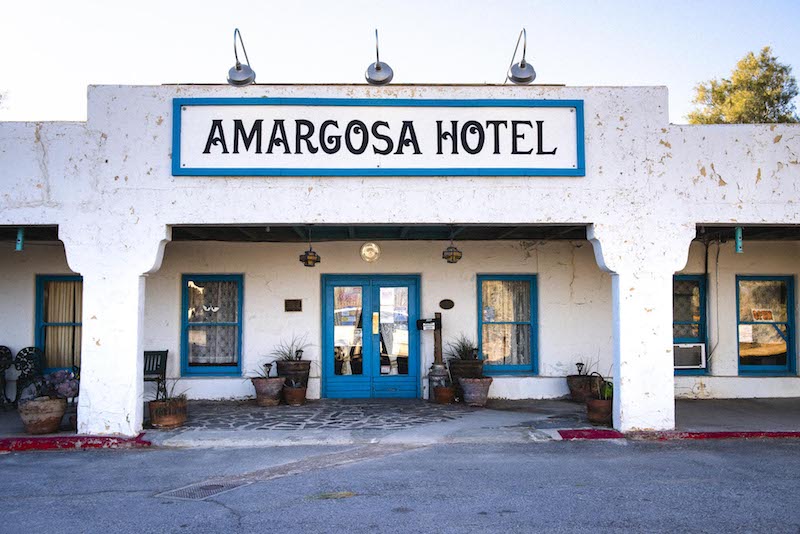 Where to Stay
When planning your trip, consider how close you want to be to the park and your budget. Accommodations can vary greatly, but we found a few options that would work well for families. There are nine campgrounds operated by the National Park Service inside the park. Furnace Creek Campground is open year round and takes reservations from October to April. It offers 30 tent and RV sites with flush toilets, fire pits, and picnic tables, with rates at $22-$36 a night. For facilities with showers and a pool, you can buy day passes at The Oasis at Death Valley. Or you can stay at one of the Oasis's two properties, The Inn at Death Valley and The Ranch at Death Valley. Both are a convenient option in terms of luxury, location, and amenities and have a restaurant, a bar, and a spring water fed swimming pool kept at 85 degrees. Rates can start at $300. If you are looking for something bigger, Designed to Death is a boutique 3-bedroom AirBnb gorgeously designed with all the comforts of home, including a full kitchen with fresh coffee and a backyard for the kids and pets. The house is located in Beatty, NV, about 7 miles from the park entrance. We like it for its proximity to restaurants, gas, and coffee shops. Nightly rates are from $215. For a unique old west experience, check out the Amargosa Inn. It's an old historic hotel located just outside the park on California Highway 127. Rates are from $90.
Where to Eat
Amargosa Cafe is a true gem on the way into Death Valley. Stop here to warm up after walking around and exploring the hotel. We ordered coffee and a slice of their olive oil rosemary chocolate chip cake that was unforgettable. Along with coffee and fresh baked goods, they also serve breakfast and lunch. Food options inside the park are super limited. Timbisha Tacos is a small spot in the park near Furnace Creek at the Timbisha Shoshone Tribe village. Follow the signs advertising fry bread tacos and shaved ice off the main road to get there. If you have never had an authentic Native American taco, this is a must stop! They serve tacos, burritos, and shaved ice. The Death Valley Nut & Candy Co. in Beatty, NV, is a small marketplace with a coffee shop and some prepared food options. There is a large selection of fresh candy and nuts, as well as general supplies and a souvenir gift shop.
More Information
For an easy and convenient meal inside the park, we packed cheese, crackers, fruit, and cold cuts in a small cooler. Keep plenty of dry snacks in the car to fuel up on during and after hikes. Bring plenty of fresh water.
Consider driving a 4-wheel drive vehicle or renting one at the airport. We were able to get around in our family sedan just fine, but couldn't enter some parts of the park that had unpaved access roads to the backcountry.
Dress in layers and bring hats and gloves. Yes, it's hot during the summer but it gets cold here in the winter. The climate changes rapidly from different times of the day to different parts of the park. And lots of sunscreen always!
For more far-flung family adventure tips, check out our Mother Hoods guides!
Share this story