Now that we're well into fall, it's time to round up our seasonal Editors' Picks. From children's books and instant cameras to extensive travel plans and cold-weather clothes, we're serving up what we're loving right this minute! What's on your list?
Katie's Picks:
"It seems like forever since I've been outside of the U.S. I'm definitely getting a bit of wanderlust, however, and excited to plan a trip to Europe or Latin America next year. These interiors-focused guide books can help lead the way." Wallpaper City Guide: Madrid, $8.36, Amazon. Wallpaper City Guide: Lisbon, $10.19, Amazon.
"I'm really digging the brand-new, San Francisco-based childrenswear line Oso & Me. The prints on everything they do are just perfection…even down to this pencil roll." Pencil Case, $28, Oso & Me.
"I first discovered author-illustrator duo Mac Barnett and Jon Klassen thanks to their kids' book Triangle. My son Diego loved the story and I loved the very cool cover—ha! Same goes for their brand-new book The Wolf, the Duck, and the Mouse, which is about a wolf that swallows the latter two animals, who set up a cozy home base in the wolf's stomach! So quirky. So good." The Wolf, the Duck, and the Mouse, $13.50, Amazon.
"I recently scored the beautiful Candy Crush ring by designer/mama Ariel Gordon, which I've been wearing as my wedding band (my original needed an upgrade). Now I'm coveting the matching necklace, which features 8 tiny semi-precious stones in a rainbow of hues." Candy Carousel Necklace, $825, Ariel Gordon Jewelry.
"Away just opened its very first boutique in S.F. and I was finally able to see what all the fuss is about. I love the fact that the bags charge your phone, as I am forever running around airports looking for a charger! They now have a kid's-sized suitcase too (and monogram options!), so I'm excited to get a mommy-and-me pair for holiday travel and beyond." The Bigger Carry-On, $245, Away. The Kids' Carry-On, $195, Away.
"I've been having a lot of fun with Fujifilm Instax cameras at our last few events for Mother (proof here) and at In Good Company. My son loves them, too, and it adds an extra festive element to any gathering or adventure to have some analog memories to hold onto afterwards. Bonus points: There's rainbow film that kids adore!" Fujifilm Instax Mini 70, $95, Amazon.
"I definitely don't need a new pair of shoes (I have plenty). But I ran across this pair of velvet booties online and they seem to be calling my name. Eeks." The Jillian Boot in Velvet, $210, Madewell.
"My friend Meredith Peck is spinning out such beautiful pieces lately for her line Spark + Pepper. This recycled brass hairpin is so, so elegant." Hair Pin, $95, Spark + Pepper.
"I just stayed in this incredible house in Santa Cruz to celebrate my birthday and the birthday of my 'Scorpio Sister' friend, Anna. We fit 10 women inside, plus a baby, and felt like we had room to spare. The owners painstakingly restored it and updated it with chic modern fixtures and decor (including a bathroom with floor-to-ceiling abstract tile!), while still retaining so much original charm. I never wanted to leave!" The Oceanview SC, $950 a night, Airbnb.
"I'm finally starting to get into essential oils a little and love how sleek this ceramic diffuser by Vitruvi is. I love all the sweeter (vs. earthier) scents the brand puts out, too—lemon, ylang ylang, grapefruit, and sweet orange." Vitruvi Essential Oil Diffuser, $112, Amazon. Vitruvi Organic Lemon Essential Oil, $9.90, Amazon.
"I forgot for a minute how cute Hansel From Basel socks are! Our photographer and videographer Vanessa was wearing a leopard pair on a shoot the other day and it reminded me to put one of their printed beauties on my personal wishlist." Hansel From Basel Dollup Crew in Ivory, $12, Need Supply.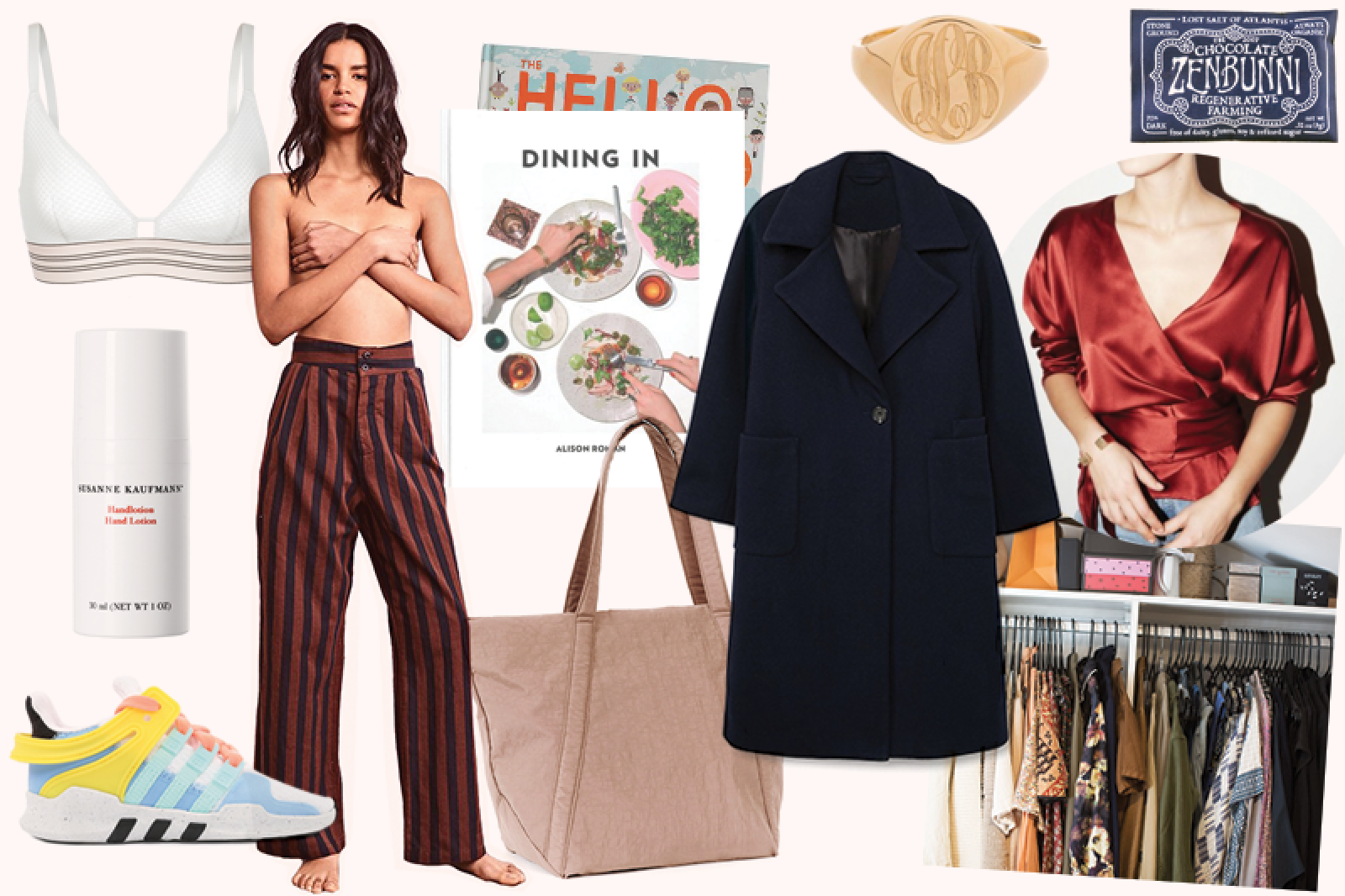 James' Picks:
"I love this book The Hello Atlas! It celebrates and explores over 100 different languages in communities all over the world and is accompanied by adorable and fun illustrations. A great gift for your little thinker." The Hello Atlas, $28, Bitte.
"It's pretty cold here in Nashville, so I am on the hunt for a new coat that's meets the following criteria: on-trend, affordable, and will keep me nice and warm. Mango has a hearty list of options that fit the bill. I recently placed an order for this wool navy number and cannot wait to layer it over sweaters all season long." Lapels Wool Coat, $199.99, Mango.
"We are still in the thick of renovating our home. The process takes so much longer than I expected, and honestly makes me want to rip my hair out. But, one of my favorite completed tasks thus far is my newly remodeled closet. It's small, but the team at California Closets did an incredible job of maximizing the space, so it really feels more spacious, is fully organized, and functional." Custom Closet, prices vary, California Closets.
"We featured the most recent Adidas x Mini Rodini collaboration on Mother and it's one of the cutest kid's collections out there right now. These little sneakers are to-die-for cute. If only they made them in mama size to match!" Adidas x Mini Rodini Equipment Lace-Up Trainers, $125, Smallable.
"I have been needing a new work bag for quite some time now. Something that is somewhat compact and easy to carry, yet large enough to house my computer, paperwork, and some other on-the-go essentials like snacks and an extra sweater. I think this one from Baggu might fit the bill." Cloud Bag, $50, Baggu.
"There's nothing quite like comfortable, sexy, and inexpensive underclothes to really make you feel your best. I am not a fan of underwire bras (and honestly don't have much up there to need them, either) and thankfully the new brand Lively has a good assortment of soft bralettes that are pretty, offer support, and comfort. Yes, please!" Geo Lace Bralette, $35, Lively. Geo Lace Bikini, $10, Lively.
"I have been dying to get my hands on this beautiful new cookbook from Alison Roman. It was definitely one book that I judged by its cover. The recipes look and sound incredible and I cannot wait to cook up some new-to-me dishes this season." Dining In, $18, Amazon.
"I am usually not one to crave sweets. I much prefer something savory or salty, but when I do, my all-time favorite treat is a chocolate bar from Zenbunni. If you haven't tried one yet, I highly recommend. My favorite flavir is Lost Salt of Atlantis. It's just the right amount of sweet with a hint of salt, and really satisfies." Lost Salt of Atlantis (3 bars), $9, Zenbunni.
"If I could choose one fall essential it would be the cashmere sweater. They are so cozy and timeless, can be layered over various shirts and under jackets, and are so incredibly soft and wearable. I stocked up on a few from Everlane—my favorite being this fitted navy cardigan. Obsessed!" Cashmere Crew Cardigan, $130, Everlane.
"My skin gets ridiculously dry once the weather gets chilly, especially my hands. I have to keep hand lotion on me at all times to hydrate and soothe them throughout the day. I'm addicted to this one from Susanne Kaufmann. It feels like silk and smells like bananas." Hand Lotion, $31.50, Cos Bar.
"I am loving the current satin and silk trend and recently discovered the prettiest pieces from Brooklyn-based clothing brand Datura. This ruby blouse in one that I definitely want to add to my holiday wardrobe rotation." Roxanna Ruby Blouse, $250, Datura.
"We are hosting an event in San Francisco tomorrow morning with Ariel Gordon and Le Feu de L'eau in celebration of their new candle collaboration. Ariel was so kind to send me this stunning gold signant ring with my initials engraved on it. Such a beautiful treasure! And, of course, now I am pining for a second AG piece." Jumbo Signant Ring, $1100, Ariel Gordon.
"Speaking of events, I hosted one this past Sunday for my dear friends Cary Vaughan and Jenna Wilson of Ace&Jig at my retail store here in Nashville. We had a blast and I sported my favorite striped pants of the season that are just too good not to add to the list!" Kate Trouser, $365, Ace&Jig.
Share this story