Mother Hoods
Mother Hoods: Boulder, Colorado
Written by Lauren Matison
Photography by Coral Frischkorn
Oct 14, 2019
It's no surprise to Coral Frischkorn, co-owner of gourmet grocery store Cured, why National Geographic recently named Boulder the "Happiest City in the U.S." For an outdoorsy family like the Frischkorns, this adventure playground is the place to be, with its idyllic locale in the foothills of the Front Range, 300 miles of dedicated bikeways, and 45,000 acres of wide-open landscapes. Below, the busy mama to Holden, age 5, and Huxley, age 3, serves up her go-to guide for year-round fun with the kids, sartorial treasure hunts, and the best night out with views of the iconic Flatirons.
Coral, tell us your favorite places in Boulder, CO, to…
Eat with the kids?
"Pizzeria Locale is a favorite, and there is no need for a kids' menu, as they devour margarita pizzas, prosciutto, and arancini with abandon. The boys love watching the pizza makers flipping dough and filling the wood-fired oven, and they even bring kids a little pile of dough themselves to play with and mold while they're waiting for dinner. And this sounds like a shameless plug, but we honestly love nothing more than grabbing a picnic from Cured, stocking up on cheese, salami, big soft pretzels (and cans of wine!), and heading out on a hike or to North Boulder Park. The boys can run around and be as wild and free as they want to be, but we still get to enjoy our absolutely favorite foods without feeling stressed about them knocking over a glass or sitting at the table."
Eat with just adults?
"We absolutely love going and sitting at the bar at Frasca on a special night, and the Flatiron views and gin-and-tonic cart at Corrida are hard to beat. Arcana hosts Terroir Tuesday every Tuesday night when they feature a wine maker with the intention of bringing together guests and industry friends to enjoy incredible wines from their favorite producers in a relaxed setting. They pour the wines by the glass at nearly wholesale prices, making it approachable and educational at the same time. We're also obsessed with the Tuesday Night Burger and their hush puppies!"
Shop for kids?
"Sadly, no kids' clothing shop seems to be able to survive the ever increasing rents of Pearl Street and Boulder, so we keep loosing all the cute kids' stores that pop up, but we do have Into the Wind, an amazing kite and toy store on Pearl Street, and Grand Rabbits (game/toy heaven) off Arapahoe."
Shop for yourself?
"While we may not have good kids' clothing options, we are lucky to have a few incredible women's clothing stores. Cedar & Hyde and Max are both beautifully curated, locally owned, and filled with so many treasures."
Play with your child?
"Gosh, where to begin…there are so many options! We love North Boulder Park for the park itself, the little bike track that is perfect for striders and just-learning bike riders, and the endless trees on which to climb and picnic under. The Valmont Bike Park is an incredible resource as well, and amazing for kids aged 1 to 100. There is a great playground that the littles love playing on, and then single-track trails starting out from incredibly easy to super advanced. In summer, they hold short track and Strider races every Wednesday night. Our boys also love the Museum of Boulder, which opened just a few year ago and does a wonderful job of melding the culture and history of Boulder with fun, interactive games for the kids."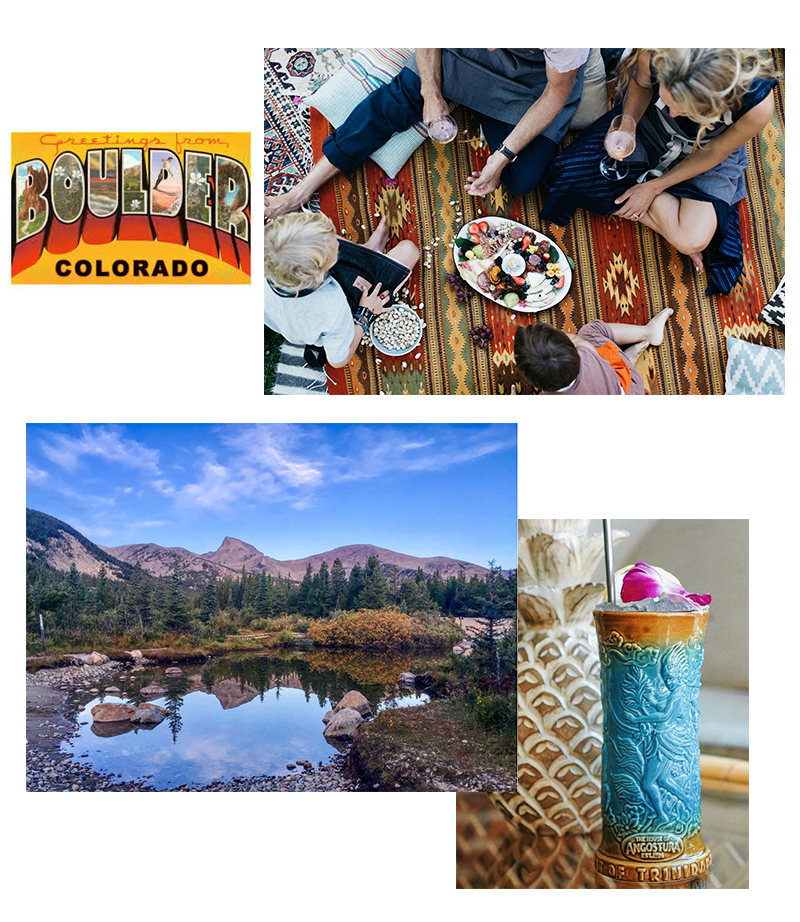 Play with your adult friends?
"Our adult play consists of equal parts hiking, running, riding bikes, and enjoying good wine. We love Mt. Sanitas and Chautauqua for hikes and runs, and Betasso for a run/mountain bike loop. Jungle is a new tiki bar that our kids actually love going to with us to get virgin drinks served up in coconuts and parrot glasses."
Get out in nature?
"Depending on the time of year, we love sneaking up to Eldora to ski, out to the Boulder Reservoir to play on our paddle boards, hiking just out our door at Chautauqua and Mt. Sanitas, or sneaking into the Indian Peaks Wilderness or up to Brainard Lake for a bigger adventure."
Any good flea markets or thrift shops?
"Common Threads is an amazing secondhand store chock-full of stylish clothes and shoes. In Longmont, about a 15-minute drive from Boulder, the Front Range Mercantile Flea Market is a dreamy bazaar that's worth the trip!"
Where do you take out-of-town visitors?
"We usually hit all of the aforementioned parks and restaurants when guests are visiting. If it's the summertime, we always take them to the Farmers Market, whether on Saturday morning to stock up on fresh veggies and bread for the weekends meals, or on Wednesday evening to grab a few supplies and enjoy dinner on the grass from one of the amazing local vendors."
Any tourist-y places that are worth it to visit?
"One thing I love about Boulder is how delineated the 'tourist-y' and local places are. The Pearl Street Mall is a perfect example; we love going down to the mall simply to walk around, see the street performers, climb on the rocks, and cool off at the splash pad. Plus, the electric Tebo Train that runs during the week sounds a bit cheesy, but is one of my boys' favorite things to do! Our Boulder Public Library and the Creekside Playground they have built in front of it is incredibly fun year round."
For more on Coral, follow Cured on Instagram. And for more wanderlust, check out our stories on what to do with kids in Miami,  Portland, Vancouver, Turkey, Joshua Tree, and more locales.
Share this story