Mother Hoods
Mother Hoods: Shanghai
Written by
Photography by
Photograph by Lisa Cupps
Jul 1, 2019
If you've dreamt about life as an expat, interior stylist and Gretel Home founder Abby Kellett can offer some sage advice: "Don't think twice and make the most of the time in your adopted city!" This stylish Brit made a home for herself in Miami 15 years ago, but has spent the last two years living in Shanghai with her two daughters, Beatrice, 11, and Josephine, 6, and her husband, Bert Hernandez, after he was asked to lead Royal Caribbean International's China division. While initially it wasn't an easy ask for Kellett, she's quickly embraced her new (temporary) home and loves exploring its myriad offerings with her kids—from emoji-themed cafes to supermarkets that cater to expats like herself. With so many options, you might just want to take notes!
What are your favorite places in Shanghai to…
1. Eat with kids? "Mayita for my Mexican fix. The restaurant has a lovely view of the Shanghai skyline, great margaritas, and a small playground for children. Din Tai Fung is Beatrice's favorite restaurant and is probably the most accessible Asian food (it's actually Taiwanese) you can get here. You can see into the kitchen and watch as they make dumplings, weighing the tiny balls of dough one-by-one. Hooked is a laid back seafood restaurant—although my favorite dish is the Asian chicken slaw salad. It is in an open-air sunken courtyard so the kids don't have to stay glued to their seats."
2. Eat with adults? "Together, a small restaurant with beautifully minimal interiors designed by Neri&Hu, serves equally beautiful French/Asian food. On one of the Former French Concession's most charming tree-lined streets, Bull and Claw is the perfect place for an outdoor free-flow brunch. Great for a really authentic Shanghainese dining experience, Jianguo 328 is tiny and the wait is usually long. The best table has a giant Lazy Susan, making it easy (and fun) to order lots of dishes to share with a group of friends. Canton Disco, in the Shanghai Edition, serves delicious Cantonese food in a nightclub-esque Hong Kong setting. I especially love its range of vegetable dishes, such as the typhoon shelter fried corn and the twice-fried green beans with XO sauce."
3. Shop for kids? "Chou Chou Chic sells dresses in the traditional Chinese qipao design made from cotton with bright modern prints. This is one shop where the girls and I come out equally happy! Line is a Japanese messaging app and Line Friends is a store and café that sells everything related to their cute emoji characters. The café has the coolest and cutest cookies, ice creams and milkshakes."
4. Shop for yourself? "The clothes designed by Chloe Chen are super-stylish but also easy to wear. I recently bought some fun dresses made from gorgeous heavy-weight African-print fabric. Chloe's largest store also sells home accessories and stuff for kids. The Beast is an uber-cool concept store, with many branches around Shanghai. Some sell flowers and another specializes in nightwear and candles. My favorite is the brands homeware store, which sells a mix of vintage and new furniture and quirky home accessories. I recently bought a set of Japanese bowls with bright yellow duck beaks as handles. City Super was one of the first signs that I was going to survive our move to China (which in reality couldn't have been an easier transition)! City Super isn't inexpensive but has pretty much everything from overseas that I could ever want. Their selection of Japanese candy is also a highlight."
5. Play with your daughters? "The weather and pollution is terrible in winter so we have to find good indoor activities. The ice skating rink at the Mercedes Benz arena is uncrowded and we love watching the semi-professional child skaters zooming around. Shanghai Disneyland is a 30-minute metro ride away and ticket prices are a third of those in the U.S. We've also got the system down in terms of best days to go and fast passes, so, while we don't go very often, it is an easily accessible treat."
6. Play with your adult friends? "The KTV venues in Shanghai take karaoke to another level. These five-star karaoke multiplexes with labyrinths of rooms are a lot of fun after dinner—and many drinks—on a weekend night. We love Café Gray Deluxe at the Middle House. We always stay at their sister hotel, The East, when we go back to Miami, so this is a kind of home-away-from-home for us. The bar at Café Gray has the most amazing cocktails—my favorite is The Green Room."
7. Get out in nature? "It is impossible to fully describe the scene in Shanghai's parks on a sunny day. There are people line dancing, playing instruments, holding debates in huge groups, and flying kites. We head to Fuxing Park to play frisbee, have a picnic, and the girls go on the merry-go-round or another one of the small, aging fair rides."
8. Visit museums and galleries? "The Natural History Museum in Shanghai is spectacular. You can easily spend a day here and still won't have seen it all. When you've had enough of the dinosaurs you can go to Jing'an sculpture park next to the museum to view the giant fox with bird houses built into his back. San W Gallery is a contemporary arts and crafts gallery housed in a beautiful Shanghai residence in the Former French Concession. I was originally drawn to the gallery by the creations of Lauren Simeoni, an Australian designer who makes colorful jewelry partly from artificial flowers."
9. Where do you take out-of-town visitors? "Walking around the Former French Concession on a sunny day is magical. On the street where we live there are shops selling dumplings, eggs, and noodles, and washing always hanging overhead. There are also men cutting hair, sewing clothes, and mending shoes—all out on the sidewalk. Columbia Circle is a complex of Spanish-Colonial and industrial buildings that was built in the 1920s as the Columbia Country Club—a popular hangout for Americans. It was recently restored and is now a 'creative hub' that includes an outdoor pool—also built in the '20s—surrounded by bars and restaurants."
10. Any touristy places that are worth the visit? "Jing'an temple is a huge wood and gold-encrusted temple that is absolutely stunning and is in the middle of the city. Tianzifang is a market that is housed in a city block of old lane houses. A lot of the shops are quite touristy, but the atmosphere is wonderful. There are some decent shops here, too—I buy red pepper flakes from a specialty chili shop, and tennis shoes from Shanghai-brand Feiyue."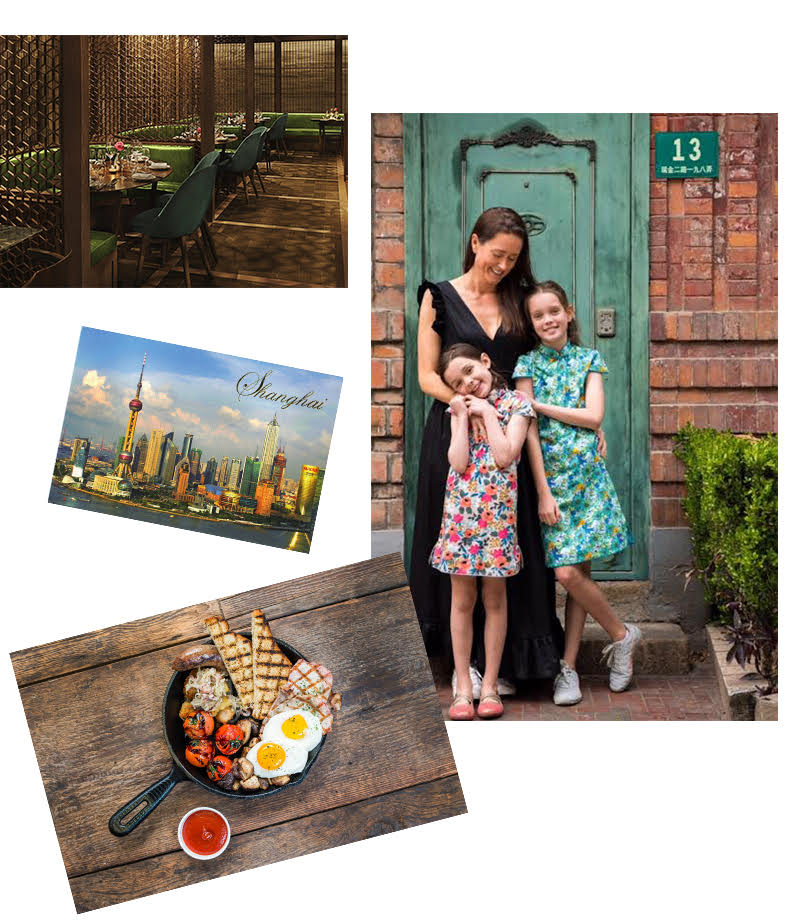 For more on Abby, follow Gretel Home on Instagram. And for more wanderlust, check out our stories on what to do with kids in Portland, Vancouver, Turkey, Joshua Tree, and more locales.

Share this story